What girl doesn't need a lil bit of color? As a fair girl and a total blush lover, I am always excited to try out a new blush!
These new checkered all-over color palettes from Love My Blends of Color look so cute! They are not just blush either. They can be used for all-over color, blush, or eyes.
These come in four shades: "A La Natural", "You Go Girl", "You Give Me Fever". and "Sultry In Brown". I tested out "You Go Girl" which is a checkered blend of pink, peach, beige/neutral, and a brownish-rose shade (and pictured directly above and below). The packaging is pretty basic and no-frills: a plastic compact (no mirror).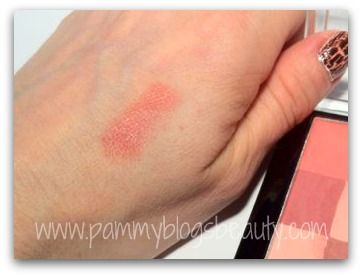 The Look:
Blended or swirled together with a brush, the overall effect is a matte peachy pink shade. Super flattering! The pigmentation is about "medium". I like wearing this particular shade as a blush as it is too pigmented to wear all over on my fair skin.
These
Love My Blends of Color
palettes are available at Walmart. select Walgreen's, and
Bari Cosmetics
for under $5.00. These are an affordable option for matte blush lovers!