Mmm...what pretty spring colors! Shades like these make me so glad that Spring is happening *now*!
This Pure Ice Lipgloss in "Creamsicle" and Pure Ice Nail Color in "Heartbreaker" are just two of the many fun products that I am testing right now from Bari Cosmetics. Not familiar with Bari? The Bari family of cosmetics includes Pure Ice, Bon Bons, and Love My. These cosmetics are all cute and fun!
While I love my high end makeup items, nothing beats a quality cosmetic at a great price. You can find Pure Ice and the other Bari Cosmetics brands at Walmart, Walgreens, and at
Bari Cosmetics
online.
For my NOTD and the lip gloss swatch, keep reading after the jump break!
Pure Ice Nailcolor in "Heartbreaker":
I am quite impressed with Pure Ice Nailcolor! They have 80 shades available!
Pure Ice "Heartbreaker" is a bit deceptive. In the bottle, it looks more like a medium shimmery aqua-blue-green. But, upon application on the nails it is more of a sheer sea foam greenish blue. The swatch above shows 3 coats of this polish as I really wanted it to show up well. But, 2 coats will give you a lovely sheer look. I found the wear to be average with chipping towards the end of day 3 (which is pretty standard for me...I'm hard on my nails!).
Pure Ice Nailcolor is formaldehyde, toluene, or DBP free. Pure Ice Nailcolors retail for about $4.00 each.
I think this shade would be great for summer days at the beach! Sigh, wish I was at the beach now!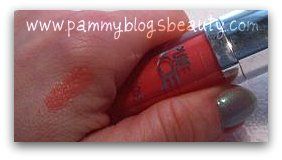 Pure Ice Lipgloss in "Creamsicle":
Peachy Pink is my *ideal* lipgloss shade. It is the type of shade that I reach for most often and also the shade that looks the most flattering on me. This Pure Ice lipgloss in Creamsicle is such a pretty peachy-pink (more pink than peach)! The gloss is of medium-thick consistency and it has a lovely shimmer. It leaves a glossy finish. The gloss is unscented and has a slight "plastic" type smell. The gloss feels great on my lips and leaves me feeling moisturized too.
What do you ladies think of Pure Ice products or any of Bari's Cosmetics?
Thanks for reading Dolls!