Hello my dear readers! I am reviewing some lovely items today that I won in the massive
Beauty Crazed
giveaway in January. If you haven't already, watch my "box opening"
here
! How much do I love that I won an item shipped from Canada that was actually made in my home city of Atlanta! How funny is that? :)
These items are all from an adorable
Heavenly Treasures (Fall 2010)
gift set from
Pur Minerals
. These were all cutely packaged in a burgundy gift bag. This gift set contains a Blush/Mineral Powder Split Pan duo (Perfectly Natural and Pink Marble), a Mini Powder Mineral Makeup Brush, an Perfect Fit Eyeshadow Trio (in Halo), and a Plumping Lipgloss (Enchanted). These items all look really pretty paired with each other. The overall effect is very natural and fresh...somewhat "heavenly"! Yes, you will get a lovely ethereal glow with this set! The shades are so complex and yet so subtle.
I believe this set originally retailed for a combined value price of about $37.While this set was a limited edition, the good news is that you can still purchase most of these items individually on the Pur Minerals
website
!!!
I am fairly "new" to the
Pur Minerals
brand, and so far I am very pleased! This Mineral Makeup line's philosophy is for makeup to contain "good for your skin ingredients" or "performance based cosmetics" that are "designed for optimal skin fitness and health". I mean, who doesn't want to try cosmetics that can actually be beneficial for your skin. I know that I do! The company also has a nice environmental stance with an effort to reduce packaging and to produce cruelty free (no animal testing) products. Respect!
For the reviews, more photos, and swatches, please keep reading! :)
Halo Perfect Fit Eyeshadow Trio
(currently on website for $21):
WOW!!! This eyeshadow trio is absolutely gorgeous!!! I swear, until recently I *never* wore greens and I am increasingly realizing how flattering they are with my fair skin, cool skin tone, and blue eyes!!! Seriously, this has really branched out my color range!!! This trio is fantastic. I love all these shadows paired with each other. If you want ethereal, then this is your trio!!!
This Halo trio is packaged in a nice silver compact with a clear lid. It is sturdy, lightweight, and snaps closed. The shadow pans are of a pretty decent size. So, you are definitely getting your money's worth here.
This Beautiful Halo Trio contains the following shades:
A lovely shimmery vanilla color (BEAUTIFUL highlight or inner corner shade). This is quickly becoming one of my fav vanilla toned highlight colors. It is sooooo pigmented!!! So, if you are wanting a shimmery and somewhat metallic-finished vanilla...this is it!
A *totally unique* mossy green color that is shimmery and duo chrome: flashes a light pastel purplish-pink shade when the light hits it. Really, it is an amazing color and remarkably beautiful! It is easily my fave of the trio. This one is gorgeous on the lid!!! Seriously, I have absolutely nothing like this shade in my current shadow collection.
A glittery medium army green/brown/grey shade. It looks green in the pan but flashes a grayish metallic shade with bronze glitter sparkles. I love this tapped into the crease.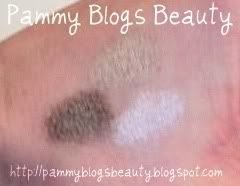 The shadows have a nice buttery and soft texture. They apply and blend very well. The dark army green/grey/brown shade does have glitter, so it is a bit more "gritty" than the other shades, but still very blendable and easy to work with.
What I find super unique about these shadows is that while they are shimmery, they have a totally "different" kind of shimmer than I am used to. Maybe it is the natural ingredients? The first ingredient in these shadows is Mica. So, I do believe it is the Mica that is imparting this lovely shimmer. It is just so subtle and beautiful. It truly gives that "lit from within" effect. Love it!!!
Somehow, I always end up getting compliments when I wear this eye shadow trio! LOL, so, something about this trio is really working for me!!! Hey, I'm not complainin'! I will take those compliments when I can get em! ;)
Okay, I digress, the shadow colors work in total harmony with each other. They are all truly unique shades that I have no where else in my makeup collection. That is saying a lot about the special-ness of these beautiful colors! I really love this trio and can't wait to wear it again!!!
Perfectly Natural Powder and Pink Marble Powder (Split Pan):
The Pink Marble blush is so pretty! It is very pigmented; so, I apply this very lightly (with a fan brush) on my uber fair skin. It is a dark pink matte powder that is marbled with lighter pinks. When swirled together, you get a light-medium matte pink. Just lovely! Just a swipe of this adds beautiful color and dimension to my cheeks. The overall effect is very soft, pretty, and natural. I think that this would flatter a wide variety of skin tones and would look lovely and natural on just about anyone!
On the other side is the Perfectly Natural Mineral Powder. It is a very subtly shimmery/luminescent yellow toned face powder/highlighter. If you like warm toned highlighters, you might like this. I think it is just way too warm on my cool-toned skin, as it is really showing up as "yellow" on my skin (see swatch above). I prefer the Mineral Light Powder by Pur Minerals,
see my review of that one here
.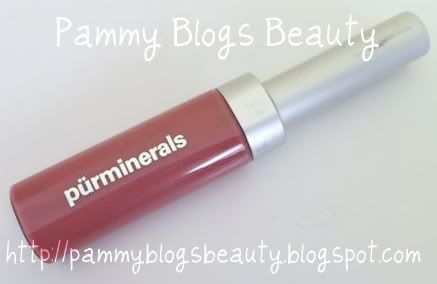 Pout Plumping Lipgloss (Enchanted):
This lipgloss is really more like a liquid lipstick. It is a
my-lips-but-better (MLBB)
medium rose pink. This is so incredibly natural looking on the lips! It is highly pigmented and applies opaque with a nice shine and no shimmer (matte shade). There was no additional scent added to this gloss. I did not notice any particular "plumping" from this gloss. But, the product gives good color, looks natural, and wears pretty well for a gloss. It is thick in texture without being overly sticky. I find this to be nicely moisturizing and it feels very comfortable on my lips. This is the type of lip color that I like to wear when wanting to look professional at work. See swatch below.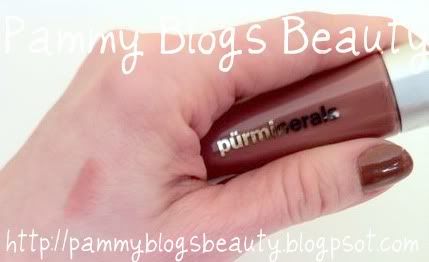 This shade does not appear to be currently available on the website, but there are 12 other shades available for $16 each.
Mini Powder Mineral Makeup Brush
(Currently on website for $12):
This kit also contained a travel sized powder brush. Pur Minerals brushes are all natural and cruelty free. This brush is sturdy and has a nice, dense, and fluffy brush head. The bristles are okay (kinda stiff). It is certainly not the softest brush that I own. It washes well with minimal-no shedding. It is a great size for your purse for "touch ups" throughout the day. While I like this brush, this is probably not one that I would purchase on its own (but, I like that it was included in this kit). It is always nice to have an extra travel brush or brush for your handbag.
So, all-in-all, I am really happy with this kit!!! The products all work in in nice harmony together. I find these shades to be very "daytime appropriate" as they provide such a soft and natural look. I found the eyeshadow trio to be the true stand-out of this kit!!! I absolutely adore it and would, no question, repurchase. Such unique and complex colors!!! I am thrilled with the subtle, beautiful, and ethereal look that I can create with this set. I am very excited to try more from the Pur Minerals line in the future!
Thanks for reading!!! Stay beautiful my dears!!!