As a beauty-blogger, I test a ton of new products. But rarely is a product so unique that it defies categorization. The
L'Oreal Infallible 24 hour Eye Shadows
are truly that different! They are honestly unlike any other shadows that I have tried!
Not only are these shadows different, but also they are potentially my new favorites. Yes, Holy Grail potential here!!!
The Skinny on the Collection
:
The collection contains 9 shades. They range from light neutrals, to taupes, to rich color. But L'Oreal...why so few? I want more shades (beating fits on desk)! ;)
These are supposed to last "up to 24 hours". What? What? Who wears shadows for 24 hours? Anyways, they are long wearing. I did not test for 24 hours. But, I did find the wear to be very good. It lasts all day until I remove my makeup before bed (note: I have dry skin. I am curious as to the wear on those of you with oily lids. I would imagine that this product would still last all day).
Price: About $6.00-$9.00 depending on where you shop. As always, be armed with coupons and hold out for sales! If you haven't checkout out Noveau Cheap yet...head on over there! She lists the weekly drugstore makeup sales and writes fab reviews!
Product itself: These are single shadows in cute little screw-top acrylic clear jar containers. The product inside is cross between a loose mineral shadow, a pressed shadow, and a cream shadow. What it actually seems like is a "pressed pigment". No, it is not actually "creamy" in texture. But there is a "wetness" to the product. So unique!!! The texture is amazing and it is so easy to work with.
I picked up the shade 888 Iced Latte.
**Don't make the mistake that I did! Do not throw away the little "stamper" grey plastic insert. Use that to "stamp down" the shadow after each use. It also keeps the product from drying out. Also, be sure to cap it really tight after each use!
Iced Latte is the most gorgeous warm champagne-ivory shade. The shimmer is TDF amazing! It almost seems metallic. This has become my go to quintessential lid shade.
As a new Mom, my makeup routine has morphed into "whatever makeup I can slap on the quickest". This shadow is absolutely easy to apply. I find that this one shade warn as a "wash of color" is all I need most days. I just top off with a little mascara and I am good to go. Added bonus: The amazing shimmer in this shadow instantly makes me look more awake. What new Mommy doesn't need that!
Application tip
: Initially I tried to apply this with a shadow brush (force of habit!). Well, that didn't work and I let this shadow sit unused for awhile. Then I tried my finger...works like a charm! Just swipe on your finger (just the lightest touch brings up amazing pigment) and then tap onto lids. Easy peasy! Another method: use those little sponge applicators (thanks Elvira from
Pink Sith
!)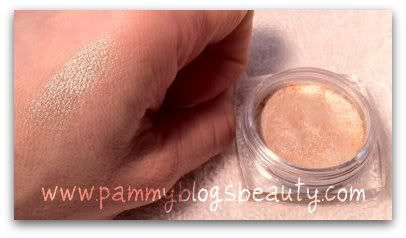 Do I love this shadow? Yes!!! Will I purchase more? You know it! I am looking forward to trying out some more of the neutrals as well as a few brighter shades.
Apparently these are somewhat similar to shadows by Armani and Buxom...has anyone tried these? How do L'Oreal's compare?
Thanks for reading!
XOXO!