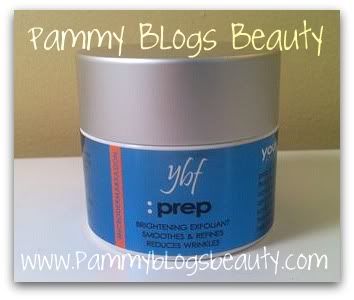 Hello darlings!
I am so excited to be reviewing another product for ya'll from one of my all-time-fav skincare brands:
YBF (Your Best Face)
! Not familiar with
YBF
? Be sure to check out my previous reviews for
YBF Boost
and
YBF Nourish Eye Cream
as well as the
YBF website
.
YBF specializes in clinical/research-based luxury skincare infused with the best antioxidant formulas available. Seriously, my skin *hearts* YBF! Being a beauty blogger interested in skincare, I try a LOT of products. YBF is a brand that I always return to in-between testing other brands. I highly recommend checking out this line! Their products are fabulous and their customer service is phenomenal.
The timing of my product testing for YBF Prep turned out to be just perfect. I am currently 17 weeks pregnant and my skincare routine and needs have changed significantly with pregnancy. Most chemical exfoliants are no-no's during pregnancy. So, I really needed to find a good manual exfoliator. Also pregnancy has made my dry skin more oily and more prone to breaking out. I need effective products that are gentle and pregnancy safe. Well, the good news: YBF Prep is it! I have found a fabulous go-to manual exfoliator that I can use safely throughout pregnancy and beyond.
Want to know what else is safe to use in pregnancy? Be sure to check out this post from 15 Minute Beauty Fanatic:
New Mommy Beauty: Skin Care while Pregnant
. Christine from
15 Minute Beauty Fanatic
is not only an amazing blogger and friend, but also a PICU Doctor who approaches skincare research from a medical/scientific perspective.
For my review of YBF Prep, please keep reading after the page break.
Your Best Face Prep: Brightening Exfoliant: More than just a "scrub"
This product is a dense and creamy
home microdermabrasion treatment
. This product contains a powerhouse of ingredients:
Antioxidants
and
Vitamins
to heal and protect the skin.
Peptides
to combat fine lines and wrinkles.
Botanicals
to soothe and brighten your skin.
Other key ingredients:
White Tea
Pentavitin
Niacin
Edelweiss Extract
Alpha Arbutin
Allantoin
Syn-Tacks
Vitamin E
Vitamin BF
Matrixyl 3000
Olive Leaf Extract
Lipochroman-6
Idebenone
Sodium Hyaluronate
Spin Trap
Spa-Quality Treatment in your own home:
YBF Prep is like a scrub and mask in one product! But, not your "typical" grainy scrub. The scrub particles in this are high-grade fine particle microderm crystals. You get all the benefits of the fabulous ingredients in this product while also exfoliating your skin. Your skin is more receptive to absorption when well exfoliated.
Balance your complexion: The microdermabrasion crystals in YBF Prep exfoliate and polish your skin while ingredients such as niacin and arbutin even out your skin tone.
YBF Prep fights blemishes! The botanicals and antioxidants in YBF Prep soothe the skin and reduce inflammation.
Fight fine lines and wrinkles: What are the key ingredients in all of Your Best Face's products? Antioxidants! YBF packs all their products, including Prep, with the most powerful antioxidants available: spin traps. These antioxidants plus peptides work to combat aging. These fabulous ingredients combined with manual exfoliation really target those lines!
More about YBF Prep:
Did I mention how yummy it smells! As you regular Pammy Blogs Beauty readers know, I am generally not a fan of scents in my skincare products. BUT, YBF products typically smell so good! YBF Prep has a very light and fresh scent...almost citrus-y. According to YBF owner Darrell Owens, It is not an "added" scent, but just the scent of the wonderful ingredients: organic blood orange oil and organic bergamot. Also, the antioxidant spin traps and Lipochroman-6 add a nice aroma. I have literally be smelling my jar throughout the writing of this review. Yum!
This product works without irritation. My fellow sensitive skin girls: This did not bother my super sensitive skin! Just be gentle during application. I did not experience any redness, tightness, burning, itching, nor irritation.
YBF Prep retails for $80 for 1.7 oz. Yes, pricey...but, a little goes a LONG way. So, this jar should last you a very long time. Totally worth it! Available online at The Skin Care Shop and Truth in Aging.
How I use:
First, I wash my face with a gentle cleanser. While my skin is still damp, I scoop out a small amount of YBF Prep and apply to my skin (a little goes a long way!). Next, I very gentle massage into my skin in a very gentle circular motion. Note: Be gentle! Don't "scrub". Just gently move your fingertips over your skin. The Prep microdermabrasion crystals will do all the scrub work for you. After this step, I like to leave it on for a few minutes as a mask so that my skin can absorb all those wonderful antioxidants. Finally, rinse well with tepid water. Follow up with a moisturizer.
The Results:
My skin just glows after using YBF Prep! I especially notice it when waking up the next morning after doing a PM Prep treatment. My skin looks glowy, even toned, and "fresh"! When my skin gets temper metal (lol, that seems to happen a lot with pregnancy), I just whip out this product and within a few days my skin calms down. Typically, I use this 1-2x per week and up to 3x per week during my skin's temperamental phases.