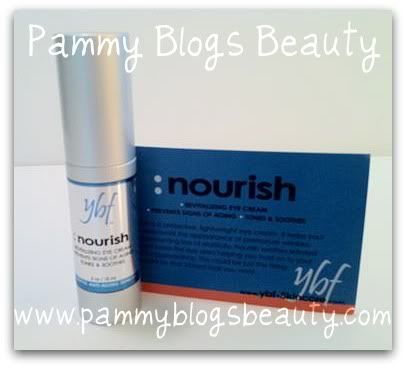 Your Best Face (YBF) Brand Introduction and Nourish Eye Cream review

Hello there my lovely readers! I am embarking on a series of reviews over the next few weeks for a variety products from the Your Best Face (YBF) Skincare line. I was introduced to this great brand through my blogger friend Christine over at 15 Minute Beauty Fanatic, who has blogged about this brand often. She has done some great reviews on this skincare line! So, be sure to check out her most recent review here.
Your Best Face (YBF): Brand Intro



YBF is a progressive, high quality, and research-based skincare line which specializes in a range of antioxidant-rich serums and moisturizers.

How does Your Best Face standout in the vast sea of skincare lines? In a word: ingredients! Your Best Face is one of the only companies on the market using cutting-edge Antioxidant "Spin Traps". Your Best Face provides both innovative and effective skincare! YBF offers a wide variety of antioxidant eye creams, serums, and moisturizers. You are bound to find a good fit for "your best face".
So, what are "Spin Traps"?
I said the same thing initially! "Spin Traps" are super-powerful antioxidants. They work differently from other antioxidants as they not only neutralize and scavenge the free-radicals, but during neutralization oxygen is released and can return to your skin in a use able form. This is a good thing!

That is my basic definition based on my limited, but growing, knowledge of "Skin Traps". But, I am excited to learn more!!! They are effective and they work. I totally trust the science behind this skincare line from what I have read on both the YBF website as well as Christine's reviews on 15 Minute Beauty Fanatic (I know, I can't stop raving about Christine-LOVE her!).

So, if you are looking to add a good antioxidant to your anti-aging regimen, add Your Best Face skincare to your list of products to try! Spin Traps are amongst the most powerful antioxidants known. Defiantly worth checking out!
Even more great ingredients:


In addition to the powerhouse Skin Traps, YBF packs these products with many other effective ingredients. I will include ingredients lists in all upcoming reviews (as ingredients vary per product).

To name a few: Peptides, other Antioxidants (besides skin traps): Vitamins C, B, E, Green Tea, and Hyaluronic Acid (or
sodium hylauronate

).


Hyaluronic acid is wonderful as it attracts moisture and really works wonders to plump the skin. I am always excited when a product contains this ingredient. My dry skin *loves* HA!

In a nutshell: YBF Skincare is choc-full of great ingredients!

So, What am I looking for in an eye cream? Read on for that info as well as a review on Your Best Face's Nourish Eye Cream! Keep reading after the jump!!!

I will kick-off my YBF series of reviews with their newest and possibly their "most basic" eye cream.
Think of it as the "intro" eye cream in this range. This is exactly why I tested it first. I wanted to see what their "basic" cream was like. You are going to get good moisturization and some great ingredients, but this is not the "big gun" in the arsenal of the YBF eye creams as far as anti-aging properties and ingredients. So, if you love this but "want more", I am sure that YBF has another formulation for you!
As you regular Pammy Blogs Beauty readers know, one of my main targets in my quest for good skincare is the search for gentle, yet effective, eye creams and skincare products. So, lets begin our YBF journey here with eye creams.
My "Eye Background" and "What am I looking for in an eye-cream":
No major lines or wrinkles yet (whew!), but I sure am looking for prevention as I am in my 30's.
My skin is super-dry and when it gets very dehydrated some very slight fine lines can crop up. So, I want something that is going to keep the eye area very hydrated.
I have massively dark under eye circles. The bane of my existence! Alas! I am always looking for an eye cream that can help either diminish the look of dark circles or diffuse dark circles.
I tend to like very rich and emollient eye creams (especially for the use in the mornings when I need to apply a very opaque and somewhat heavy under-eye concealer). I need my eye creams to provide an effective base for under-eye concealer.
My eyes and the skin around my eyes is super sensitive. I need something that won't sting my eyes nor irritate my skin. Many eye creams with active ingredients are very irritating to eyes and skin.
I am prone to milia (those little tiny white bumps or "seeds" that can crop up in the eye area). I need an eye cream that does not cause or aggravate these.
This eye cream retails for $45.oo, go to Your Best Face for links to online retailers. The target group for this eye cream, according to the site, are those in their 20's (and, lol, I am older than that, wink!).
List of ingredients:

Ingredients


reverse osmosis water, cucumber extract, olivem (cetearyl olivate, sorbitan olivate), meadowfoam seed oil, nutmeg butter, caffeine, nylon-12, ppg5 ceteth 20, L-carnosine, c10-30 alkyl acrylate crosspolymer, vitamin B5, alpha bisabolol, vitamin e, dimethyl isosorbide, spin trap (phenyl butyl nitrone), Lipochroman-6 (dimethylmethoxy chromanol), trans resveratrol, violet leaf absolute, oakmoss absolute, triethanolamine,

paraben du
This eye cream comes in a pump container with .5 oz of product. I love it that it comes in a pump as you know that the product is air-tight and those antioxidants are going to stay active. Also, ya'll know I prefer pumps in general as they are just more sanitary. The pump dispenses just slightly too much product (as you only need a little bit). So, I take any excess cream and apply it to my lips. It works great for moisturization there (and I really don't want to waste any)!
This eye cream is so unique! It moisturizes extremely well, yet it is weightless and non-greasy on your skin. Throw out your notions of needing a thick and

heavy cream

for moisture as this will plump and hydrate without leaving you greasy and, in fact, sinks right in to become virtually undetectable on the skin. This makes it ideal for use in the daytime and for use under makeup.
The cream is really more like a serum in texture. It is goldish in color but turns clear as you apply. It absorbs very quickly.
The product has a VERY light and subltle scent (almost almond-like scent). Really, it is barely detectable, but nice!
I truly am amazed at how this lightweight "cream" has plumped up my skin. I think this is the HA doing it's job!

Yay for these fab ingredients!
While this cream is not heavy and emollient, it still provides a very nice base for under eye concealer. I did not see a diminishment in dark circles with this product, but that was not one of this products claims (they have another eye cream in the YBF line that specifically targets dark circles). Also, this eye cream did not cause any milia! :)
A Gentle Cream:
My skin is VERY sensitive. However, I have had no stinging nor irritation with this eye cream. It is gentle and effective! Totally suitable for those with sensitive eyes and sensitive skin. Your skincare does not need to be harsh to be effective! :)
This eye cream is gentle enough for use even on the eyelids. My lids are so plump that I think even my

eye shadow

is applying smoother because of the plump-ness!
The Tightening Effect and Reduction of any "puffiness":
A few minutes after application, you can feel a gentle "lifting" or pulling. This is the caffeine doing its "job" and toning up the eye area and reducing any puffiness. I always need a little help with this in the mornings! The effect and action of this is pleasant and not at all irritating.
I am very excited about this skincare line! I really loved testing this eye cream! I like how gentle and effective it is. I find this eye cream to be totally unique from its use of "Spin Traps" to the products lovely and unique texture. This is an elegant eye cream that is very well formulated. I love the light moisturization it provides, I love that it is so super gentle, and I love how it plumps up the eye area.
I do wish it was just a "little" more moisturizing and it would be nice if this worked to reduce dark circles, but that is the beauty of this line! Those specific concerns might not be targeted in this particular eye cream, but there is such a great selection at Your Best Face that I am sure that I will find an eye cream tailored to my specific concerns and needs. I am eager to try more eye creams as well as other products from this skincare line as I think there are so many good choices!
While I have only been using this eye cream for a few weeks, I have already seen great results! I know that the effects of antioxidants are cumulative, so I am sure that continued use would yield even better results! My eye area is nicely hydrated, smooth, and plump.
What have you tried from Your Best Face? Is there any product in particular that you would like me to test out and review? Let me know as I am excited to explore the rest of this innovative line! :) Stay tuned as my review of the YBF's Boost Lotion will be coming soon! This is just such an amazing skincare line!
Make sure to check out Your Best Face on Facebook and Twitter! They love doing special giveaways and deals for their followers! :)
As always, thanks for reading my dears! Stay beautiful!!!