Hello dolls! Is anyone doing a lot of traveling this summer? I sure am! With that in mind, I was so thrilled to test out some products and tools from NuMe including their Mini Travel-sized Flat Iron!
Some background on the NuMe line:
NuMe offers high-quality professional caliber tools for home use.
Styling tools and products were designed and engineered bases on top hair stylist recommendations.
The Flat Irons feature 100% Solid Ceramic Plates.
NuMe offers fabulous warranties on their products: 5 years on their straightening irons and an optional lifetime extended warranty.
NuMe offers not only high quality tools, but also a range of hair cair products, hair extensions, and accessories on their website. Products available at www.numestyle.com
NuMe has been around for years in Europe, but has just recently been launched here in the US.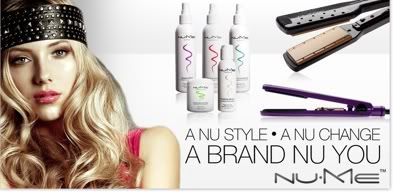 Before diving into my reviews, I should give you some background on my hair type! My hair is long and straight. However, in the past 6-8 months (hormones???) patches of my hair have started to grow curly! Ack! Not that there is anything wrong with beautiful curles. But my waves are wonky and in random spots. So, for the first time ever, I am having to conciously "straighten" my hair. I usually use either a large round brush (Check out my
Brushlabs review
) or run a flat iron over the random wavy spots when it is dry. But, generally my hair is really easy to straighten and blows out very straight. My hair is fine in texture but very thick.
For more photos, my review, and a link to a NuMe Jetsetter Package Giveaway, please keep reading after the jump!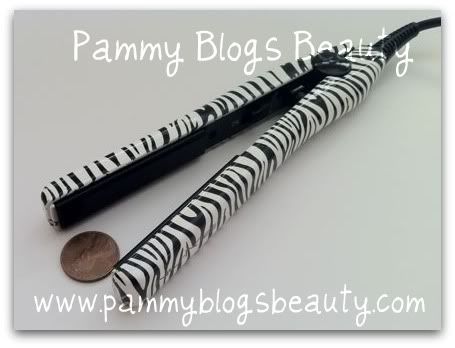 The NuMe Mini Flatiron:
OMG!!! Look how stinkin' cute this flatiron is! I mean it's tiny *and* zebra printed! What style savvy girl wouldn't want to travel with this cute styling tool (plus, it will match my Zebra z-palettes...ooh, I feel a travel zebra theme starting with me, fun!). Okay, I digress. Yes, it is tiny! I did the size comparision with a penny in the photo so that you could see just how small it is.
Well, don't let the small size fool-you. This little flatiron totally packs full-sized results! While I have not traveled with it yet, I have been using it in place of my regular flat iron at home the past few weeks. The results are spectacular! It works just as well as my full-sized iron (which is not by NuMe, but a Sally's brand iron). The only drawback that I can even think of is that there is only one heat setting on this iron. I am used to setting my regular flat iron to a mid-heat setting. So, this Mini by NuMe seemed really *hot* to me. But, that gave great results. Just be sure to use a heat protectant with it! I will be reviewing NuMe's heat protectant in an upcoming post (so stay tuned for that!).
Info From Straight from NuMe:
The NuMe Mini styling tool is perfect for on-the-go styling, whether it's just a touch up or an essential in your make up bag. The ergonomic design makes it easy to hold, handle and manipulate, allowing you to create the perfect style every time. The Mini is light weight and works with the dual voltage which allows you to use it anywhere in the world, ideal for traveling.
100% tourmaline-infused ceramic plates prevent dry and damaged hair

Infrared heat technology seals in moisture for extra shine and luster

Negative Ion Technology reduces static and frizz for shinier, more manageable hair

Rounded Barrels create curls or flips your hair

Heats up with in seconds, reducing wait time

Ergonomic design is easy to hold, handle and manipulate

Built-in converter handles dual voltage from 110v to 240v (you must purchase the country's proper plug adapter separately) – your ceramic plates won't melt!

Temperature: 410 degrees F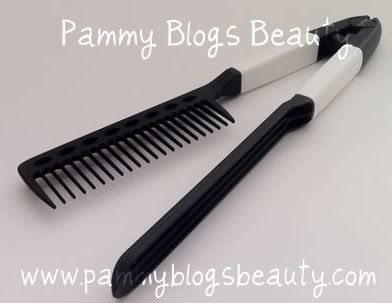 The NuMe Professional Straightening Comb:
This is such an inventive styling tool! This comb was designed to glide through your prior to running the flat iron down your hair. Stylists have used tools like this while styling my hair at the salon many times. I even have another version of this comb made by Aveda. But, I am finding that I actually like this one by NuMe a bit better! The NuMe one is a bit lighter and tugs less on the hair.
I use this Straigthening Comb either with my flat iron or without a flat iron (using the blow dryer). I am a huge fan of using combs while drying my hair (just a wide toothed flat comb). This version works better as you can lift and seperate your hair in one motion. The bottom flat part slides under the section you want to work on. You lift it up, close the comb and just slide it straight down your hair. Easy peasy!!!
Nume states that this Professional Straightening Comb is:
To be used with any flat iron
anti-static and heat resistant
powerful flexable tool
I am totally happy with this tool! The quality is great and it does just what I expect it to! I will continue to use this for many years. :)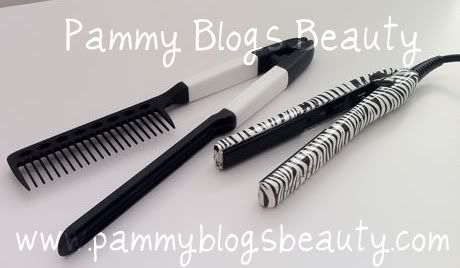 In summary, these are some great tools! I am totally happy with both the quality and performance of these items. Another great perk with NuMe...you get a one-year warrenty on the Flat Iron (some products in the NuMe line have a 5-year warrenty). There is also an optional Life Time Warrenty that you can sign up for.
I can't wait to travel with my super cute NuMe Mini Zebra Flat Iron! I might just have to find a zebra travel bag to go along with it! LOL! :) I know, I am *such a girly girl*!
Also, if you didn't already know, I am running a
Fabulous NuMe Giveaway
right now for all you travel-focused ladies! NuMe is offering the Jetsetter Gift Package (which includes the cute NuMe Mini Flat Iron amongst other prizes) to one Pammy Blogs Beauty reader. Please see all my giveaway details here: NuMe Giveaway at Pammy Blogs Beauty. So, go head over and sign up! You wouldn't want to miss this giveaway for $525 worth of NuMe Professional Styling Tools and Products!!!
As always, thanks so much for reading!!!
Stay Beautiful my dears!