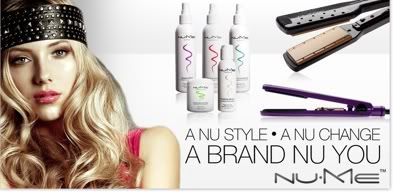 Hello Dolls!
I have an exciting new giveaway announcement! I am hosting a giveaway sponsored by NuMe Professional Styling Tools. NuMe is a successful European professional salon styling tool line that has just recently launched in the US. To celebrate and promote their launch, NuMe is offering a
fantastic giveaway package
with
$525 worth of professional quality styling tools
as well as a special discount code for
Pammy Blogs Beauty
's readers!!! How exciting!
I am in the process of testing out some tools and products from the NuMe line (reviews coming soon), but I wanted to go ahead and post the giveaway for you wonderful readers! So, stay tuned and check back soon for reviews on the
Mini Flat Iron
, the
Intense Renewal Mask
, the
Thermal Defense Heat Protectant
, and the
Professional Styling Comb
. From my first impressions: I am enjoying testing out these quality tools and products!
Some background on the
NuMe
line:
NuMe offers high-quality professional caliber tools for home use.
Styling tools and products were designed and engineered bases on top hair stylist recommendations.
The Flat Irons feature 100% Solid Ceramic Plates.
NuMe offers fabulous warranties on their products: 5 years on their straightening irons and an optional lifetime extended warranty.
NuMe offers not only high quality tools, but also a range of hair cair products, hair extensions, and accessories on their website. Products available at www.numestyle.com
For more details on how to enter this Fab giveaway for the $525 "Jetsetter" package from NuMe and to get the Pammy Blogs Beauty reader discount (available for all readers!), keep reading after the jump!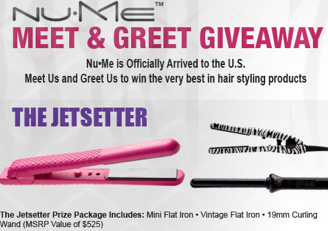 This contest is being hosted by Pammy Blogs Beauty and winners will be announced on Pammy Blogs Beauty. However, the rules and winners are determined by NuMe.
This contest Involves participation by commenting on Pammy Blogs Beauty, being a Pammy Blogs Beauty follower through Google Friend Connect, Liking NuMe on Facebook, and Following NuMe on Twitter.
The Prize Package:
The Jetsetter Package from NuMe
Includes:
Mini Flat Iron
Vintage Flat Iron
19 mm Curling Wand
MSRP Value: $525
Rules:
To Enter, participant must:
Contest open to US residents only. You must be 18 or older to enter.
Comment on this Giveaway Post on Pammy Blogs Beauty with a greeting and an "enter me".
Must be a follower of Pammy Blogs Beauty on Google Friend Connect.
Must "like" Pammy Blogs Beauty on Facebook.
Fill in Google Documents Form below with name, GFC name, twitter name, contact email, and Facebook name (I will share this info with NuMe so that they can track Pammy Blogs Beauty reader entries).
Must "like" NuMe on Facebook and poast a Greeting coment on the NuMe Wall
You must follow NuMe on Twitter @NuMeProducts and retweet about this contest "I just entered #Giveaway to win hair styling products @NuMeProducts at http://www.pammyblogsbeauty.com"
Contest closes:
Extra Enteries:
The more times you re-tweet or make a status update on Facebook, the more entries you get. This increases your chance of winning the prize!!!
Contest will run for 3 weeks (contest closes May 20th).
NuMe Products will randomly select the winner from a compiled list of all the contest entries. The winner will be announced on Pammy Blogs Beauty and NuMe will ship the winner their prize!
Special Prize: There will be an additional suprise package for the participant with the most creative greeting on NuMe's Facebook wall!!!
Special Discount for ALL my readers:
All Pammy Blogs Beauty readers can use a special coupon code for an introductory offer at NuMe! The offer is for a special
Pro Package
with a value of $593.93 for only $99.00!!! What a great deal!!! The package includes NuMe's top Styler as well as the ultra moble Mini! Please see the coupon code listed below! You *must* use the special Pammy Blog's Beauty Discount Code to get the discount! :)
Coupon Code: Pammy01
Effective til: 5/20/11
Good luck readers! I hope you enjoy this great contest! Even if you don't win, you have the opportunity for a great discount!!! :) Stay tuned for upcoming NuMe Reviews!
Stay beautiful my dears!

Thanks NuMe for sponsoring this
giveaway for my readers!!!