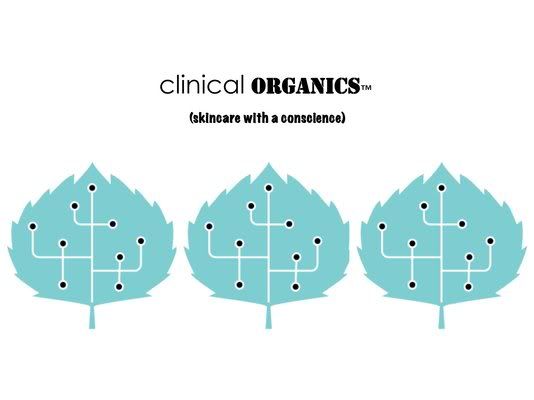 Hello lovlies! It is time to wrap up the rest of my Clinical Organics reviews! I will conclude this series by reviewing the "specialty" products in this line. These are all very unique products from this new, innovative, and eco-conscious boutique skincare line. All of these products came from my
Clinical Organics Limited Edition Preview Pack
.
If you haven't had a chance already, please check out my
Brand Introduction
and Cleanse/Tone review as well as my
Moisturize/Treat post.
There are many items in the Clinical Organics "skincare with a conscience" Skincare line that I truly enjoy using and will continue to use.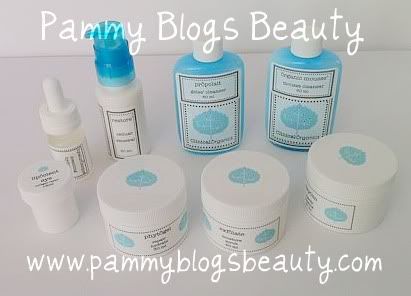 For reviews on Clayolin (mask), exfolate (manual exfoliator), phytogel (repair and hydrating gel), and kojic complex (hyperpigmentation and brightening), please keep reading after the jump.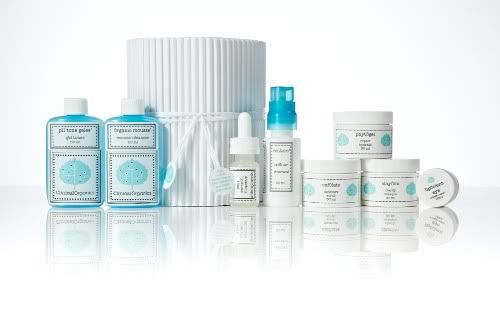 Like the name implies, exfolate is the manual exfoliator in this skincare line. I am a huge fan of manual exfoliation (when done gently). But, with that said, my sensitive skin is so picky!!! Many scrubs on the market are much to harsh for my skin and wreak havoc. Well, not the case with this one. the scrub granules themselves are gentle enough for my skin. But, as with all manual exfoliators, use caution when applying to your skin...don't rub to hard! Be gentle on your skin!
The product itself is a cloudy blue-green gel. You will be able to see various scrub particles suspended within this gel. The product is *strongly fragranced*. This I was not expecting from a skincare line based on simplicity. But, it must be noted that the fragrance is natural and from green tea extract. But, if scents bother you, then you might not like how fragranced this is.
The directions say to use this about 1-2x per week. I like to use it about once a week. I like to cleanse my face first with a gentle cleanser and then use exfolate. I follow with the ph Tone Gelee.
Overall, I liked it, but would prefer if it was not so strongly scented. But, if that doesn't bother you then you might enjoy this gentle exfoliater.
Phytogel (Repair Hydrate):
This is a very unique product. Honestly, this is the "step 4" in the "5 step system" that I almost always skipped as I just couldn't figure out what this product was meant to do (nor could I see how I, personally, needed it). As I mentioned previously, 5 steps is a lot for an evening routine, so if I am running short on time. This product usually gets skipped.
The informational brochure states that this product is for "calming and soothing with antiseptic qualities". This is just a guess, but if it has antiseptic qualities, then it might be beneficial for individuals who experience breakouts. I rarely breakout, yet, it also must be noted that I had absolutely no breakouts at all while testing the entire Clinical Organics range. So, it is possible that this and the combined effects of the other products kept any mild/minor breakouts at bay.
The directions state to apply this after application of the Hyaluronique. The product itself is a translucent green minty smelling gel. The fragrance is strong and the product has a "cooling" feeling going on your skin. It is intended as a soother for irritated skin. The informational brochure also states that it is good for post-procedure skin or after exfoliation. It contains aloe as one of the primary ingredients as well as vitamins A and E.
While this is not something that I would use in my everyday skincare routine, this is a product that I would take on vacation with me to soothe any skin that might get sunburned. Or, I might use this after a facial or after a treatment product that might have been too harsh on my skin. Very unique product. But, for me, not an every-day-use type of thing (but nice to have on hand for sure!).
Clayolin (Clarifying Mask)
Well, I saved one of the best products for (almost) last!!! Yep, I totally loved this masque!!! This mask along with the gentle cleansers are the true standouts of this skincare line! If you order one thing from Clinical Organics (well, two things), this and the Organic Mousse Cleanser should be the top picks!
The product itself is a very thick clay with a light green color. To use, you mix one part Clayolin and one part Organic Mousse. You apply to your face and let it sit for at least 10 minutes. Optional: you can drape a warm damp towel on top of your face (on top of the mask). I have used it both with and without the warm towel. I actually love that you actually mix it together with the mousse. Maybe it is the scientist in me, but I just love feeling "like a cosmetic chemist" while mixing this mask together. The Organic mousse really thins our the uber-thick clayolin and makes it more spreadable.
Unlike most clay-based masks (which tend to get hard and itchy as they dry), this mask feels light, soothing, and comfortable on your skin for the entire time it is on. I remove this mask with a soft warm washcloth. Following this mask, my skin feels smooth, refresehed, soothed, and hydrated! After the mask, I like to apply a HA serum like the hyaluronique.
I *loved* this mask!!! I usually leave it on for about 15 minutes while relaxing in the evenings about one time per week. What a nice beauty treat!!! I even did a fun spa-mask night one evening with my 10-year old niece, Mollee, who reports that she loved Clayolin too!
Overall, what a soothing and effective mask! I totally love it! Actually, I think I will do a spa-night with that mask this evening! It is a total treat!!!
Kojic Complex
This product aims to address "photo damage and intrinsic aging". While I do not have any photo damage per se or any really visible signs of aging, I tested it out anyway. But, I really cannot evaluate the results since I really do not have any visible damage nor aging issues to begin with.
What I can tell you are the basics. This is a clear and odorless watery serum in a dropper bottle. It contains fruit extracts, oils, and HA. You apply a small amount to face, decollete, or body. It can be used daily.
If any of these products mentioned in my various Clincal Organics posts intrigued you, be sure to check them out at
www.
clinicalorganics
.com
. I surely found a few items that I will keep in my skincare arsenal! I found that for my skintype and general preferences, I liked the
cleansers
and
pH Tone Gelee
, the
Restore Lotion
, and the and the
Clayolin mask
the best of this line. Be sure to check those out if your skin is similar to mine! :)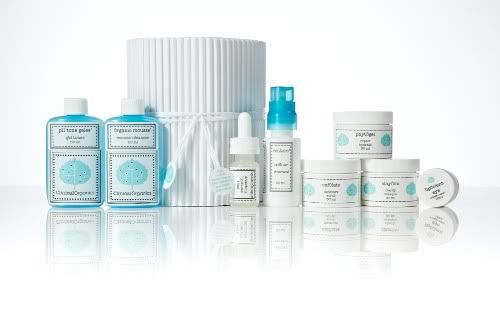 Be sure to visit Pammy Blogs Beauty again soon, as I will be giving away one of these preview packs soon to one of my wonderful readers!!! Giveaway announcement coming in a few weeks!!! :)
As always, thanks so much for reading. I hope that you enjoyed this series on Clinical Organics Skincare! I really enjoyed testing out and using these items. Quite a few of these items have become staples in my skincare routine!