Essence Surfer Babe Powder Blush: Big Wave Surfer
(lol, love the name!)
Hello my beauties! In honor of spring and fantasizing about warm summer days, here I am with a Beachy-themed review!
So, as many of you know, I love the German Essence cosmentics brand! What good quality and affordable makeup! It reminds me a bit of a lower priced Stila with its cutesy cartoon images and trendy packaging. I am so glad that Essence is available here in the US! Check out some of my other essence reviews and raves here:
Denim Wanted Collection
, and
Essence Colour & Go Nail Polish
.
The
Surfer Babe Collection
was released in Summer of 2010, but the products are still available on a small display at my local Ulta. The display at has an eyeshadow palette, nail polish, and blush (you can check out the full collection
here
.
For my review and a swatch photo, keep reading after the jump!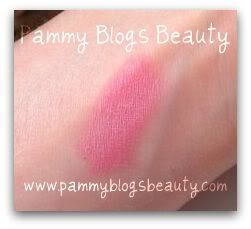 I absolutely couldn't resist this super pretty pink blush! The blush itself is a matte very cool-toned (with hints of purple) bright pink. This is such an ideal color for us fair ladies!
This blush is highly pigmented and wears totally true to the shade in the pan. I love this for a pop of bright color on the apples of my cheeks. The powder texture is lovely. Not in the least bit powdery. It feels "silky"! While this collection was released in the summer, this color would look great year round (especially on uber-pale post winter skin). I love the "doll-like" pop of color on my cheeks! The best part, this blush retails for about $3!!! Can't beat that! :)
So, go ahead and dream of the beach and apply this pretty blush!!! Maybe you will attract some "Big Wave Surfers"(wink!).
Has anyone else tried this pretty blush? Anyone else ready for summer and the beach? Thanks for reading! XOXO!