Hello my beauties!
Since I totally love the whole
ecotools line of brushes
, I was delighted to see some "new" additions to the line! IMHO, ecotools are the softest brushes around (both drugstore and high end) and certainly the best quality that you can get at a drugstore price. Plus, they are environmentally friendly and cruelty free; so, bonus! So, here's a down-n-dirty review of my recent ecotools brush purchases! :) Enjoy!
Ecotools Bamboo Finishing Kabuki:
Might as well start with the newest item! This is such an interesting kabuki!!! I am not sure how long this has been out; but when I first saw it at Walgreen's it literally jumped right into my basket, lol! I just had to give this brush a try! I figure, with an Ecotools purchase, you can't really go wrong.
More photos, comparisons, etc after the jump!
This brush is a cross between a stippling/duo fibre brush and a kabuki brush. So, yah, if a kabuki had a baby with a stippling brush, this would be it. Tee-hee! For real, I have never seen a brush quite like this one! It has hairs in variated lengths and the brush is extremely wide (see comparsion photo below with pictures of all my other kabukis, all of which are less wide and more dense).
Kabuki Comparions
Annabelle, Ecotools travel, Ecotools retractable kabuki, Ecotools Bamboo Finishing Kabuki, Essence of Beauty
While the package says that the handle is bamboo, it feels more like regular wood to me? It just isn't quite as shiny as the handles of my other Ecotools brushes. No matter though, the handle is cute! I like the shape and the flat base so that it stands up well. The hairs are talklon.
I am sure it goes without saying that this brush is incredibly soft. It feels amazing on the skin!!!
This brush was designed for powder, blush, or bronzer application. I personally find it *much* too large for a precise application of blush or bronzer (I tried, but nope!). But, it is great for *after* application of blush or bronzer to blend out (so use it clean after applying blush or bronzer with a different brush).
How I like to use it: I love this brush for applying either powder foundation or finishing powder. The bristles lack density at the tips so it is perfect for a very light application. I think it would be impossible to overdo your powder with this brush. You will get beautiful light coverage. Which is just how I like it for powder!!! I think it is best suited for loose or finishing powder (hmm, finishing, hence the name). If you want more coverage out of your powder foundation, you are better off using a regular kabuki brush that has more density like the
Ecotools Retractable Kabuki.
Just had to include a picture of the
Ecotools Retractable Kabuki Brush
! This brush *lives* in my purse (see the wear on the handle? I don't mind the wear. I think that metal develops such a beautiful patina with wear). I already reviewed this brush
here
, but had to give it a shout out as I still totally love and adore it!!!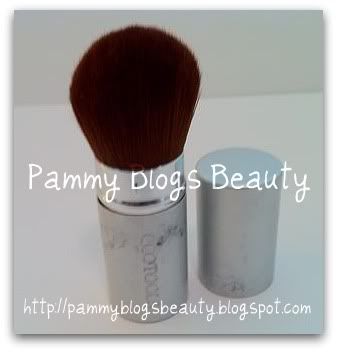 Bamboo Deluxe Concealer Brush: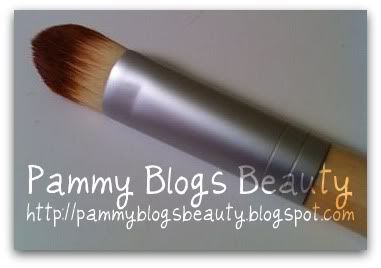 This is Ecotools newly designed concealer brush. I believe it came out a couple months ago and replaced the older version (which, I did not own, but IIRC, wasn't quite as fluffy).
I am such a fan of the Ecotools concealer brush from my 5 piece brush set (I use that concealer brush from that set every day!), that I had to pick up this full sized version.
Ecotools concealer brushes are a must for me with my sensitive eyes! The hairs are so soft and feel so good on the delicate eye area. I find these concealer brushes to be overall less "stiff" than the other concealer brushes that I own by other brands. I pretty much rotate between the travel sized one from the 5-piece brush set and this full-sized one (depending on which one is more clean!). :)
But, generally, I must admit...I prefer the shorter travel sized brush better. For the primary reason: I like getting "this close" to the mirror and travel size eye brushes allow me to do that. When I use the longer one, I find that I keep bumping into my mirror, lol! I am lucky I haven't "poked my eye out". Just kiddin! I am sure it is just whatever you are used to. The full sized brush is much fluffier that the travel version. So, depending on what concealer I apply, I might use the smaller or larger brush as they do apply the product a bit differently.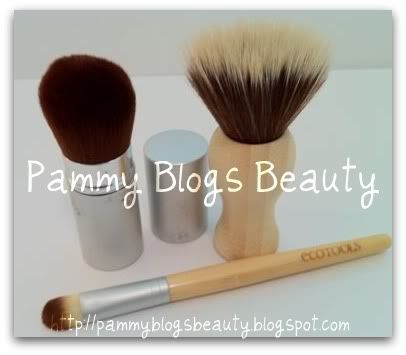 Ecotools lovers, what are your fav brushes from this line? Thanks so much for reading!!!