Lancome Juicy Tubes 100% Natural Origin Lipglosses
Hello my dear beauties!!!
Now, ya'll know how I like to get all wordy with my reviews (lol, I can't help it, I am a Speech Pathologist who loves to "talk"!), but this blog post is my attempt at a "quick rave"! :) So, here it goes!
Are any of you Lancome Juicy Tubes fans? I know that these have been around for ever; and, honestly, I have not owned one in years. So, I was *thrilled* when there were two included in the amazing
Beauty Crazed
giveaway package that I won. If you want to see my YouTube video of the box opening from Beauty Crazed, please click
here
(and, if you haven't already, please subscribe to my
Pammy Blogs Beauty YouTube Channel
!!! I plan on adding more videos very soon and would love feedback from my lovely readers!
These, I hate to say, were limited edition and are no longer available on the website (I know, sorry!!!) These special edition glosses were released over the summer (of 2010) in celebration Juicy Tubes 10th Birthday!!! But don't worry, there are many other shades available in the permanent Juicy Tubes collection!
For gloss reviews, photos, and swatches, please keep reading after the jump!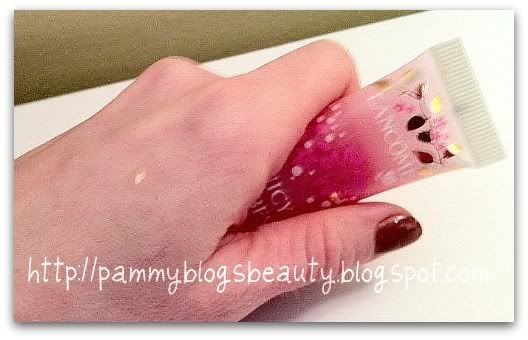 Lancome Juicy Tubes 100% Natural Origin: Blushing Beauty and Sheerfully Sweet (Review)
I totally love and adore these glosses!!! I know these were limited edition, but I liked them so much that I want to check out the permanent collection!
I got the shades: Blushing Beauty (sheer rose pink) and Sheerfully Sweet (sheer pink). Both shades are totally sheer (with Blushing Beauty having a slight bit more pigment). The gloss contains just a hint of color that wears sheer on the lips with high shine.
You will not get color with these glosses. They are sheer and shiny. But, for an "every day" gloss, that is often what I am looking for! Just moisturized lips that are shiny! :)
These glosses retail for about $18 each.
The gloss texture is thick and almost "gel-like". Check out the photo below, it is not in the least bit runny nor greasy! Even on the swatch it stayed right in place. It amazes me that it is so thick yet not at all sticky or "tacky" in feeling at all! Amazing!!!
These are sooooo very moisturizing!!! I honestly feel that my lips are in better condition from wearing this consistently.
The smooth texture of this gloss makes me *want* to apply it more frequently, which, in turn, keeps moisturizing my lips. Its a win/win situation as my lips stay hydrated with all my reapplications.
While I am not normally a fan of fruity flavors, these fruit scents/flavors are so subtle and appealing. Not like a "slap you in the face" fruit scent at all. Overall, a very nice scent (its like Papaya? But, subtle).
I love the idea of glosses in tubes like this. It is just a squeeze tube with a slanted tip applicator. I find that this is the most sanitary type of gloss packaging. There is no "re dipping" of a wand applicator into the product. I believe that this helps keep the bacteria out of your lipgloss. (I promise I am not a germ-a-phobe, and don't mind wand glosses, but when you think about it...these tubes really are "cleaner").
This has become my go-to "moisturizing"/easy to wear day-to-day gloss. I love it because you can just apply quickly without a mirror. I often have this in my pocket at work and there is always one in my purse. Totally "every day wearable" for a natural look! My lips are very pigmented so for "every day" and when I want to look natural, these are perfect!
Also, Juicy Tubes are great because I don't feel that I need an additional lipbalm with these glosses. The gloss alone is all you need for moisture and shine!
If you can't tell already from all my raves (lol!), I totally love these Juicy Tube glosses!!! I honestly think my lips are in MUCH better condition from wearing these. These glosses will continue to be my go-tos for "everyday" wear at work when I am going for the natural look!
Thanks for reading and stay beautiful!!!