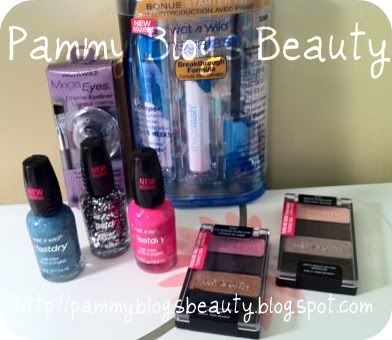 Happy Sunday my Beauties!!!
Just a quick post to show you a haul picture from some recent drugstore shopping! :) I know we are all so excited about the new Wet n' Wild 2011 collection that is starting to be displayed!!! I keep checking back, but
no 8-pan palettes yet
!!!! Here is what I have chosen so far from the new collection (and one item here is from the "old", the gel liner, which I scored on with a great sale price!). Just kinda a "sneak peak" of items that will be reviewed soon!!! I am so excited about these pretty shadows and the nail polishes are just awesome! Love the new formula!!!
Here is a list (let me know if there is anything in particular that you are wanting me to review!):
Megalash Starter Kit: Mega Lash Mascara and Megalash Serum
Mega Eyes Cream Eyeliner: Black
Silent Treatment Trio
I'm Getting Sunburned Trio
Party of Five Glitters (Polish)
How I Met Your Magenta (Polish)
Blue Wants to be a Millionaire (Polish)
LOL! LOVE the new polish names: Take offs on American Television Show titles for all you international readers, lol! Love it! I have always loved the funny/quippy names of OPI polishes...looks like WnW is jumping in on that idea! LOVE!
Thanks for reading! Enjoy your Sunday!
XOXO!