Revlon Grow Luscious Mascara:
Hello there dear readers! Happy Weekend to you!
Have you seen all the "lash growth" mascaras on the market these days? It seems as if every major brand is coming out with one? As someone with sparse, blond, thin, and short lashes, I am always on the lookout for a great mascara!
According to the packaging, Revlon's version, Grow Luscious, claims to make lashes thicker and fuller and the "lash enhancing formula complements the natural growth cycle...and improves the overall appearance and condition with each use". Are these claims true? Well, yes and no...you will have to keep reading! I pretty much have a love/hate relationship with this product!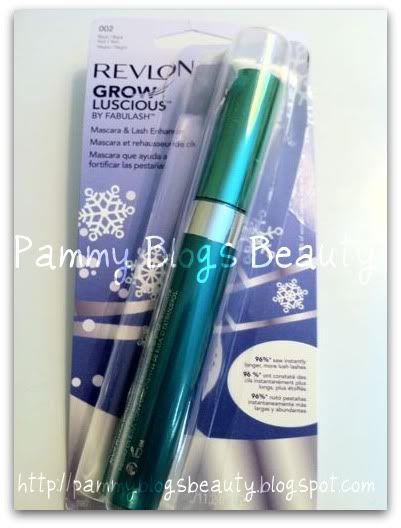 I am not one to normally buy into the hype of "lash growth" claims, yet I can't resist giving these products a try! Even if a product only helps a little bit...I need all the help I can get in the area of lashes! I have tried other "last growth mascaras" in the past (see my Rimmel Lash Accelerator review
here
) with limited success, but still, I couldn't resist trying Revlon's version as I had heard that it is great!
The Scoop:
This mascara certainly lives up to its claims as far as lengthening! When I apply this, my lashes look MUCH longer and a bit fuller too. So, you will achieve volume and length. I really like the look of my lashes after I apply this mascara.
The Packaging:
Grow Luscious comes in a very large and sleek metallic green tube. You are getting a great value here for your money with the large tube. I got this in a 2-for-1 package deal at Target for about $9. Not a bad deal for two mascaras!
The Wand:
Okay ya'll this wand is HUGE!!! Take a look at the photo below. I used to think that the Cover Girl Lash Blast Fusion, my HG mascara, had a huge wand until I compared it to Revlon's Grow Luscious (Check out my CG Lash Blast Fusion review
here
)! If you are used to using a mascara with a smaller wand, it might take a bit to get used to the feel of applying your mascara with such a large brush head. But, once you get used to it...I think its great! Something about that large brush just makes you "feel" like your lashes are going to get thick and long! LOL, I guess that is the whole idea. You get good separation of lashes with this non-rubberized brush head. The bristles are very dense and are good for getting volume.
The Wear:
This is where I will get into my love/hate relationship with this product. Yes, I *totally love* the look and feel of my lashes with this product on! It gives volume and length without being overly spidery. Totally daytime wearable for me...or build it up a bit more for more drama in the evenings. The kicker...this formula smudges like CRAZY on me! I mean total raccoon eyes! I hate that!!! I don't know about everyone else, but most mascaras smudge like crazy on me. I am not sure if it is the shape of my eye or my eye creams or what. But, it is a major pain. The *only* mascara that does not smudge under my eyes is Cover Girl's Lash Blast range, hence the HG status of
Lash Blast Fusion
. As much as I love the look that the Revlon Grow Luscious gives my lashes, it is not worth it to me to have it smudged under my eyes within an hour. I painstakingly apply concealer every day to cover my under eye circles, so mascara smudges totally undo all my careful concealing when I try to wipe off the smudges.
Lash Growth Claims?
So, does this mascara "compliment the natural growth cycle" and make your lashes grow better/faster/thicker? Honestly, I don't think there was that much of a difference. My lashes are naturally a bit sparse. When I started wearing this mascara, I did have a particularly sparse area. I tested this product for one month (I know, I am dedicated! Even with the smudging, I wanted to test it out for awhile to see if I could get some growth benefits. Side note: As the formula "dries out" a bit more, the smudging did seem to get a bit better). My lashes do "seem" to be in a bit better condition, but is it coincidence? Possibly. I bet that sparse area would have grown in either way within a month's time. But, possibly my lashes are in better condition overall. Your lashes do go through natural growth cycles where they grow and then shed. So, I think that my lashes are just growing the same way as they always have.
Would I purchase again?
No, definitely not, this is a fail product for me. :( I really do wish this product worked for me. But, I just can't deal with the crazy Raccoon smudging that happens under my eyes. If you are one of those lucky ladies that doesn't seem to have this problem, then this might be an amazing mascara for you!!! It really does make your lashes look lengthened and thickened. Its the smudging that makes this a fail for me! I will be sticking with my Cover Girl Lash Blast Fusion for now.
Thanks for reading!!! What are your HG mascaras?