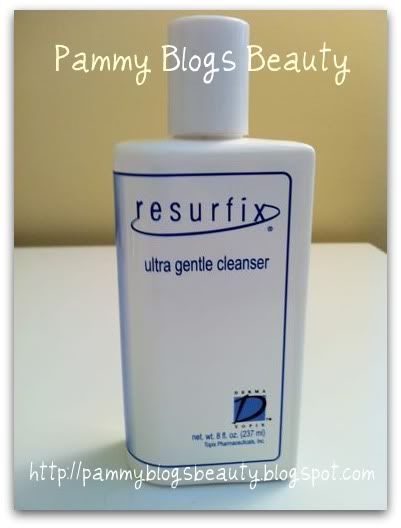 Skincare Routine Update!
Today I am going to share with ya'll my all-time, hands-down, Holy Grail (HG) gentle cleanser. Yes, I am talking about Topix Resurfix Ultra Gentle Cleanser. This stuff just totally rocks my world!
This gentle cleanser is a staple item in my skincare arsenal and I honestly can't live without this stuff! My hope is that Topix continues to make this forever!!! I really couldn't give it any higher praise! I am honestly so happy to write this review as I feel that I am sharing one of my best "beauty secrets" for having great skin!!!
With my uber-sensitive skin, I require an extremely gentle cleanser. As most sensitives know, finding a gentle cleanser that is able to remove all your makeup and sunscreen without over drying or leaving a residue is no easy task! But, I am happy to report that Topix is able to do all that and more!
The Cleanser itself: The Low-down:
The.Most.Gentle.Cleanser.Ever.Period.

This product is specifically designed for super sensitive skin and skin that is being treated by Retin-A or other Vitamin-A derivative (trentinoin) creams. I am on Differin Cream, so I need something that is very gentle. Resurfix cleanser is even suitable as a cleanser post facial treatments. So, ideal for sensitive skin, acne prone skin, and people with Rosacea (I don't have Rosacea, but the product description online states that it is safe for Rosacea).

Resurfix Ultra Gentle Cleanser is a clear fragrance free gel. Neither perfumes nor dyes are added. The texture of the cleanser reminds me a bit of Purpose.

It it mildly foaming; yet, it doesn't strip the skin. It just "feels good" on your skin! The mild foam just glides across your skin while washing. Love the feel of this!!!

This cleanser removes all traces of makeup and sunscreen and rinses completely clean. It leaves absolutely no residue!!! Your skin just feels "fresh". Skin does not feel tight or dry after rinsing. Side note: I do use a liquid eye makeup remover before cleansing my face to remove my mascara and eye liner.

The product is quite concentrated. A little pea size amount is all you need. So, you get great value for your money. A bottle will last you a long while. Plus, it retails for about $12 per bottle (plus shipping). I usually order wherever it is the cheapest. Like Skin-Etc.com, DermatologistRx.com, or SkinCareRx.com. I do wish it was available at my local drugstore, but I will settle with ordering it online!

This fab cleanser contains beneficial ingredients for sensitive skin: Green Tea and the antioxidant "papin enzyme" (from Papaya). This cleanser is soap free and clears "surface debris". The Ph is 5.5.

Skin is left in optimal condition after cleansing. No dryness, tightness, nor residue. Skin is prepped for whatever treatment product you want to apply after cleansing.
The results that I experienced after starting this cleanser:
Wow ya'll!!!! This is the best part...and it was something that I didn't expect!
I had a *drastic* reduction in facial redness after using this cleanser! Before using this cleanser, my complexion would occasionally lend itself to redness. Not Rosacea, but just a general pale-girl ruddy complexion. Being so pale, the redness would really "stand out"sometimes.
Well, after using this wonderful cleanser consistently for awhile, my redness disappeared!!! Apparently, my previous cleansers were too irritating and "causing" the redness!!! I had no idea that I had been experiencing irritation all that time. I just thought that the redness was "my complexion". Well, using this cleanser makes the redness disappear and leaves me with a porcelain complexion. Wow!!! So, referring to my tile of the post...Yes, a Gentle Cleanser can make a HUGE difference in the appearance of your skin! Especially if you have sensitive skin! This product has had such a positive impact on my skin tone and complexion!
My Skincare Routine:
So, you ask, how does Topix Resurfix Ultra Gentle Cleanser fit into my weekly skincare routine?
You all know that I love testing and trying new products! While I love my Topix cleanser, I still love trying new cleansers! I know, I know...call me crazy, lol! Also, I like rotating "treatment" cleansers like exfoliating cleansers or glycolic cleansers (see my previous Skincare Routine blog post on GlyDerm cleanser here) into my routine depending on what my skin needs. My skin is so sensitive, that I really can only do a treatment/glycolic cleanser/scrub 2-3 nights per week maximum.
So here is the routine: Every morning and most evenings I wash with Topix Resurfix Ultra gentle cleanser. I just use my hands to apply and wet the product with tepid water. I massage on my face and then rinse with tepid water. A few nights a week I will alternate using either my GlyDerm cleanser or a mild scrub (followed with Topix Resurfix to rinse scrub product).
No matter what else I try or test. Topix Resurfix Ultra Gentle Cleanser will remain in my routine! Whenever I get too experimental with skincare (which can happen, lol, to us product junkies sometimes!), I just go back to this for a week or two as my ONLY cleanser...and my skin will calm down to normal.
I highly recommend this cleanser to all you ladies (and men!) with sensitive skin, rosasea (while I don't have this issue, IMHO, I feel it would be safe), acne prone skin, and skin that is being treated with Retin-A or a related vitamin A product.
I will *never* be without this wonderful cleanser. I have nothing but raves for this amazing product!!!