Press Sample
Affiliate Link
Blogger Ambassador
#RoCWrinkleRanking
Your skin status offically revealed...via zip code!
Do you sometimes wish that you had a crystal ball to take a look into the future? Well, while we don't have a crystal ball, we can look to
RoC®'s
3rd Annual Wrinkle Ranking Study to see what the future might bring us wrinkle-wise.
I was a little shocked and dismayed to see that
Atlanta will be the 13th most wrinkle-prone city in 2040! Ack!!! With that in mind, you can be sure that I will be diligent in continuing my anti-aging skincare routine.
So, what exactly does this
RoC® Wrinkle Ranking Study
tell us? It is a
c
omprehensive survey evaluated a variety of factors and discovered some unique trends that affect wrinkle proneness in major cities across the United States.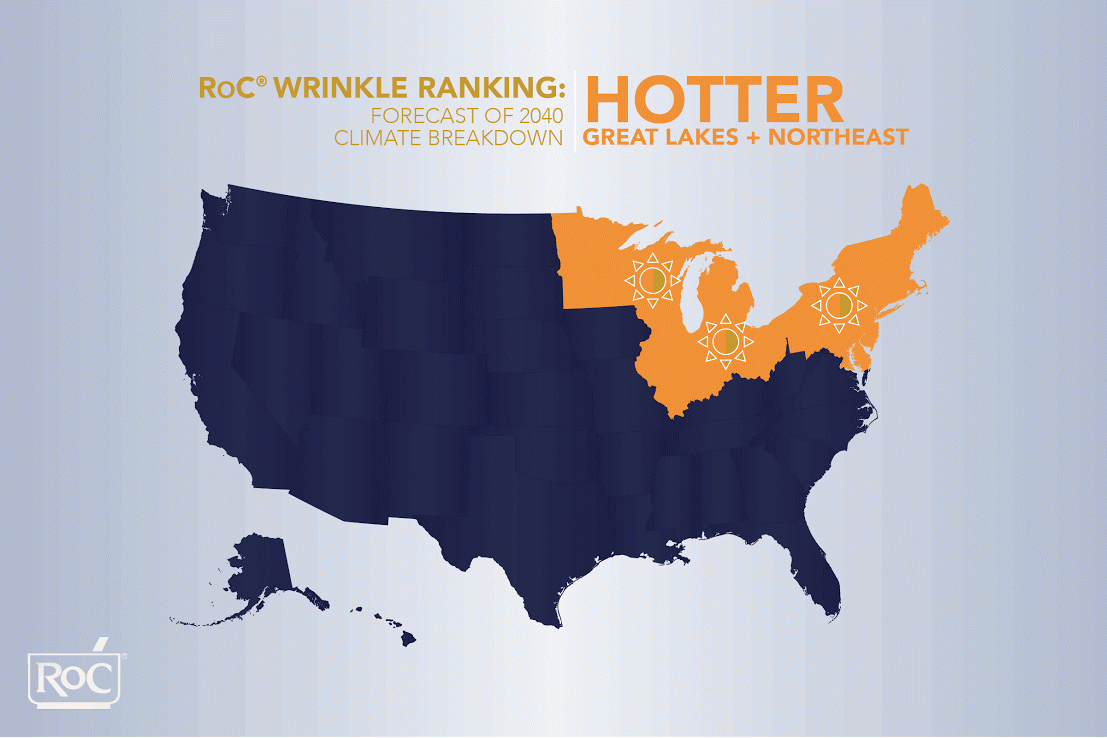 RoC® Skincare
and Spearling's Best Places partner in the 3rd Annual
RoC® Wrinkle Ranking Study to identify the underlying factors-based on geographic location in the U.S.-that are likely to impact skin aging by the year 2040.
Curous about how your state ranks? Be sure to scope out the full
RoC® Wrinkle Ranking Study here!
Key Findings Include:
Larger, metropolitan areas are most wrinkle-prone in 2040 due to the effects of their extreme urban environments, including lower air quality and commuter congestion.
Forecasts of high temperatures paired with less precipitation could increase the risk of wrinkles in areas such as the Great Lakes and the Northeast.
Cities like Nashville, St. Louis, and Kansas City are expected to retain smoking rates significantly higher than the rest of the country, leaving residents more at-risk for wrinkles.
My Georgia readers, what to hear more? Here's how the ATL is stacking up to #13:
Georgians, Georgians Everywhere – Contributing to the A's projected ranking is its high population (5th highest) and rapid anticipated growth into 2040. A lengthy commute and exposure to air pollution come with the territory of living in one of the largest metro areas.
Shades On, Smoke Gone – On the upside, The Big Peach can be proud of both a skin cancer forecast and smoking rate below average. Keep on using the SPF and kicking "butts!"
A Sticky Situation – Did you know Atlanta currently has the fourth most gum chewers in the country? While residents may boast fresh breath, some experts believe the act of chewing can causes lines and folds around the mouth due to muscle overuse.
Never fear...this news does not have to make you frown! The future of wrinkle solutions is now: With RoC® Skincare on your side, beautiful and healthy skin can still be achieveable starting today!
Yes, we can fight these environmental and geographic factors that contribute to aging! Just find and stick to a good Retinol-based anti-aging skincare routine! The great news is that you do not need high-end skincare to do this. There are some fabulous anti-aging products available right at the drugstore. When it comes to Retinol products, RoC® is a brand that I have used and trusted for years.
This product is clinically proven to fight signs of aging in the eye area. I literally use this eye cream every day and can't rave enough about it. Yes, I do try other eye creams from time-to-time since I review beauty products. However, I always come back to this eye cream! I know that I am getting my daily dose of Retinol when I use this. It is hydrating, fights fine lines and wrinkles, plumps my skin, and is gentle enough for daily use and my sensitive eyes. I am thrilled with my results! I often have people telling me that I look younger than my 40-something years and I honestly attribute that to this eye cream and my other anti-aging skincare products!
Another skincare essential is a good serum. This anti-aging formula is clinically proven to reduce both fine lines and deep wrinkles. For me, this product has both immediate and long-term results. I have noticed a reduction in fine lines with this serum and have had improvements in skin tone, smoothness, and overall radiance. I love the texture of this serum, too! It makes a great makeup base.
Affiliate Link