PR Sample
Affiliate Link
Blogger Ambassador
POPSUGAR sent me this Must Have Box to try
#MustHaveBox
@POPSUGARMustHave
@POPSUGARMH
It is time for another POPSUGAR Must Have Box Box Opening! These boxes are so much fun and I just love sharing the box openings with you readers. I think that these boxes are a great way to try out new things that you might have never tried otherwise. We are all creatures of routine and habit. These boxes are such a fun surprise and a great way to get out of your routine and try out new things! Plus, it is like getting a little "present" in the mail each month. Who doesn't love that! ;)
The POPSUGAR "Must Have Box" Subscription:
Want to get an amazing curated monthly box from POPSUGAR? These boxes are so fun and a super special treat to yourself each month. Plus, they are packed with full-sized surprises (fashion, beauty, home, and more!) that you are sure to love.
There are a variety of Subscription plans available to meet your needs: Monthly, 3-Month, and 6-Month. The longer you sign up for, the more you save. The most you will pay is $39.95 a month plus free shipping. These are a great treat for yourself, or a "gift that keeps giving" for a friend!
Want to hear about what was inside my September 2016 Must Have Box from POPSUGAR? Please click "read more" below to find out!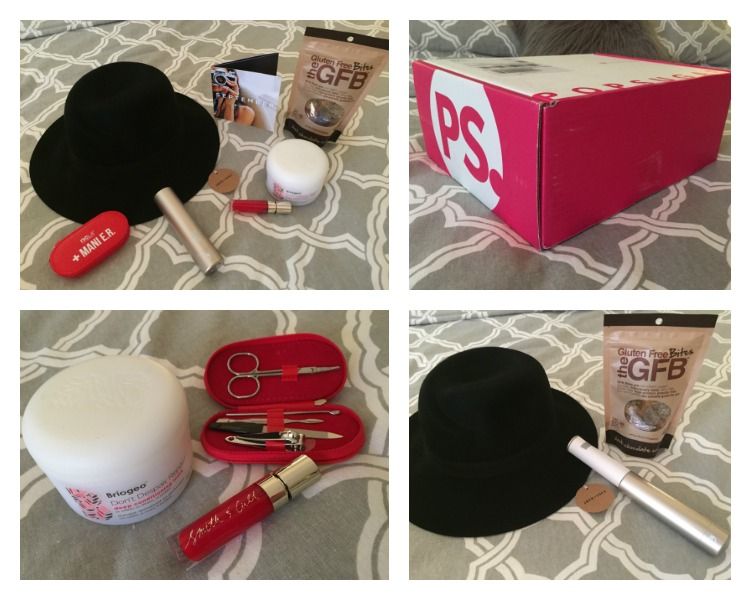 Inside the Box: September 2016 POPSUGAR Must Have Box:
What a fun box this month! It is literally filled with totally new-to-me items. So, I am excited to get familiar with some new brands and some fun stuff.
Jack & Lucy | Bicoastal Wide Brim Hat: Oh wow! What an awesome addition to a fashion/beauty/lifestyle box...a felt hat. I always admire these on others but honestly have never had one. Nothing says chic quite like a wide-brimmed hat and oversize sunglasses. Pair this headwear with your favorite Fall outfit for an effortlessly chic look that screams "model off duty". Retails for $58
NCLA | Mani-ier Tool Kit: I LOVE this little tool kit. This is a perfect addition to a handbag or your nail polish organizer. I love having all of my nail care tools in one place. This little zipper pouch is adorable and so practical! With this handy tool kit, you're equipped with everything you need for a chic manicure all in a portible, purse ready pack-so when you're transitioning into the hustle and bustle of Fall, one thing you'll never ned to worry about is your nails. Retails for $16.
Briogeo | Don't Despair, Repair! Deep Conditioning Mask: I am always down with a good deep conditioner. Can't wait to try this one! Your hair puts up with a lot-treat it to a spa day with this restorative mask, which will reduce breakage and restore natural vibrancey on even the most overprocessed locks! It works in minutes, and your newly hydrated and lustrous hair will appreicate the refresh. Retails for $36
FLINT | Lint Roller: This is the sleekest lint roller that I have ever seen. It is retractable which keeps the tape inside until you need it. Lets face it, we all need lint rollers. So, I am going to like using this super cool one. This sleek platnium lint roller will never let you down, convieniently sized for fitting in your purse and refillable so that you never have to risk unsightly mess. Flint can keep up with your day and look as good as you do. Retails for $9.99.
Smith & Cult | Lip Lacquer in The Warning: This is a new-to-me brand. So, I am excited to give this super shiny lippie a try. I fully admit that I am not a red lips girl. However, I am willing to try something new. Pair your new hat with a bold red lip-the gold microshimmer in this lippie adds a cheeky touch to an otherwise elegant beauty bag staple. The ingredients in this paraben and gluten-free formula help extend the wear, wheather it is worn over a lipstick or not. Retails for $22.00.
The Gluten Free Bites | Dark Chocolate Coconut Bites: I am all about a healthy chocolate snack alternative. These are good...not too sweet, but they curb the chocolate craving for sure. These vegan, gluten-free bites are made without GMOs or dairy so you can indulge your chocolate craving wtihout feeling guilty. Stick them in your purse for a sweet, high-protein treat on the go. Retails for $4.99.
Coupon Code: Get $5.00 off of your POPSUGAR Must Have Box:
Just use the code SHOP5 to get $5 off your FIRST Must Have Box!
Overall, I really enjoyed opening this box! What a fun mix of items. What a great way to explore new brands and try out things that I might not have even thought of otherwise! There is still time to get this box! Where to Buy? Get your box here! :)
Affiliate Link