Press Sample
Sponsored Post
Affiliate Link
Blogger Ambassador
Cold weather will soon be upon us! A change of season always calls for a revision of my skincare routine. My skincare needs often depend on the weather and environmental conditions. With the arrival of Fall, I am looking to update the skincare needs of my whole family. My toddler son has Eczema. So, I am particularly interested in keeping his skin soothed and protected through the harsher weather of Fall and Winter.
As an Aveeno Ambassador, I have access to top Dermatologists for skincare questions. I am so excited that Aveeno was able to connect me to Dermatologist
Jeanine B. Downie (a widely-recognized dermatologist featured in Allure, InStyle and SELF) for a short interview about Eczema.
Dr. Jeanine B. Downie talked to me about how colder temperatures affect skin conditions. She specifically addressed Eczema. I asked her for some tips about how we can protect our skin in the Winter. She shared some great information, advice, and tips. I am thrilled that I get to share these with you.
About Dr. Jeanine B. Downie:
Dr. Jeanine B. Downie, M.D., Director of Image Dermatology in Montclair, NJ is a Board Certified Dermatologist
by the American Board of Dermatology. Also, she is a fellow of the American Academy of Dermatology. She is a highly sought out Dermatologist with a reputation for personal patient care and excellence within the field. She is nationally recognized and has been featured on a varitety of TV and radio shows including:
The View, The Early Show, Good Morning America, The Today Show, Dr. Oz, GMA Health, The Wendy Williams Show, The Rachel Ray Show, Good Day New York, Fox 5 LIVE News, Channel 2 Morning News, BET News, Channel 9 News, News 12, Fox 5 Sports, Living It Up with Ali and Jack, Ten Years Younger, The Montel Williams Show, and more. Her melanoma segment on Fox 5 Sports and MSG Network was nominated for an Emmy.
Dr. Jeanine B. Downie
M.D., Director of Image Dermatology in Montclair, NJ, Board Certified Dermatologist
Q&A and Skincare Tips for Cold Weather:
Q: Why do some kids and adults develop Eczema and is it Allergy related?
A: Dr. Downie explained that Allergies, Eczema, and Asthma are all related as they are caused by the same gene. If you have allergies or asthma you may be predisposed to have eczema and vice versa. I have certainly found this to be true in my family. My brother and mother have Asthma and Allergies, I have Allergies, and my son has Eczema. I am certainly watching his development closely to see if allergies develop (I suspect that he has seasonal allergies already) and asthma.
Q: I have a son with Eczema. Also, I have sensitive skin myself. How does colder weather impact skin conditions such as Eczema and sensitive skin in children and adults ?
A: Dr. Downie expressed that the lack of humidity in the air in the Winter months is the main culprit for Eczema flare-ups in colder temperatures. Dry air means dry skin. Dry skin is itchy and we tend to scratch itches. This is known as the itch/scratch cycle in Eczema. We must keep our skin moisturized and prevent dry air to break the itch/scratch vicious cycle of Eczema. She also explained that the heat of Summer can cause flare ups as well. I have seen this with my son. She explained that the salt in sweat contributes to the itch scratch cycle.
Expert tip: Most regions should use humidifiers from Oct-May in the bedroom to help combat the lack of humidity in the environment. This is a great tip and something I plan on doing in my son's bedroom ASAP!
Q:
What can we do to better prepare our skin for colder weather?
A: Dr. Downie specifically gave me tips here for preparing my son's skin for the upcoming colder months. She expressed that the best thing I could do would be to use baby formula products like the Aveeno Baby Eczema line.
Expert Tips:
Use Aveeno Baby Eczema products to provide better hydration for the skin. Aveeno's new product, the Baby Eczema Therapy Nighttime Balm is specifically good as it is a steroid-free and paraben-free hydrating and moisturizing cream with 3x the amount of glycerin for severely dry and itchy skin. If you can decrease dry skin, you can decrease the itching and scratching for improved skin and improved sleep (for your child and you!). Another great tip: clip your baby/toddler's nails every/other day! You should clip low enough to not see the white nail overhang. I realized that I was keeping my son's nails much too long and this was contributing to his Eczema flare-ups from scratching. I have already started my routine of clipping his nails shorter and filing them every/other day to keep them short. Great tip!!!
Q: My son is 2 1/2 might he outgrow his Eczema?
A: Dr. Downie expressed that his Eczema will likely come more under control as he grows but often kids do not outgrow it until their teen years and many have Eczema for life. Her best tip was to keep using the Aveeno Baby Eczema formulas on him, even when he is not a baby anymore as they really are the best thing to use through the pediatric years to prevent recurrance of Eczema. With the high glycerin content, the colloidal oatmeal, and the hydrating formulas, you really can't go wrong with these products.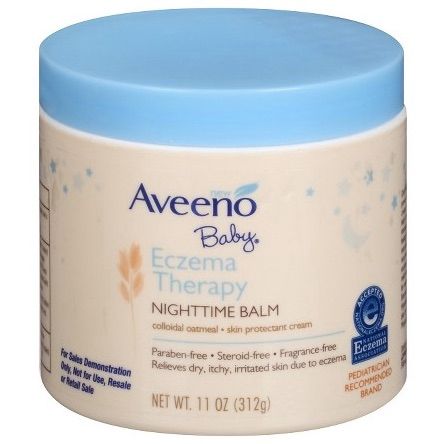 Now that you have read through Dr. Downie's tips for managing childhood Eczema and preventing flare-ups during colder weather, lets talk a bit more about one of the products that she highly recommended (and a personal new favorite of mine, too): Aveeno Baby Eczema Therapy Nighttime Balm.
Aveeno® Baby® Eczema Therapy Nightime Balm:
I am a long-time fan and user of the
Aveeno Baby Eczema Therapy Collection of products. My son was diagnosed with Eczema when he was an infant. So, I have been using the Aveeno collection of products since then. Overally, the Aveeno products work amazingly well at preventing and treating my toddler's eczema flare-ups.
I am super excited about this new line addition to the Aveeno Baby Eczema Therapy Collection! I think a nighttime balm is so useful. I love the idea of a super rich balm that works overnight to soothe my son's Eczema! We do a nighttime bath every other evening and I usually slather him down in Aveeno's Baby Eczema Therapy Cream. However, there are some times when even that wonderful cream doesn't cut it for an Eczema flare-up. During these times, my son's skin is itchy and uncomfortable. That is when I need something even richer and more nourishing and soothing than the cream. So, I use the Aveeno Baby Eczema Therapy Nighttime Balm right over the Aveeno Baby Eczema Therapy Cream. I use it like a spot-treatment on his Eczema patches and areas of super dry skin. Also, I tend to apply it where I see him itching. I love the balm-like thick and rich feel of this balm. There is no question, I see such a difference in his skin when he wakes up in the morning after applying this balm to affected areas.
Aveeno's NEW Baby Eczema Therapy Nighttime Balm has Aveeno's tradmark Active Naturals ingredients plus a high level of glycerin to help intensly moisturize and sooth the skin. Oat is the #1 ingredient to soothe itch and treat skin conditions like eczema. This balm has been clinically proven to reduce the occurance of itchy patches and eczema flare ups.
I am so happy to add the NEW Aveeno Baby Eczema Therapy Nighttime Balm to my son's arsenal of skincare products.
Are you an adult with Eczema? Well, good news! Aveeno also has a NEW Itch Relief Balm formulated and packaged for adults: introducing Aveeno Eczema Therapy Itch Relief Balm. It provides up to 6 hours of itch relief after application. With 3x more glycerin, this rich protective balm intensely moisturizes and leaves skin feeling super soft and comfortable. Plus, it has Aveeno's trademark Active Naturals.
What do you do to prepare your skin and your family's skin for the change of season? Do you have Eczema issues in your house as well? Be sure to scope out Aveeno's Eczema Therapy line and the NEW Baby Eczema Therapy Nighttime Balm!
Thanks for reading! I hope that you enjoyed reading Dr. Downie's advice and tips as much as I did!
XOXO
#Aveeno
@AveenoUS
Affiliate Link