Affiliate Link
Press Sample
I seem to be in the constant search for that "Holy Grail" hair serum that will leave my hair looking super shiny and fabulous.
My hair is long and is dry and somewhat damaged from highlights. I put a lot of work into my hair as far as salon visits, general maintenance (washing, conditioning, drying, etc), and special treatments (protein treatments, mositure treatments, leave-ins, etc). However, even with all of my extra "work", sometimes my hair still looks lacklustre. The shine factor seems to be the thing that is missing.
Yes, I have a few fabulous shine products on hand that I do swear by to give me that shine boost. However, I am constantly worrying about those products being discontinued or that they might become hard to find. I must have back ups. So, I frequently search for other products that might work well. As a beauty blogger, I do try out a lot of hair serums and leave-ins. However, only a few work well enough for me to devote time to review them! Enter
White Sands Porosity The Fix
!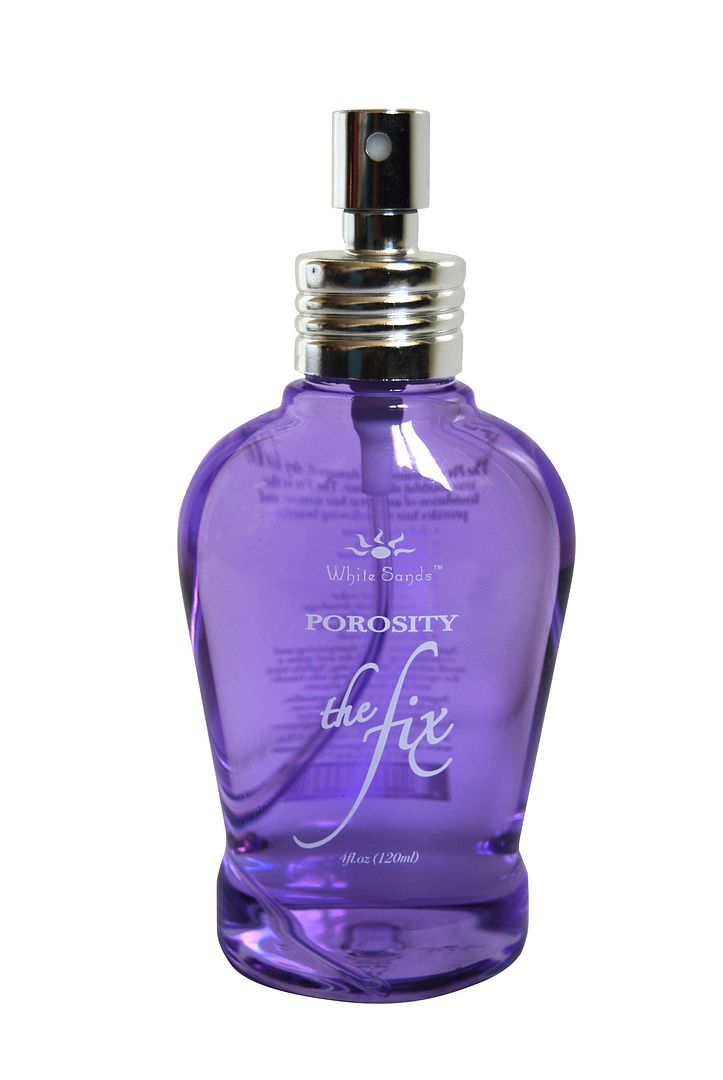 I am just adoring this multipurpose leave-in! From the pretty purple-ness of the liquid to the cuteness of the bottle, I just had to try it! Plus, as all of you with processed blonde or highlighted hair know, processed blonde hair is extremely porous. Finding products that work, like Porosity The Fix by White Sands, is the key to filling in the gaps that leave blonde hair overly porous and weak. White Sands Porosity The Fix helps to combat the issues caused by porosity and equalize your hair while also leaving it shiny and protected.
A little bit goes a long way with this product. I just spray it lightly on my hand and then distribute it throughout my hair. You can also spray directly onto your hair. However, I feel like I have a little more control when I spray into my hands and work it in this way.
How I use:
When my hair is freshly washed and towel dried, I spray a little on my hands and work it through my hair right after applying my styling products. This product acts as a heat protectant as well as a shine boosting serum. I probably use about 2-3 sprays in my hands for my below shoulder-length hair. Then I blow dry with a round brush as usual. When I am all done drying my hair. I spray about 2 more sprays worth onto my hands and then run that over the top layers of my hair for a shine boost. I love the results! It gives shine while also protecting my hair against heat damage. Also, I love the light feel of this product. It does not weigh my hair down at all nor leave it looking greasy. I think the trick is to use a very very small amount. With that said, this bottle is a great deal! It will take me ages to use it up with only using about 4-5 sprays per styling session.
You can find
White Sands Porosity The Fix
here. I am loving it! I am honestly using it every day now and am totally obsessed with my results! This stuff gives me "good hair days" every time I use it! This is honestly one of the best products I have ever used for smoothness and shine. Love, love, love it!!!
How do you get an extra boost of shine in your hair? I am always looking for new products! :) Thanks so much for reading!
XOXO!
Affiliate Link