Affiliate Link
Press Sample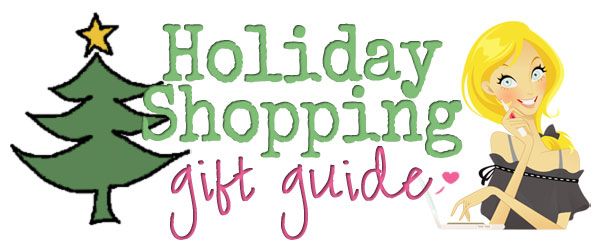 My Holiday Beauty Gift Guide 2015 continues with my Fabulous Beauty Gift Sets feature!!!
The Holidays are absolutely the time to jump on the amazing value gift sets that are available pretty much everywhere. From high-end makeup lines, to drugstore skincare...just about every brand seems to offer special value gift sets. This is great news because I have so many people on my Christmas Shopping List this year! Plus, Gift Sets are not just for gifts...if you are a fan of a line, it is a great time to stock up on your faves while trying some new products and limited edition items, too!

I had the opportunity and the pleasure to explore a pretty wide range of gift sets in consideration for this feature. Well folks, I have narrowed them down and picked out a few stellar sets. Some of these sets I have tried, some that I plan to try (new skincare for the New Year!) and some of them are sets that I have chosen to give for gifts this year. Also, I have had a few other brand-focused features that have already published or will publish soon for my ongoing Holiday Beauty Gift Guide 2015. So, be sure to scroll back through my previous recent posts and stay tune for future Gift Guide posts for more beauty and gift set ideas! :)
Without further ado, lets get to the Holiday Beauty Gift Sets! I have many to talk about. So, I am just going to give you the "skinny" on each set! Just know that I think these are all amazing options for gifting (either to a loved one or...yourself!).
Hard Candy | Tri-Me Lip Kit: Lipgloss love is so universal! What a cute and inexpensive gift for a special teen in your life. For only $4.88 you get 8 lipglosses (4 layered glosses and 4 shimmer glosses). Give your lips a sheer kiss of delicious color and shine with a giftable kit of Hard Candy's most-coveted shades!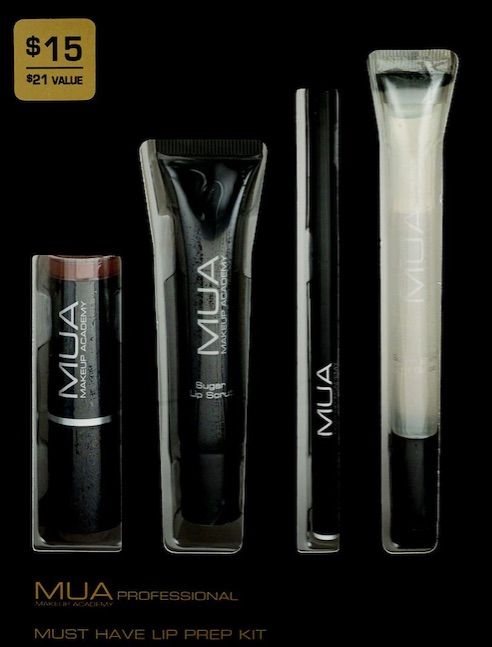 MUA Professional | Must Have Lip Prep Kit: Tis the season to share the glam with NEW Makeup Academy holiday offerings, available exclusively at CVS/pharmacy! The sparkly and festive makeup kits are perfect stocking stuffers for beauty enthusiasts and help achieve flawless eye, lip and face looks! Whether it's the Sultry Eyes kit, featuring the Smokey Eyeshadow Palette for nighttime looks, the All About Brows set for killer arches, or Shades of Plum lip set for a defined pout, there's an option for everyone – beginners and pros alike! Additionally, the kits are affordably priced at $15-$20 what a deal! I selected the MUA Professional Must Have Lip Prep Kit. It contains a Lip Primer, a Sugar Lip Scrub, an Anti-Feathering Lip Liner in Clear, and a Super Shine Lip Gloss. It is everything you need for a perfect pout! I am especially excited about the lip scrub. This time of year brings dry skin...and flaky lips. Good exfoliation is the key to getting a smooth lipstick application. :)
HUM Nutrition | Red Hot Holidays Gift Set: Want to get a jump-start on your New Year's Resolutions? Or do you want to motivate a friend to do so? A Nutrition Beauty Supplement might just be the motivator! This gift set from HUM Nutrition features 2 best sellers in a great value set! One of my goals for this New Year is to be better about taking vitamins every day. I am a fan of the formulas from Hum Nutrtion! Featuring HUM's best selling Skinny Bird and Red Carpet, the two formulas work together to nourish the body from within, making it the ultimate holiday beauty boost. The vegetarian Red Carpet supplement contains essential fatty acids GLA and ALA (only found in nature and at HUM), Vitamin E and Black Currant Seed Oil - making it the perfect formula to support healthy hair and repair the effects of winter on dry skin for hydrated, glowing skin. The perfect complement to Red Carpet, Skinny Bird contains HUM Nutrition's unique 'SMAC' formula, which targets the key factors of weight gain to keep unwanted pounds in check. Skinny Bird's combination of 5-HTP to reduce Stress eating, green tea extract to boost Metabolism, caralluma fimbriata to help curb Appetite and chromium to help Control blood sugar makes for an effective weight loss program that will help stave off holiday weight gain. In a 12-week clinical study participants lost over 2 inches in just 9 weeks. Red Hot Holidays is available exclusively at Sephora and Sephora.com.
Molton Brown | Festive Bauble Gift Set: OMG! This is so darn cute! It is a gift set of 3 ornaments filled with 2.5 oz of Molton Brown's luxurious body and hand washes. So colorful and cute! You can gift this entire set or break it up into 3 small gifts. I love whimsical gifts like this! This set includes Eucalyptus Festive Body Wash Bauble, Festive Frankincense & Allspice Festive Hand Wash Bauble , and Ylang-Ylang Festive Body Wash Bauble. This set retails for $40. This is just one of a variety of Limited Edition Holiday Sets from Molton Brown. They have a great selection!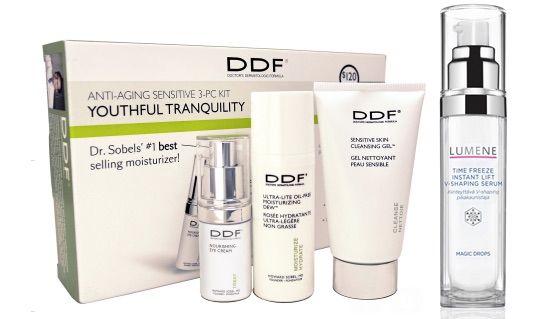 DDF | Youthful Tranquility Anti-Aging Sensitive 3-PC Kit: The New Year marks a great time to start a new skincare regime. The great news is that many brands, like DDF, have special value kits for the Holidays: an excellent way to either stock up on your favorites or try something new! So if you are or you know a skincare buff, this kit is worth checking out! This is a steal at $59 considering it contains a $120 value in products. This trio of products is designed with sensitive skin in mind to help combat free radicals, hydrate the skin and provide anti-aging properties. This 3-pc kit contains Dr. Sobel's best-selling, full-size moisturizer! Key ingredients include the following: grape seed extract, vitamins A, C, E, Bs & green tea. These are powerful ingredients to help fight fine lines & wrinkles.
Skincare L de L Cosmetics® Retinol | Anti-Aging Starter Kit: What an inexpensive way to get some Retinol in your skincare routine! It is a nice starter set or a set for travel (includes travel sizes). Contains the following products: Anti-Aging Cream Cleanser, Night Cream, and Anti-Wrinkle Facial Serum.

Senteurs d'Orient | Box of 3 Ma'amoul Soaps: I always think that a box of decadent and beautiful soap is the ultimate luxury gift. These soaps are literally works of art! These are gorgeous artisan soaps. Oh, and the scents...heavenly! Senteurs d'Orient believes that soap should be beautiful and whimsical. With designs inspired by traditional Lebanese pastries of the same name, our Ma'amoul Soap is the perfect hand soap. Each pure vegetal soap is sculpted to take your senses on a luxurious voyage to the world of scents and textures.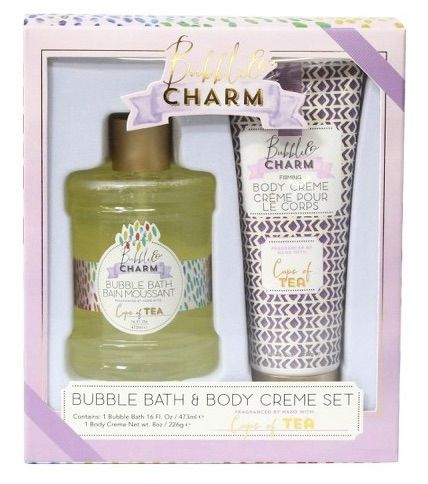 Bubble & Charm | Bubble Bath & Body Cream Set: Bubble & Charm is an adorable, fresh, and fun body product line available at Target. They have some really great gift sets available this season including my personal favorite: Cups of Tea Bubble Bath & Body Creme Set! The packaging is adorable and the fragrances are fantastic! With my busy schedule, I have to entice myself to the bath with cute bath products like these. Makes a great gift that would be loved by just about anyone! Bubble & Charm is designed for the everyday girl. This Bubble Bath and Body Crème Set is in the Cups of Tea fragrance. It is a quintessential English fragrance with notes of Earl Grey, Cream, Honey & Amber.

So, there you have it ya'll! A wide variety of beauty-related gift sets at a variety of price points. From bath products to skincare to soaps, these gifts would certainly make me smile! :) Good luck with the rest of your Christmas Shopping! :)


Affiliate Link