Press Sample
Affiliate Link
Blogger Ambassador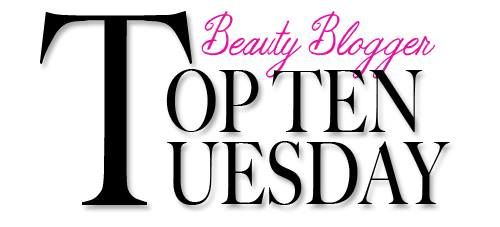 It finally feels like Fall here in Georgia! The air is crisp and cool in the mornings and the Sun is out and shining in the afternoons (on a good day!). Autumn in full-swing. The season's full arrival is sure reflected in my nail color! While the weather has cooled, it is still to hot here to dive into all the gorgeous new sweaters and boots that I see in the magazines and on Fashion blogs. So, I get into the Fall mode with my nail color! Plus, hello, Halloween is almost upon us and there are certainly some fun nail looks that I like to explore to get festive! Fall in Georgia is my favorite time of the year. So, I really have an affinity for Fall Nail Polish as well!
It was *so hard* to pick only 10 polishes for this post...I mean *so hard*! So, I tried to focus primarily on polishes that I am gravitating towards currently. Many of these are new releases since that is honestly what I play with more often! The result, I couldn't pick just 10...but got "close" with 13.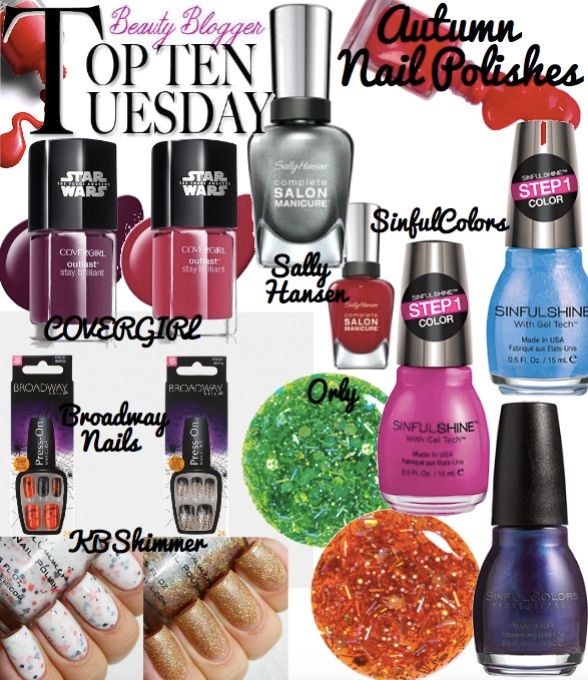 So, without further ado, here are my picks for Top Ten (13, wink!) Nail Polishes for Autumn 2015:
I am going to break them down into "categories":
Festive/Press On Nails:
Broadway Nails Halloween Press On Nails:
These press-on-nails by Broadway Nails are just *so fun*....and super quick! I haven't used press-on nails in a few years. So, it is fun to experiment with these. I have tried a nice little variety from the brand and am saving these two designs for the 2 weeks leading up to Halloween!
Broomstick
is a sexy twist on a french manicure with black tips, a spider web, and a glittery spider. My husband actually thinks these look super-sexy. So, I am going to wear them the week before Halloween when we are hitting a cool Halloween party together. :)
The Cauldron Set
is a super festive mix of orange and black nails with jack-o-lantern faces, spider webs, spiders, and a black glitter accent nail. I will wear these the week of Halloween! Yay! These are such a great alternative to polish! They are super quick and easy and the best part: no dry time. Plus, your manicure looks perfect (and lets face it, my nails usually don't look perfect).
Fun, Glittery, or Unique Polishes:
KBShimmer:
If you are looking for unique and beautiful polishes, look no further than KBShimmer! Their polishes always stand out in my collection for being truly unique and remarkably different! I selected two polishes from
KBShimmer
for today's Top 10 post:
Be Scareful
(Dots, shreds and circles in orange and black swim among a near white crelly base. After dark, this polish glows ghoulish green. Since glow powder is heavy, I suggest rolling/shaking before application)
and
I Feel Gourd-geous
(A coppery champagne color, this fine holographic polish shines in the light. Two –three coats offers a beautifully neutral full coverage polish).
Both of these polishes are from their new Fall/Winter 2015 Collection (if you missed my full review post, check it out here). I am obsessed with Be Scareful because it *glows in the dark* (OMG! How fun for Halloween parties!!!). I Feel Gourd-geous has seriously got to be one of the most beautiful polishes I have ever used. Ever. I seriously will paint my nails with this week after week (and I almost never repeat back-to-back). It is sparkly and pretty and seriously the best "neutral" ever!
Orly Glitters:
These two, I believe, were released last year (or the year before) for Halloween. This time of year, I love reaching for
Monster Mash
(lime green holographic glitter) and
Right Amount of Evil
(orange holographic glitter). These are great on their own or layered over other polishes. They are festive and fun for sure!
Colorful:
Just because it is Fall doesn't mean that you have to completely shy away from color! Sure, the neons and brights of Summer are out of my rotation. However, I just can't resist my signature blues and purples, and pinks. These three from
SinfulColors
are just gorgeous and in heavy rotation on my nails and toes right now:
Too Cool For Pool
,
Royal Flush
, and
No Filter
. I am especially fond of fuschia colors for nails and toes. So,
Royal Flush
(gorgeous Fuchsia creme), in particular is a huge fave!!!
Royal Flush
and
Too Cool for Pool
(Periwinkle with very subtle iridescent micro sparkle) are from the
SinfulShine 2-step (no light) gel polish system
. Just apply the step 1 Gel Nail Color and then top it off with the Gel Topcoat. It is that easy! I do find that these manicures last just a bit longer than my usual manicure. So, I am thrilled with the results!
No Filter
(iridescent Twilight blue) is from the Oh Snap Collection. I love this deep shade. It is colorful; yet, so deep and rich for Fall. Plus, have I mentioned that
SinfulColors
are an amazing deal at the drugstore! For just a few dollars, you can try as many shades as you want! :)
Deep, Dark, Red, and Metallic:
No Fall/Winter Nail Polish Collection would be complete without some Red and some Metallic! Now seriously ya'll, I am not normally a red lipstick and polish girl. However, the tide has turned! I am really on a red lippie and polish kick. Do you know what jump started this trend for me? The
StarWars Collection from COVERGIRL
! I am *obcessed* with StarWars and flippin adore this collection. I completely fell in love with the
lipstick Red #30
. It is absolutely the *perfect* red. It has just enough of a cool undertone to work perfectly with my skin. It is a gorgeous true red and has me completely converted. It is now an "everyday" Red lippie for me (I NEVER thought I would have an "everyday") red! Can I tell you one other awesome thing, besides it being a Star Wars item, this lipstick seriously lasts all day on me. Sure it fades a bit when I eat. But, my lips look gorgeous all day with very little re-application when I wear this. I don't wear a lot of makeup day-to-day. So, a nice pop of color on my lips goes a long way! Sorry, total digression here! Lets get back to polish.
So, my point is...falling in love with red lips has me now turning to reds for my tips and toes, too! The Star Wars Collection from COVERGIRL has a gorgeous true red polish #180 Red Revenge and I am also loving Nemesis #195 (a deep eggplant). These polishes are the awesome Outlast formula which is a great 1-step super glossy polish. I love these for a quickie mani! If you haven't checked out the
Star Wars Collection yet from COVERGIRL
, you definately should before it sells out or becomes hard to find! The assortment of lippies, polish, and mascara is awesome! A must-have for any Star Wars fan like me! :)
One of my other favorite polish lines is the
Complete Salon Manicure Collection from Sally Hansen
. Fabulous formula and a great choice for colors! For Autumn, I am loving #863 Maasai Red (deep red/burgundy creme) and #871 Lady T (Silver Sparkle Metallic).
Be sure to check out my fellow Top Ten Tuesdays bloggers posts (see below). I can't wait to see what they are wearing on their nails this Fall! :)
Affiliate Link