Affiliate Link
Press Sample
It may still be hot outside, but it is time to talk about Fall Beauty releases! As much as I love the long and lazy days of Summer, at this time of year I really am ready for the season change. Diving into fun new Fall beauty products gets me so excited for the upcoming Fall season! It is time to shift from the bold and bright colors of Summer to the gorgeous nudes and soft neutrals of this NEW essence collection!
Fall 2015 with essence:
Essence has a really great lineup of new products for Fall 2015! I have been trying out an assorment of products from the collection and I am really excited to share them with you today. Not only are these cosmetics affordable, but also they are really fabulous! I honestly can't get over how good some of these items are. Many have already become daily staples for me!

To find out more about the items that I tried from essence's Fall/Winter 2015/2016 Collection, please click "read more" below!
I will fully admit that I struggle with my nails. Even though I am a beauty blogger who researches and tries out products, my nails are still one of my trouble spots. Alas, I was unfortunately blessed with thin and weak nails that are prone to peeling. With a toddler and a preschooler at home, it is hard to find time to do my nails. So, I am super excited about essence's new Gel nail polishes and Gel base & top coats! This 3-step system is very affordable, long wearing...plus the application process is super quick and easy. I am thrilled with the results!!! Now I can't wait to try more shades, lol. I am obsessed! First I apply the base coat, then I apply 2 coats of the gel polish, and then the top coat. It is that easy. You get a long-lasting manicure (I got 5+ days without chips is almost unheard of for me) with a super shiny finish. All of this without an LED or UV lamp! Oh and the price...only $1.99 for polish and $3.99 for base and top coat. My favorite shade? #05 Sweet as Candy (a gorgeous sheer blush pink). This is the quintessential "my nails but better" natural shade. I could seriously wear this every day (and I sure have been)!
I <3 Trends Nail Polish: The Nudes:
Are you looking to rock the nude nail trend? This collection gives you some great (and affordable) options! This collection gives you the option of 4 nude shades: from marshmallow to soft peach, light rose to satin beige (my fave). They will flatter any skin tone! These retail for $1.99 each.

Lip Liner: Shade Updates:
Oh how I love essence's lip liners. They are so simple, inexpensive, and get the job done. This Fall, essence updates their liner collection with the addition of two pretty and bright shades: Honey Berry and Femme Fetale. They retail for $1.49 each. A steal!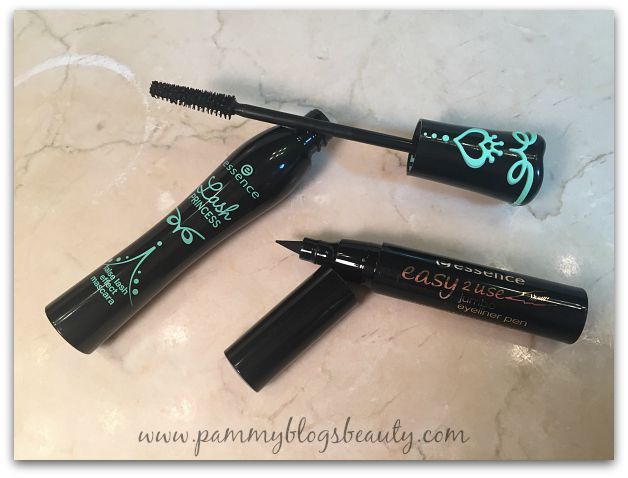 Jumbo Eyeliner Pen:
I go through phases with eyeliner. I tend to gravitate towards a specific type for months and then switch it up. From lining with shadow, to pencils, to liquid, to pens, I really do like all types but it is totally cyclical. Right now, I am in a major liquid eyeliner pen phase. I am all about the cat eye for everyday. What can I say, it just works great with my eye shape! This Jumbo Eyeliner Pen is making my life so easy! It is a total snap to create a simple cat eye with this. It glides on smoothly and easily and the line won't smudge or fade. Plus, it is only $2.99! What a deal!
Lash Princess False Effect Mascara:
Ok, so you know I just had to try this mascara because of the name! With a 3 1/2 year old little girl in our house, we are all about princess everything, lol! All joking aside, this mascara really is a deal! For only $4.99, you get a mascara that gives your lashes dramatic volume and length. Now, unfortunately, this mascara does not smudge on me...but, you might have better luck. I have allergies and many mascaras do run on me. However the brush separates the lashes nicely, and I get gorgeous length and volume.
How to Make Nude Eyes Makeup Box:
I saved the best for last ya'll! I adore this eyeshadow palette and have been using it almost every single day! I even went out of town with it and it was the only eyeshadow palette that I brought. It was all I needed for gorgeous everyday nude eye makeup! This is an all-in-one kit with 6 shades ranging from light vanilla shades to medium browns and taupes, to darker brown. It is everything you need for a variety of complete eye looks from start to finish. You can go light and natural or darker and smoky with this one palette. There is an instruction card included as well as an applicator and a mirror. My only critique is that the box nature of the palette is a little bulky. However, even with that, it was still easy for me to travel with. I am amazed at the quality of these shadows for the price! They wear absolutely all day on me. Plus, the texture is really nice to work with, too. It blends well and has a soft texture. Love, love, love this palette! For $9.99, this is a must have! Scoop this one up before it sells out! :)

Have you seen the new Fall/Winter Collection from essence? I just got to try out a few of the items but there is more available! What items are tempting your the most? I know that I would like to scope out the Chocolates Palette next! :)
Affiliate Link