Press Sample
Affiliate Link
Blogger Ambassador/iFabboMember
Oh pores, we all have them...but how do we make them look less apparent? Their appearance can be minimized when they are super clear, clean, and your skin is refined. A good skincare routine which includes a deep action exfoliator is the key!
About dr. brandt skincare: (from iFabbo and dr. brandt skincare)
dr. brandt skincare is the natural evolution of Dr. Brandt's professional dermatology practice and clinical research. In an industry rife with out-sized claims and overblown promises, dr. brandt skincare will become first in the minds of women who desire the most beautiful, youthful skin possible--not because they market better, but because they develop better products!
My Skin:
Before diving into more product details and my review, lets talk about my skin type so that you can know where I am coming from with this review. I have classic combo skin: normal-oily in the warmer months and normal-dry when it gets cold. My skin also fluxuates hormonally. I am a bit more oily and prone to breakouts in my t-zone. However, good skincare keeps breakouts at bay. I am in my early 40s. So, I am super interested in anti-aging skincare. My skin is also somewhat sensitive and prone to redness if I am not careful with my product selection.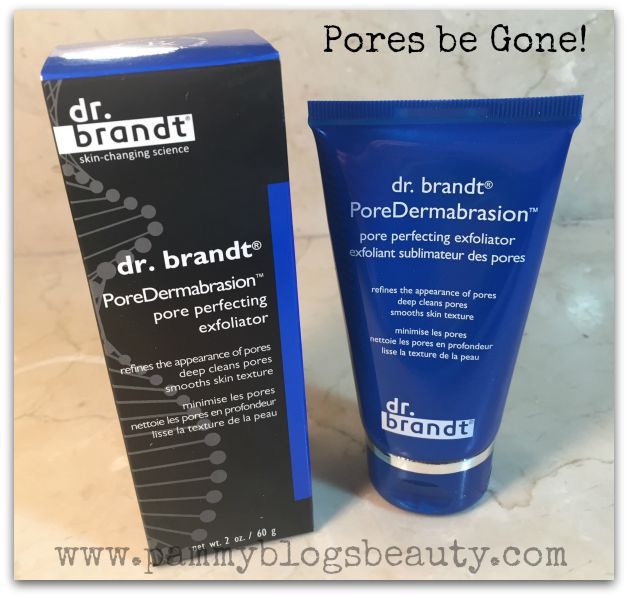 dr. brandt PoreDermabrasion is a unique professional grade physical and chemical exfoliator and pore perfector in one. No matter how old you are or what type of skin you have, enlarged pores are a huge concern. Shrink them down to the vanishing point while smoothing and evening skin's texture.
Key Benefits of dr. brandt's PoreDermabrasion Pore Perfecting Exfoliator:
Refines the appearance of pores
Deep cleans pores
Smooths skin texture
How I Use:
This product is super easy to use! I use it at night as part of my evening skincare routine 1-2 times per week. I use it after washing my face with a gentle cleanser. Then I just leave my skin damp. I apply a small amount of this product with my hands and gently massage it onto my skin (using very, very light pressure) for about 1 minute. Then, I allow the product to sit on my skin like a facial mask for about 1-2 more minutes. This allows the chemical exfoliator time to work on your skin. Then, I rinse well with tepid water and gently pat my skin dry with a towel. I follow up with the rest of my skincare routine: serum and moisturizer and/or facial oil.
My Results:
After using this product a few weeks, I am really impressed with the clarity of my skin and the clearness of my pores. Are my pores diminished? Well, probably. The difference is not super noticeable in size. However, I am very impressed with how clear and soft my skin is. Overall, I really love using this product. It feels like a "spa experience" when I use it, lol! Plus, it keeps my skin clear and the deep exfoliation allows for better penetration of my anti-aging skincare products. That is a huge plus! Overall, a great product!
Where to buy:
Follow this link to share and save
! Product ships free with standard shipping. X2 loyalty points with purchase of this product. If you share with friends and they come back to drbrandskincare.com, you can both save up to $10 on your next purchase!
#PoreDermabrasion
Affiliate Link