This shop has been compensated by Collective Bias, Inc. and its advertiser. All opinions are mine alone. #ConfidentKids #CollectiveBias
Sponsored Post
Affiliate Link
Having my children feel good about themselves is a driving force embedded within my parenting style. I choose to leave work and stay at home to raise my kids in a positive and nurturing environment. This includes potty training! I think the key to our potty training success has been to always approach the subject (including handling of accidents) in a positive manner.
As a stay-at-home Mommy, I am certainly "in the trenches" when it comes to diapering and potty training! I have a 1 1/2 year old in diapers and a 3 1/2 year old who pretty recently potty trained. While I am so happy to finally have only one child in diapers...that certainly does not mean that my 3 1/2 year old daughter is accident-free.
Potty training was overall very successful for my daughter. Across the board, she does not have that many accidents. However, staying dry throughout the night is still an occasional challenge. Plus, with the Summer heat in full swing. I have noticed that she is drinking more fluids during the day and having more accidents. As a busy and often tired Mommy, potty accidents can certainly be frustrating on my end (as well as on my daughter's end). I mean, who wants to be changing sheets and nightgowns and cleaning in the middle of the night? Not me! While it does happen, it is difficult and I always try to remain as positive as I can during the situation. My daughter is always upset and crying when this happens. She certainly does not want to have accidents. So, she is embarrassed and upset when they do happen. She does not want to be dirty nor wet. The last thing that I would ever want is for her to be upset with herself when she has an accident. She is only 3 and accidents are part of the whole potty training process. I certainly do not expect a 3-year old to be accident-free and dry during the night 100% of the time.
When we potty trained using the classic "3 Day Method" we made a big deal about getting rid of diapers. Diapers were for babies and my daughter is a "big girl" and wears big girl panties from now on. That works great...in theory. However, it certainly does not help with those night time accidents (and the subsequent cleaning dilemmas). I have occasionally put her in a "pull up" style pant...but, lets face it, those are glorified diapers. Plus, once my daughter got used to her "big girl panties", those "pull ups" just weren't as comfortable to her. That is why I am so excited to hear about the
GoodNites TruFit Real Underwear with Nighttime Protection
. These are not diapers! This is like the best of both worlds: the protection of an absorbent liner with the comfort and feel of real underwear!!!
I am absolutely thrilled that I have the option of giving my daughter (and Son whenever he is ready)
GoodNites TruFit Real Underwear with Nighttime Protection
. This will inspire confidence within her that she can go through the night without wetting her bed! Plus, she doesn't feel like she has to take a step-back to wear pull-up style pants. She can still wear "big girl panties" without any fears of night time accidents wetting her bed! As she gets older she will eventually gain more control and be able to hold it longer and/or be able to get up in the night independently and go to the bathroom. In the meantime, we can rely on products like the GoodNites TruFit Real Underwear with Nighttime Protection to get us over that "hump" when it comes to wetting the bed. My daugher can feel confident and good about herself and her potty skills when going to bed with GoodNites TruFit!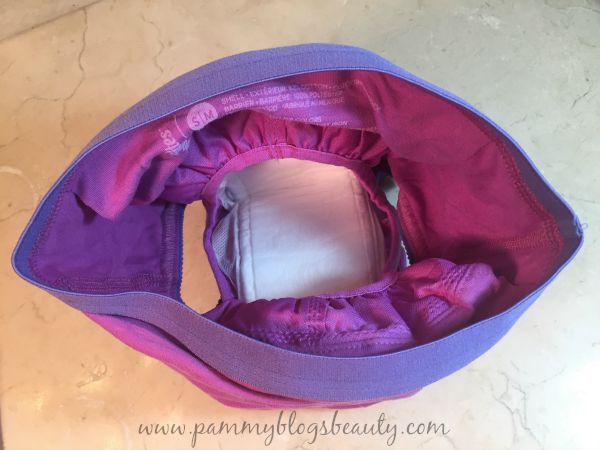 I got started with the GoodNites TruFit Starter Pack from CVS. It was convienient to shop for the GoodNites TruFit Starter Pack while I was already at my local CVS running errands! The GoodNites TruFit Starter Pack was easy to find at CVS: right in the aisle with the diapers and other kid/baby stuff. Once you have the starter pack, you can purchase additional liners in refill packs. The GoodNites TruFit Underwear and Liners are super easy to use! The underwear is machine washable, too! To use, just place the insert in and tuck it into the leak resistant insert pocket inside the underwear.
As far as fit, we purchased the GoodNites TruFit in the size S/M (fits clothing size 4-8 and 38-65 lbs). These are slightly too big for my daughter (she is a size 4, but is thin). However, I can still make them work with some slight adjustments. As she grows into these a little bit more, they will be perfect!
How do you encourage self-esteem and confidence in your kids? I'd love to hear how the
GoodNites TruFit Starter Pack
would be put to use in your home! Be sure to click through the link for an opportunity to
unlock a $4.00 off coupon
good towards a GoodNites TruFit Starter Pack!
Follow on Social Media:
#ConfidentKids
#CollectiveBias
@GoodNites

Affiliate Link