Blogger Ambassador
Affiliate Link
Press Sample
Scentbird
Envelope Opening:
It is time for my monthly Scentbird "Envelope Opening" and First Impressions post! :)
Beauty Sample Subscriptions have really exploded! I will fully admit to being a bit obsessed with the whole concept. I subscribe to quite a few "beauty box" programs. However, Scentbird really does offer something unique and different...a monthly service for perfume! If you haven't joined in this series yet, please start following it now! I am featuring monthly "Envelope Opening" posts from Scentbird for a year! So, join in the fun and follow me through my year with Scentbird. Lets see what new and fun fragrances we can discover together!
I do adore perfume and love trying new ones. However, perfume really is expensive and a bottle lasts a long time. Lets face it...buying a bottle of perfume is a commitment. Well,
Scentbird
has found a genius way for fragrance-lovers to really try a scent: 8 ml. purse-size vials filled with 100% authentic designer perfume that fit into a travel-friendly case. These vials are sent out monthly and provide enough perfume to keep you scented all month long! After trying Scentbird for the first time last month, I can tell you that they did send me just exactly enough of the scent for a month of frequent use.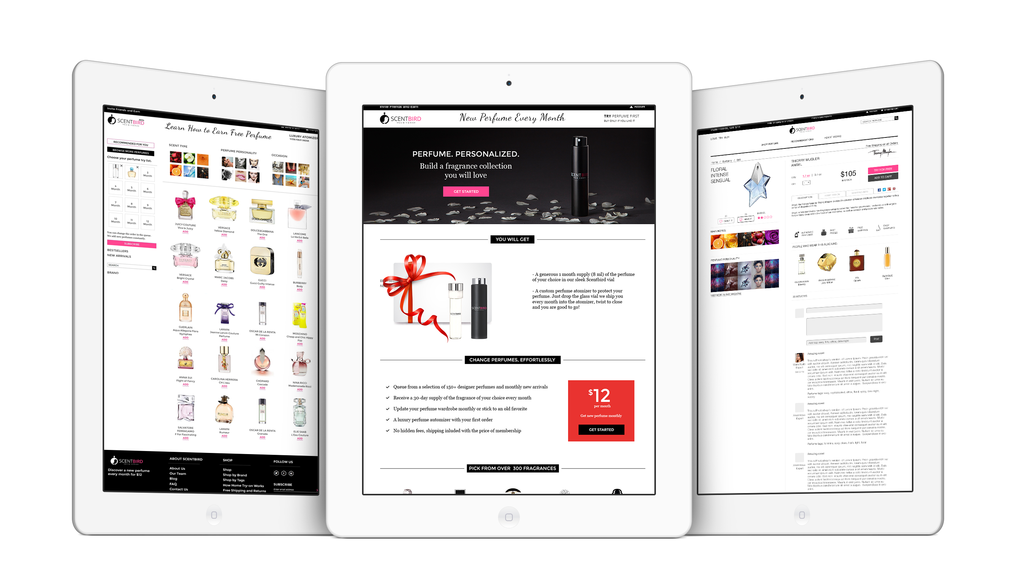 The Scoop:
Just $14.95 a month gets you a 30-day supply of a designer perfume of your choice right to your door. Choose from 300+ top brands. The selection really is amazing! They have many scents that I have had my eye on for quite some time!
The perfume you select comes in a sleek purse-size spray that is super portable. Each month you just swap out the old scent and pop the new one into your Scentbird purse spray container.
Getting Started with Scentbird
: How does it work
Go to www.scentbird.com and answer a few quick questions.

Scentbird

gets to know your scent preferences in minutes. You can search for something in particular that you have been wanting to try...or you can go with their monthly featured selection.

Set up a "Perfume Calender". Think of this like your trusty "Netflix queue. You can add favorites here if you like to be consistant or switch it up by adding new fragrances each month (Scentbird is always adding new scents!).

$14.95 gets you a monthly purse spray. You get a complimentary perfume case with your first order.

Drop purse spray into the case, twist and it's ready to go.

Shipping is free and you can cancel anytime!
Curious to find out what scent I got from Scentbird in February (I know this post is up a little late...life has been busy with my 1 year old a

nd 3 year old...and my Scentbird envelope arrived right at the end of the month)

? To hear that info, please click "read more" below!
Feb's selection: Juicy Couture "Viva La Juicy Gold Couture
"
I just love warm sexy vanilla-musky scents and this Juicy Couture Viva La Juicy Gold Couture is no exception! I absolutely love it! Now, if you are familiar with the classic Juicy Couture scent, I find this to be very, very different from that. I like both. However, this one is certainly much more deep and musky. As we say goodbye to winter, I am so glad that I found this scent. I do rotate my scents seasonally and this is certainly a heavy cold weather scent to me. So, I am glad that I get to wear it as I say farewell to the last cold days of Winter!
Experience a couture overdose. The Viva la Juicy Gold woman is couture all the way, spinning an addictive web of glamour and decadence at the center of her golden world. This opulent rendition of Viva la Juicy indulges the senses with luscious wild berries, a kiss of honeysuckle, and a luxurious elixir of golden amber, melted caramel, and vanilla. All that glitters is gold.
Use code "PRETTY50" for 50% OFF the first box (offer is good for any subscription option: monthly, 3, 6 or 12 month subscription).
Are you a Scentbird subscriber already? I would love to hear about your fragrance of the month!
Affiliate Link