Affiliate Link
Press Sample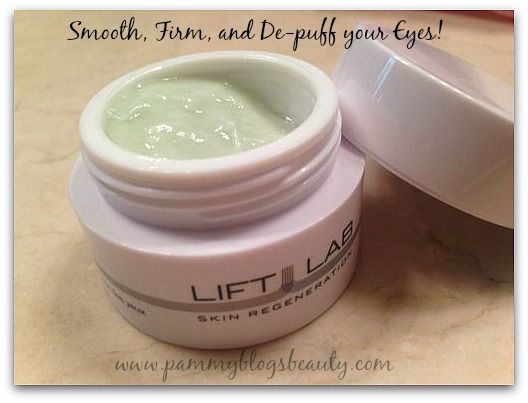 My eye area is my "trouble spot" when it comes to my skin. My eyes are very sensitive. Plus, I constantly struggle with very dark under eye circles. I blame heredity, lack of sleep (I have an 8 month old), and allergies. In addition, my allergies cause redness around my eye area as well. Plus, I just turned 40 a few months ago. My eye area is where I am just starting to show my age. I have some fine lines when I smile around my eyes and I have crepey skin on my eyelids. The fine lines are much more apparent when my skin is dehydrated. So, a good eye cream is key!
With my eye concerns, you know that I am all about finding great eye creams! A good eye cream can keep my fine lines at bay, soothe my sensitive skin around my eyes, and diminish dark circles (my fingers are always crossed for this benefit!).
My latest discovery in the quest for great eye creams is
LIFTLAB's Lift & Firm Eye Cream
. In the past, I have had great luck with LIFTLAB's other products. So, I was super excited to try out this fabulous skincare line's Eye Cream!
To find out more details about this awesome eye cream and to hear my thoughts, please click "read more" below!
LIFTLAB's Lift & Firm Eye Cream
:
Before diving into how this eye cream works for me, lets talk about some of the powerhouse ingredients packed inside this anti-aging eye cream. It is great knowing that your skincare contains proven ingredients that work!
Key Ingredients:
Cell Protection Protein®: Exclusive to LIFTLAB, CPP™is derived from marine life that thrives in arctic waters. It is their secret to survival in the very harsh climate. It is scientifically proven to awaken the power within your skin, unprecedented in not only protecting cells and balancing skin's moisture level, but also working within skin cells to promote our skin's own natural ability for self-repair and regeneration.
Along with CPP™, it's formulated with skin-firming ingredients to counteract the slowdown in collagen and elastin production that can begin in your mid-20s. Kollaren and Syniorage help to activate collagen and elastin production, while MDI Complex helps to prevent the breakdown of collagen. Specially selected plant extracts deliver anti-irritating benefits. Long-lasting moisturization and lipid barrier protection help to visibly firm and reduce the appearance of fine lines and deep wrinkles. Niacinamide and water-soluble Vitamin P boost microcirculation to help diminish dark circles. Water-soluble Vitamin P also de-puffs.
The Skinny:
LIFTLAB's Lift & Firm Eye Cream is available at neimanmarcus.com, theliftlab.com and select Neiman Marcus stores. It retails for $110 for a .5 oz jar.
LIFTLAB's Lift & Firm Eye Cream
: This eye cream is packaged in a screw top jar. The cream is a light green cream that has almost a gel-like consistancy. The cream has a very very light and fresh fragrance. The cream itself feels so buttery! I find this eye cream to be extremely soothing to my eye area. It is so moisturizing!
How I Use:
I like applying this eye cream at night only. While you could apply it both during the day and the night, I find that it does take awhile for this cream to sink into your skin. So, I prefer applying during the night as I am usually in a hurry in the mornings wanting to apply concealer right after eye cream (and I just don't have the patience to wait for the product to sink in, lol).
After washing my face, and applying my other nighttime skincare products, I gently pat this eye cream around my eye area. I take a very small amount (like less than a quarter of a pea-size) on my fingertips for each eye. I pat both under and around the eye as well as over my eye lid.
My Results:
This eye cream has both fabulous immediate effects as well as amazing long-term results. Immediately after applying, this richly moisturizing eye cream hydrates and smooths and depuffs the eye area. I love waking up in the mornings with plumper-looking skin around my eye areas. After using this product a few weeks, I noticed that the somewhat "crepey" looking skin on my eyelids was noticeably plumped and the crepeyness was significantly diminished. I am thrilled! As anyone with crepey eyelids knows, it is hard to apply eyeliner to that crepey skin. I love it when that area looks plumped and smooth. Yay!!! :) As far as my dark circles, they are certainly still dark (I mean, my dark circles are much darker than the average persons...I do not expect miracles here from my eye creams. Any improvements are to be celebrated!). However, I do feel that the darkness is somewhat diminished and the eye area, overall, looks more refreshed. Also, my fine lines look much less apparent and the overall eye area looks plump and smooth.
If you are looking for an anti-aging eye cream with scientifically proven results as well as both immediate and long-term effects, you should certainly check out this fabulous eye cream!
Have you ever used LIFTLAB products? If so, I would love to hear your recommendations as I would love to explore the line further! So far, I have tried their Lift & Fix as well as this eye cream. Both products were home-runs for me! :)
Shop the Post: Fabulous products from LIFTLAB:
Affiliate Link