I Bought It
Affiliate Link
Press Sample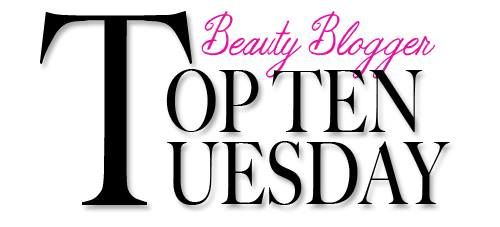 It is Top Ten Tuesday time again! This time the Top Ten Tuesdays bloggers are sharing their favorite makeup brushes. My makeup brushes are near-and-dear to my heart. The brushes that I love are used daily. Often, when I find a brush that I love, I use it for years and years. Some of the brushes in my collection have been going strong for 10+ years! I try out a LOT of brushes. Only the ones that really work best are added to my everyday routine.
Here are my current Top 10 Brushes:
Urban Decay Good Karma Optical Blurring Brush: This foundation brush is amazing! The "optical blurring" transpires when you buff your foundation into your skin. It seamlessly blends the product across your skin and makes it become one with your skin. When used with the Naked Skin Foundation from Urban Decay (which I LOVE) it disperses the light reflecting pigments.
Eco Tools Recycled Retractable Kabuki Brush: I love wearing powder foundation and this brush distributes it beautifully! Plus, it is retractable. So, it is perfect for your handbag or travel! Earth-friendly and cruelty-free :)
Real Techniques by Sam & Nic Chapman Blush Brush: Real Techniques brushes are affordable and amazing quality! Plus, I love supporting YouTuber Makeup Artists Sam & Nic Chapman. Their makeup tutorials are fabulous!!! This brush is oversized and super soft.
Laura Mercier Angled Eye Liner Brush: I literally just started using this brush and it is already a favorite! I love using this with my creme and gel liners. The angle of the brush really makes application easier. Plus, I love the ultra-fine the brush is. Specifically designed by Laura Mercier to work with the Creme Eye Liner, the brush uses high quality synthetic fibers in a narrow, exact point with a thin profile that creates the most precise looks. Angled ferrule allows you to reach up over the lashes to easily apply along the lash line.
MAKE UP FOR EVER 130 Large Powder Brush: If you are looking for a super duper soft luxe powder brush...this is IT! I like using really big brushes for finishing powder application. I just lightly dust this brush over the powder of my choice and dust it across my face. The result is a super light dusting of powder. So quick and easy! Plus, I absolutely love the feel of this brush on my skin. Heavenly!
Eco Tools Bamboo Deluxe Concealer Brush: I use this every single day. It is perfect for under-eye concealer application. Plus it is super soft on my delicate eye area. Another love from Eco Tools!
Sigma e55 Eye Shading Brush: This brush is simply the perfect size for my eye lid and my brow bone area. It is my most used eye shadow brush by a landslide. Plus, I just love Sigma brushes. Amazing quality, fabulous assortment, and really great prices!
MAC 266 Small Angle Brush: This is my favorite eye liner brush for applying powder eyeshadow wet (which is honestly my most used method for lining my eyes...it is just so natural). This brush has the perfect angle...plus, it is nice and thin for a natural looking line. I have had this brush for more than 10 years and it is still going strong!
Sigma F25 Tapered Face Brush: This is the perfect blush for bronzer/contour application. The small tapered point places the color perfectly. Then you just press in and blend out. The soft fluffiness of the brush blends the product in beautifully. I always use this for bronzer. Every single time I apply!
Shop the Post:


What are your favorite brushes? I would love to hear!

Please check out the links below to my fellow Top Ten Tuesdays Bloggers picks for Top 10 Brushes!