Affiliate Link
Press Sample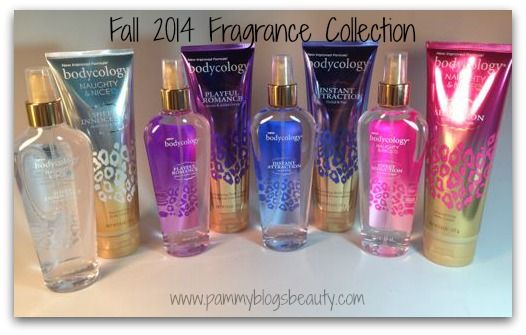 bodycology's NEW Fall 2014 Fragrance Collection:
Can you believe that it is almost time to start talking Fall already? One of the very first things that I do when a change of season rolls around is to switch up my fragrances. While I am not quite ready to do that yet (since we are still in the heat of the Summer), it is still fun to scope out the new fragrance offerings for the upcoming season. Plus, it is fun to give you guys a sneak-peek, too!
Are you familiar with bodycology?
bodycology is a line of extremely affordable bath & body scents that are available right at your local Walmart, Walgreens, or Ulta stores. Priced at $3.99 each for a full size, you really can't get more affordable than that! Their scents are very similar to bath & body products that you would find at the Mall...but, for a much affordable price. The packaging is super-duper cute and the scents are really fun to wear. I tend to wear these lotion and body spray combos either on their own, or as a refresher to my everyday perfumes. Either way, I am one of those people who is constantly freshening up with a body spray.
This new Fall 2014 Collection has four fun new scents! To hear more details about each fragrance and to enter my Giveaway, please click "read more" below!
bodycology's NEW Fall 2014 Fragrance Collection:
The fresh scent of citrus mingled with peony petals and vanilla crème delights your senses. This light fragrance will give you feelings of heavenly desire. Top notes of Pink Grapefruit, Dewy Greens, and Honey leading into mid tones of Tender Rose, Jasmine, and Peony Petal, ending with dry notes of Sheer Musk, White Amber, and Vanilla. Sheer Innocence is available in Fragrance Mist and Moisturizing Body Cream. This scent is soft and baby-powdery to me. I really like it! It is a comforting scent that I particularly like wearing in the evenings or applying before bed after and evening shower or bath.
bodycology Sweet Seduction Collection:
Sweet Seduction is an enticing scent with a succulent blend of fresh petals and apple. With both floral and fruity undertones this fragrance will captivate your senses. Top notes of Juicy Orange, Crisp Apple, Melon Water, and Red Plum open this intriguing scent, leading with mid notes of Red Currant, Muguet Petals, Rose, and Sweet Freesia, ending with dry notes of Creamy Sandalwood, and Sheer Musk. Sweet Seduction is available in Fragrance Mist and Moisturizing Body Cream. If you like super sweet and fruity scents, you will love wearing this one. I like freshening up with this one in the daytime.
bodycology Instant Attraction Collection:
Instant Attraction will electrify your senses with its hints of dark orchid and sparkling pear. Starting off with top notes of Fresh Ozone, Watery Pear, and Pink Peppercorn leading into the heart notes of Romantic Rose, and Sensual Ylang, and ending with the overall base notes of White Amber, Blonde Woods, and Addictive Musk. This fragrance is known to captivate your senses leaving you with an everlasting scent of intriguing floral. Instant Attraction is available in Fragrance Mist and Moisturizing Body Cream.
This is such a lovely soft and sophisticated rose scent! This one is really lovely to wear.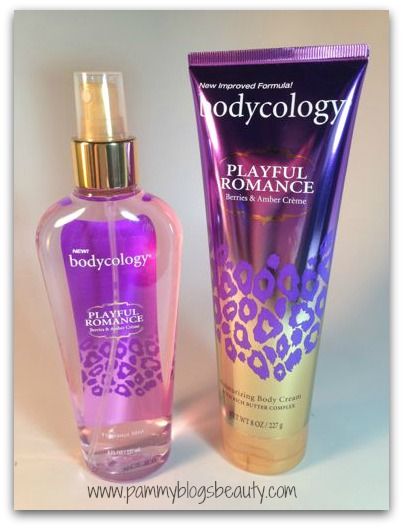 bodycology Playful Romance Collection:
Turn heads with Playful Romance's sweet blend of juicy berries and amber crème. With undertones of oriental floral this fragrance will entice anyone who lets it hit their senses. Top notes of Apple Blossom, Peach, and Blackberry give a fruity base, leading into mid notes of Frosted Freesia, Jasmine, and Orris Butter, ending with dry notes of Whipped Amber Crème, Sandalwood, and Vanilla Musk, resulting in a scent that will be forever be desirable. This slightly musky warm oriental floral and sexy scent is my favorite of the collection. I know this will be a go-to scent for me once the weather turns a bit cooler!
Overall, this is a fabulous new Fall fragrance assortment from bodycology! The scents are all so different! No matter what you go for scent-wise, you are likely to find something you like here: from fruity, to rose floral, to powdery, to musky, bodycology has you set with a variety of awesome new Fall scents!!!
The Giveaway:
The Prize: One winner will win a full sized bodycology fragrance or body lotion from bodycology's new Fall 2014 Fragrance Collection!
The Rules:
You must be 18 years old to enter (or have your parents permission).
Prize is shipped directly to the winners by bodycology. Pammy Blogs Beauty is not responsible for items lost or damaged in mail/transit. Prize fulfillment is through bodycology. Prize is not redeemable for cash.
To enter the contest, you must fill out Rafflecopter form below. The winner will be chosen randomly through Rafflecopter. In the event of technical error, Pammy Blogs Beauty reserves the right to pick the winner. The entries will be verified as needed and individuals with multiple or falsified entries will be disqualified.
Only one entry per person. With that said, you may earn extra entries by tweeting, liking on facebook, etc on the Rafflecopter form (see details below on how to earn extra entries).
Contest is void where prohibited by law.
Contest runs from 8/4/14-8/29/14 . Winners have 48 hours to respond to winning email from Pammy Blogs Beauty or a new winner/winners will be selected.
To Enter the Contest (required rules):
Please see the rules listed above.
1. You must be a follower/Subscriber of this blog in at least one way to enter. You have multiple ways to follow this blog: e-mail subscription, Google Friend Connect,
facebook
,
twitter
,
Pinterest
,
Google+
,
BlogLovin
, and
Instagram
. The more ways in which you follow this blog, the more chances that you have to win!
2. Fill out Rafflecopter form below.
3. Answer question in comment form below: What is your favorite scent from bodycology?
4. You must like
Pammy Blogs Beauty's Facebook page
.
5. You must follow
Pammy Blogs Beauty on Google+
6. You must follow
Pammy Blogs Beauty on twitter
.
For bonus (optional) entries:
You can tweet about this giveaway (one time per day max please!). Please include a link back to this giveaway and @pammyblogbeauty
You can follow this blog in more ways: Google Friend Connect, email subscription, Pinterest, BlogLovin, and Instagram.
Do a Blog Post about this giveaway (must include a link back to this giveaway and giveaway photo/art)