Affiliate Link
Press Sample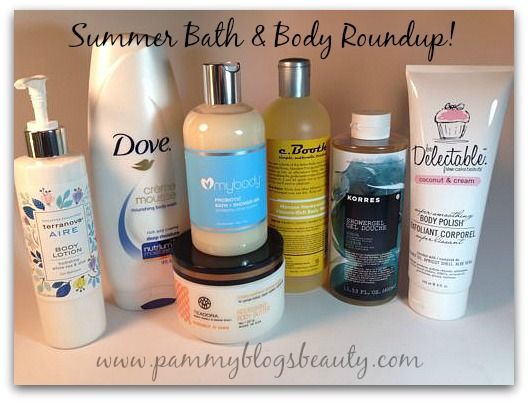 Shower gels and body scrubs are the workhorses in my daily beauty routine. They are, quite simply, the products that I go through the quickest and use up most frequently. Often, these everyday items are the "unsung heros" in an everyday routine. These products simply do their job (getting me clean and/or scrubbed) and they do it well. While maybe not as flashy as the newest innovative skincare item or as sought out as a trendy new palette, these everyday shower-time items totally deserve some blog love!
As I mentioned, I go through a lot of shower and bath products. Today I want to share with you some really great stand-out bath and body products. As a super-busy stay-at-home Mom of a 6-month old and a 2 1/2 year old, my 5 minutes in the shower before they awake is my only "me time" of my day. I simply don't want to waste my precious morning shower with a so-so body product. I am looking for really great products that give me a mini "spa experience" right at home during shower time. Sometimes it is those little things in life, like a luxury bath product or just a really nicely scented body cleanser that is a deal from the drugstore, that gives you that little lift.
So, with all that said, here is my current roundup of Showertime Essentials. Some are single products and some items represent the entire bath product line (including moisturizers, shower gel, scrubs, and body creams). Either way, these are scents that I enjoy and products that I love!
To find out more details about each product and these lines, please click "read more" below!
Summertime Shower Product Essentials:

Korres Showergel in Guava: Mmm...what a perfect Summertime scent...Guava! This shower gel cleanses and leaves you refreshed and lightly hydrated. These shower gels help you maintain the natural moisture level of your skin. Plus, the packaging is very cool and modern. I am new to the Korres line and am really enjoying the products! This brand stemmed out of a homeopathic pharmacy by George Korres (pharmacist). The products are an environmentally friendly blend of science and nature. Korres showergels are available in 6 scents at Sephora.com. They retail for$19.50 for 13.53 fl oz.
c. Booth by Freeman Beauty in Mimosa Honeysuckle: I am loving this entire line of bath products (Body Wash, Body Souffle, Shaving Oil, etc). The Mimosa Honeysuckle scent is seriously amazing. As a Georgia native, the scent of Honeysuckle epitomizes Summertime and brings back memories of long walks and playing in the backyard near wild honeysuckle. There is no question this is a high-end quality line at a drugstore price. These products are so luxurious and I am completely obsessed with the lovely scent! Products retail from $6.99-$8.99 each.
mybody Probiotic Bath & Shower Gel in Revitalizing Citrus Coconut: mybody is a skincare line that I know and trust. So, naturally, I was intrigued to try their bath and body line! This is the first product that I have tried in the line and must say that I would love to try more! I feel that this is more than just your standard body wash...it is packed with skincare ingredients like probiotics to give your skin an immune "boost" (like yogurt for your skin, right?!?!). I really don't smell the coconut in this scent. It is more of a citrus/floral to me. However, the scent is still divine and very Summery. This product retails for $29.00 for 10 fl oz.
Terranova AIRE Collection: This is a lovely new collection from Terranova that is available at GlamAlley.com. This scent is absolutely divine: fresh freesia and muguet mixed with citrus and white tea. It is the perfect blend of fresh with a sophisticated flair. Light and feminine, this scent is easy to wear. This lovely Terranova AIRE collection includes body lotion, perfume essence, body wash, and body oil. I just love this classic scent! Plus, the packaging is lovely! Terranova AIRE products range from about $19.00- $22.00 at GlamAlley.com.
Teadora Rainforest at Dusk and Rainforest at Dawn Collection: I am really enjoying my exploration of the Teadora line of products: body cleansers, body oil, body butter, shampoo, lip butter, and body cream). These earthy and natural products are just a treat to use. The line uses raw and natural ingredients from sustainable sources. I really like the clean and somewhat unisex tea-tree type scent of the Rainforest at Dawn Collection. My husband really likes using these products too (yes, he does tend to steal my shower products and mentions the ones he likes in particular, like this line!). Products range from $15-$45.00. There are two scents available: Rainforest at Dawn and Rainforest at Dusk: Rainforest at Dawn is vibrant & woodsy—yet floral—it awakens your senses and readies you for the day ahead. Rainforest at Dusk is flowery & smooth—with a hint of fruit—it soothes and revitalizes your senses after a long day.
Dove Creme Mousse Nourishing Body Wash: Nothing seems to beat Dove for adding moisture to your skin while also leaving you cleansed. Dove products have been a staple in my bathroom for years and their body washes are really fabulous! I have been particularly enjoying the Creme Mousse Body Wash lately. It gives a great lather and leaves my skin enveloped in a lovely and clean Dove scent. My skin tends to get dry from the outdoors and self-tanning in the Summers. Dove body wash leaves my skin feeling nourished and hydrated. Retails for about $5.50 for a huge 18 fl oz bottle.
be Delectable Coconut & Cream Body Products (Body Wash, Body Polish, Hair & Body Mist, and Hand Cream): Have I mentioned lately that I annually become obsessed with coconut scents in the Summer months? Yes, I am seeing a pattern here. Every year when the weather gets hot, I whip out my favorite coconut-based body products and fragrances. This scent was just made for Summer and I love be Delectable's version of sweet coconut creaminess!!! This sweet line by Cake Beauty is available at Kohl's. I love all of the scents from this line. I especially like using the Hair & Body Mists as I really love scenting my hair! If you like super sweet/foodie scents, you will love this entire line! Products retail around $10.00 (and there are some great sales right now, too!).
So, that is my current lineup of
Summertime Bath & Body products
. Quite a variety of both scents and price points! There are certainly many options out there for body products depending on what scents you are drawn to and your budget. What are you loving lately in the bath or shower? As you can tell, I love trying out new body products and discovering the latest scents!