Affiliate Link
Press Sample
It is time for another Makeup War! This time the Makeup Wars bloggers are sharing their favorite products for troubled skin. These troubled skin solutions could be any product to help with common skin complaints like acne, wrinkles, etc.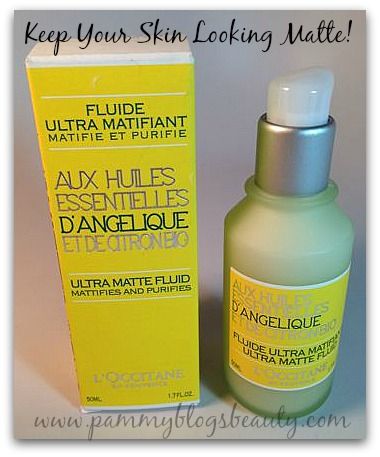 In my case, I decided to tackle my specific Summer skin issue: combination/oily skin. My combo skin gets quite oily through the t-zone in the Summers. Not only do I look more shiny, but also my makeup does not last as long as the oily skin causes everything to slide. So, what is a girl to do??? Enter the amazing
Angelica Ultra Matte Fluid by L'Occitane
. I absolutely love this stuff!!! It leaves my skin looking and feeling matte. Plus, I find that the product is very refreshing to use! It gives my skin such a "clean" feel.
The
Angelica Ultra Matte Fluid
is a lightweight gel mattifying moisturizer that gives your skin a lovely matte look. It has a light and completely non-greasy feel. It just literally sinks right into your skin. Plus, it has an amazing and ultra refreshing scent! It contains Angelica extracts (hydrates skin and protects from impurities), lemon essential oil (purifies and has astringent action), and Zinc (helps to eliminate sebum). I find that this product not only helps me to stay matte, but also extends the wear time of my makeup.
How I Use:
I apply the
L'Occitane Angelica Ultra Matte Fluid
like a makeup primer. I put it on right before applying my makeup (So, I apply after my usual morning skincare routine...but before makeup). I use exactly 1 pump's worth and focus it through the t-zone area of my face and a little bit into my cheeks, too. It absorbs very quickly. I follow this up with my usual makeup routine.
The Skinny:
Do you struggle with oily skin in the Summer? I would love to hear what is working for you!!!
Please be sure to check out the link (s) below to find out what the other Makeup Wars bloggers are using as their solutions to common skin problems and troubled skin!