I Bought It
Press Sample
Affiliate Link
Blogger Ambassador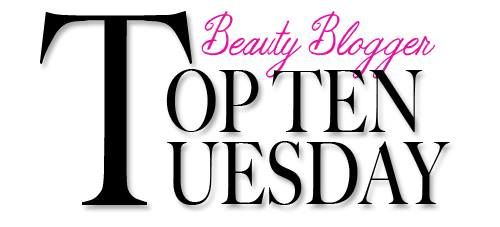 It's almost Mother's Day! Have you picked out your Mother's Day gifts yet for the special Moms in your life? Your Mother, Grandmother, Sister, Best Friend? All Moms deserve a special treat on Mother's Day! As a Mom myself now (with two beautiful littles: A toddler and an infant), I know that I always enjoy a nice beauty gift! Be it makeup, luxury skincare, bath and body products, or spa-like items...any gift that promises some pampering gets a lot of love from me!
I am a big giver of Bath & Body products for Mother's Day. So, of course I included quite a few ideas in that category, but also, I really tried to include a variety of beauty gifts across-the-board: Natural skincare, spa-treats, skincare, nail polish, gift sets, makeup, etc! To find lots of details about my Top 10 (okay, maybe 11) Beauty Gift ideas for Mom and to see more photos, please click "read more" below!
Cynthia Rowley Beauty Spring Collection (set): What a great way to perk up a Mom: a beautiful Spring Collection makeup gift set from Cynthia Rowley! This set is exclusive to Birchbox and includes not only the gorgeous art-inspired 5-pan eyeshadow palette, but also a mini eyeliner, an mini lipstain, and an adorable cosmetic bag. Very gifty, indeed! The whole set is only $35.00. The lilac hues are very on-trend and are totally perfect for Spring! The cosmetic bag is the perfect size for your purse and features a very artistic design. If you are shopping for a Mom of a baby or toddler, be sure to check out Birchbox's New Multi-Purpose Baby Buggy pouch. Sales of this cute green pouch help support Baby Buggy (a non-profit that supports Mothers in need). The pouch retails for $22.00 and can hold everything from diapers and wipes to snacks or even your makeup if you want.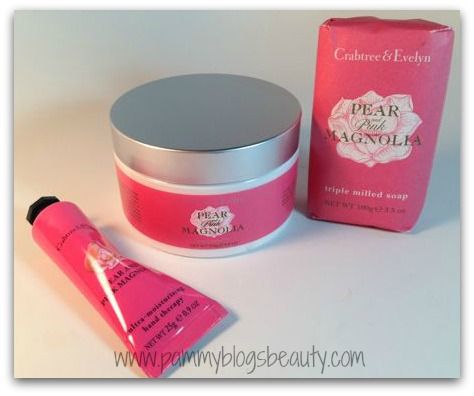 Crabtree & Evelyn NEW Pear & Pink Magnolia Collection: This new fresh Spring collection from Crabtree & Evelyn combines 2 of my favorite scents: Pear and Magnolia! The addition of pear gives such a fresh twist to the floral scent. It is light and clean and lovely! They have a variety of items available in this new collection: Body Lotion, Body Wash, Body Souffle, Hand Therapy Cream, Triple Milled Soap, and an Eau de Toilette. You can mix and match an assortment of these and make a cute little gift basket for Mom! I tried the Hand Therapy Cream, The Triple Milled Soap, and the Body Souffle. I love the scent so much that I think I want the Eau de Toilette, too!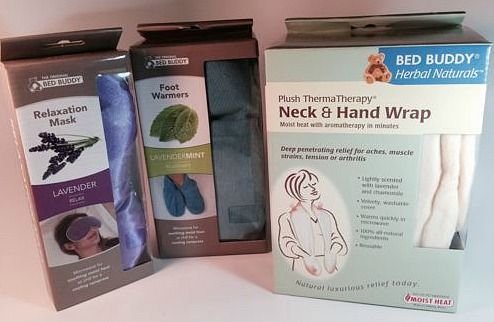 Bed Buddy Warmers and Wraps: As a Mom, I love a good spa night. These warmers from Bed Buddy are perfect for any tired Mom in need of pampering...for a Spa night, or even just while relaxing on the couch! I have tried out the Foot Warmers, the Relaxation Mask, and the Neck and Hand Wrap. These work both hot or cold. Plus, the added aromatherapy is so soothing! These warmers certainly help me to de-stress and ease my tired or achy muscles. Any of these would make a nice treat or gift!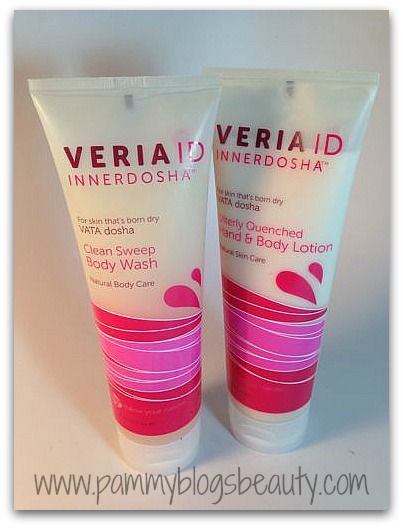 Natural Bath & Body Products: For the Natural Yoga-loving Mom! Do you have a Mom in your life who loves not only natural beauty products but also likes getting her zen-on? Try gifting some Natural bath & shower products with an Ayurveda twist: Veria ID Innerdosha Vata Dosha Hand & Body Lotion and Body Wash. I really like the unique Ayurveda approach. It is all about balance and finding the products that work with the "whole you". Love the whole vibe here! I am somewhere in between a Vata (dry skin) and a Pitta (sensitive skin). You can actually take a quiz on their site to discover your inner dosha. The Vata Dosha line is designed for "Spirits who are born dry" by nature and need extra hydration and warmth. The products are refreshing to use and have a lovely and light citrus-y scent.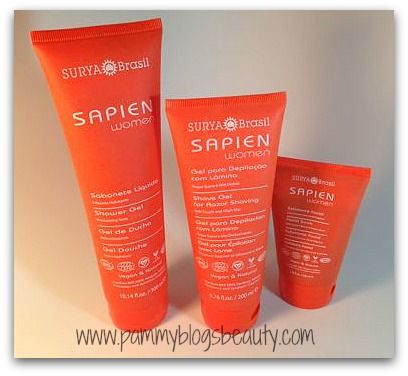 Another great natural line? Sapien Women by Surya Brasil! I was first introduced to this line through a Total Beauty Collection box. I have recently explored the line further and am really loving the products. The products are all Vegan & Natural. Plus, the scent...A-Ma-Zing!!! If you love orange-citrusy scents, you will love the smell of these products. So fresh! I have been enjoying the Shower Gel, the Shave Gel, and the Facial Scrub.
Tea and Skincare Pairings from MIYU: I am so excited about this line! MIYU Beauty features tea and skincare pairings that aim to address skincare from the inside out. This line focuses on the ritual of beauty: Drink a lovely cup of tea and apply your serum! We all know how good antioxidants are and tea is a great way to deliver antioxidants to your body...while also being enjoyable! MIYU focuses on beauty as a lifestyle: lack of sleep, stress, a poor diet, and UV exposure can accelerate the aging process. We must nurture our complexions from within. These adorable tea and skincare pairings are a great way to do this. I tried out the De-Stress pairing which consists of the De-Stress Beauty Essence (a facial mist/facial serum hybrid formulated with peppermint, dandelion, ginger, licorice, and honeysuckle, plus minerals: it soothes skin and repairs barrier function, retails for $34.00) and the De-Stress Beauty tea (a yummy blend of licorice and chamomile blossoms that are anti-inflammatory and calming, retails for $16.00). I absolutely adore this line! The tea is delicious and the De-Stress Beauty Essence is so soothing and refreshing! The lovely minty scent of these products reminds me of a spa! I literally crave spraying the mist on my face. :) I have actually created a little mini-routine with these items. After I get the baby and toddler down for the night, I get in my jammies and I brew up my MIYU tea. When the tea is ready, I mist my face with the Beauty Essence and sit back to relax and enjoy my cup of tea. MIYU also has a Hydrate line available that I must try sometime, too. As a tea-lover, these are such treats. I am sure my Mom would love these pairings from MIYU as she is a tea drinker, too! This line is available at Anthropologie.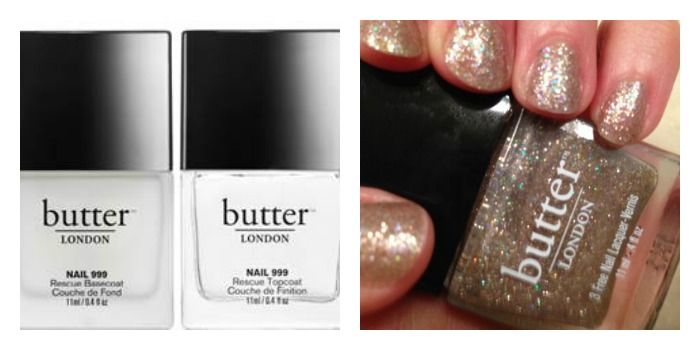 Pretty Sparkly Polish: One of my favorite Mother's Day gifts to give is a gift certificate for a Mani/Pedi. You can make this more "gifty" by attaching a pretty bottle of polish to the gift certificate/gift card! My current favorite "pick me up" sparkling polish? Lucy in the Sky with Diamonds by Butter LONDON. It features sheer, irradecent, gold, and silver glitter in a sheer rosy pink base. It gives full coverage glitter in 2 coats. The overall effect is mega glittery and gorgeous! What Momma wouldn't feel special in this pretty polish! ;) Retails for $15.00. Another option for a gift idea? Pair a pretty polish with a nail care set like the Nail 999 Rescue System from Butter LONDON. This set includes a base and top coat formulated with fortifying vitamins and proteins to strengthen damaged nails and promote growth (retails for $40).
Mother's Day Collection from LUSH: Now ya'll know that I love me some LUSH! LUSH always has fabulous seasonal offerings year round and they have some really adorable items just in time for Mother's Day. I know when I have LUSH products on hands, I am tempted into the bathtub more so that I can enjoy the amazingness of the LUSH goodies! I tried out some really fun items from their Mother's Day collection: Mumkin Bubble Bar (smells flipping amazing and fruity...mango? Plus, it turns your bath water pink. Super fun! $6.95), Secret Garden Bath Bomb (this rich rose floral smells lovely and has a nice green froth, $5.25), Wonder WooHoo (This makes a sparkling fresh orange and sandalwood bath. The gold shimmer makes for a luminous bath! $6.95), Rose Bubble Bar (this lemon-rose scent is so enticing and this bubble bar leaves you nice and moisturized after your bath, $4.95), and the Hello Sweetie Gift Set (with Rock Star soap and Sweetie Pie shower jelly...all wraped up in a cute scarf!, $16.95).
Iroha Sensual Day Moisturizing Chocolate and Shea Butter Mask: Who doesn't love chocolate? This mask is a chocolate lovers drea! It literally looks and feels just like chocolate pudding. This decadent mask gives your skin an antioxidant boost, while moisturizing your skin, and smelling great! This decadent mask would make a great at-home spa treat for any Mom! These retail for $8.00 each and each one gives you about 3 masks.
Lancome Lip Lover Gloss: A luxury lipgloss is such a nice treat for any Mom. These Lip Lover glosses from Lancome are fabulous. The packaging is so sophisticated and sleek. I love the click up top. These pigmented glosses are almost as pigmented as a liquid lipstick. Plus they add great moisture, too. I love this shade #332 Beige Adage: what a universally flattering shade. These retail for $23.00 each.
Whew! This was a massive post. ;) What can I say, as a Mom, I am into Mother's Day, lol! I think that there are so many great gift ideas out there in the realm of beauty. Often, it doesn't take a big gift. It really is the special thought behind the gift and the love from the person giving it that makes it. So everybody go and give your Mom a big hug and pamper her a bit this year!

Be sure to click the thumbnails below to see what my fellow "Top Ten Tuesdays" bloggers picked for their top Mother's Day gifts!

XOXO!!!