Press Sample
Affiliate Link
Blogger Ambassador
I can easily say that I am a blush lover. When it comes to makeup, the top of my list for items that I just love to use are blushes and palettes. Plus, I have a particular love for cream blushes. So, as you can imagine, the "How Bout Them Apples" palette from The Balm Cosmetics is pretty much my dream palette! Plus, have I mentioned how darn cute it is? As always, The Balm hits a home-run with its cutesy packaging.
The Balm: How 'Bout Them Apples? Palette
:
I am so excited about this new palette from The Balm that is available in the Birchbox shop. An entire palette of gorgeous cream blushes? Swoon! Plus the super-cute packaging? I am all over this palette!!!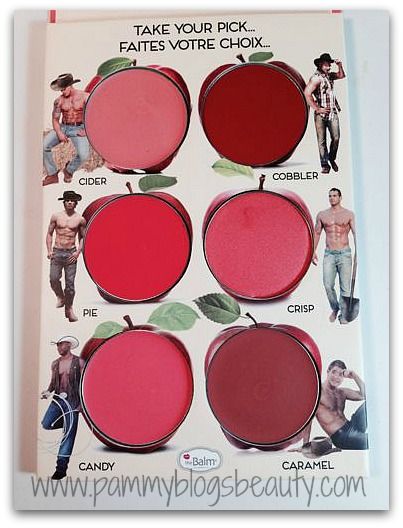 The palette contains 6 cream blush/lip shades. That is right, these versatile creams can be used either on your cheeks or your lips. The formula is creamy and easy to blend. The product has a bit of a wet feel and leaves a bit of a dewy finish. Each pan of product looks like an apple and has an apple/pie themed name. Too cute! The shades are: Cider, Cobbler, Pie, Crisp, Candy, Caramel. You can use these shades on their own or mix them together to create custom shades. Personally, I like the Cider and Candy shades the best. I find that Cobbler, because of the shade, is really best suited on me as a lipstick. I tend to use these primarily as blush but find that I sometimes just dab the excess on my lips after doing my cheeks.
The Skinny:
This palette retails for $32.00 and is available at
Birchbox
.
Are you a
Birchbox subscriber
? It is one of my favorite beauty sample subscriptions! I have subscribed, and been pleased with the subscription, for years. If you are not a subscriber yet, here is
my referral link
. Sign up and enjoy the fun of a
monthly Birchbox
full of deluxe beauty samples!