Affiliate Link/Referral Link
Press Sample
It is time for my monthly
JustFab
review!
JustFab
is an online fashion site and styling service. They offer trendy and affordable shoes, handbags, jewelry, jeans, and accessories to subscribers (called VIP members). When you
sign up to become a VIP member
, you take a style quiz. Then
JustFab
pairs you with a stylist who creates a personalized online boutique for you to shop from. Almost everything on the site is $39.95!!! You will be charged a monthly fee (unless you elect to "skip a month" then you won't be charged) which gives you credit for one item. So, that is one monthly fee for one item (not an item plus an additional fee). Of course, you could always purchase more than one item a month. They seem to have a lot of 2 for/ $39.95 deals, too. So, you can almost always find a good sale!
Interested to hear more about the items that I got? Click "read more" below to hear more details about these items and see me wearing them! :)
The Petunia:
These high top floral sneakers are not only comfortable, they are adorable! So sweet and girlie. Yes, they do "bring me back" to the 90s...but, that is totally the fashion now. I loved the floral trend back then and I love it now, too! Floral sneakers are a great way to rock the trend without going overboard. These shoes are adorable with jeans or a skirt and shorts, too! Love, love, love these! So comfortable! They seem to run just a tad big (or maybe it is just that they are roomy in the toes).
The Sexy Boyfriend Jean:
Looking for a loose-fit jean that looks like it could be your boyfriend's/husband's? Then this is the jean for you. Now, I am very used to the super skinny jeans from JustFab that are tight fitting. These are intended to be loose fit jeans. I went down 2 sizes in order for them to fit (but even then, they are still very loose). So, keep that in mind when ordering. Either way, they are super comfortable and soft. Perfect for relaxing weekend days and such.
What trends do you have your eye on this Spring? Anything in particular that you are eyeing from
JustFab
?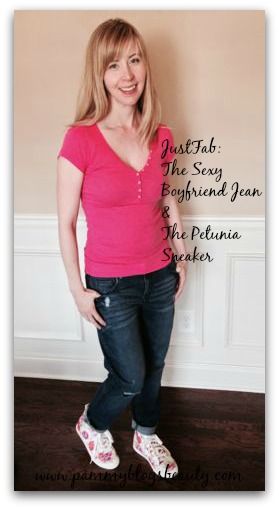 Need Active Wear?
Coming soon: Be sure to check out my upcoming
Fabletics
review!!! The folks behind
JustFab
just launched an athetic-wear online members-only shopping site:
Fabletics
! I will give you a preview hint: the activewear is amazing and such great quality!!!