Affiliate Link
Press Sample

Introducing
Fabletics
:
The folks behind JustFab just launched a brand new members-only site for Athletic wear:
Fabletics
!
What is the scoop? How does Fabletics work?
The idea here is just like JustFab: you join
Fabletics
as a member and have a monthly option to purchase. When you sign up, you get your first 2-3 piece outfit for $25.00. That is an amazing deal!!! Especially considering the fabulous quality of the items. I am being 100% serious when I say that this is the nicest activewear that I own (and I have items from the whole range of the activewear spectrum...from inexpensive Target and Old Navy stuff to Nike stuff...
Fabletics
is *better*!). $49.95 is the monthly member credit/fee. If you don't feel like spending that month, you simply opt to "skip the month" before the 11th. Even at $49.95, these items are a great deal for the amazing quality and number of pieces you get. Plus, I am a huge Kate Hudson fan and she is the celebrity spokesperson for the brand. :)
Fabletics
line is just right up my alley for my everyday lifestyle and fitness-wear needs.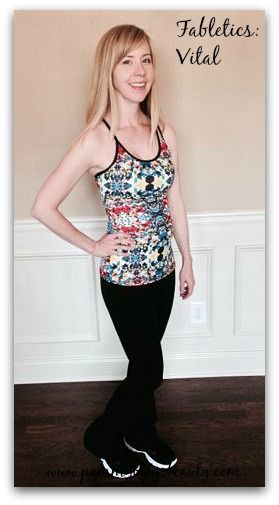 Click "read more" below to find out more details about all the items that I choose for my outfit of the month!
My First Fabletics Outfit:
The "Vital" Outfit (Sold as a set with: Omemee Tank and Daru Bootcut pants) and the Kingston Hoodie in Daphne (an add-on piece):
Overall Impressions:
I am absolutely blown-away by the quality of these pieces. There is no question that they are the highest-quality workout clothes that I own (and I even own some pricey stuff from Nike). The fabrics are super soft and have a nice thickness to them. Very, very nice stuff! These clothes completely work for my fitness activities: brisk walks to the park with a double stroller (I really break a sweat!), yoga, and gym workouts (cardio and weights).
The outfit allow for movement and support while being comfortable. The fabric is very breathable and draws moisture away from you while drying quickly and not leaving noticeable sweat marks. I like getting multiple pieces or an "outfit" because then I don't have to "think" when I am grabbing my workout clothes...I know it matches and looks good! I love wearing the hoodie with the Vital outfit as I can be out either in the cold or in public to-and-from the gym or a walk and feel comfortably covered up. When I get to the gym (or get hot on a walk), I simply remove the hoodie.
Sizing: I did find the size XS to be just a "tad" small on me on some of the items (primarily the tank and slightly the pants, too). However, I just had a baby 2 months ago and am in the midst of losing that last 10-14 lbs of baby weight. As soon as that is gone completely, an XS will be perfect. Next month, I might at least order a size S bra and stay with the XS for jackets or pants. So, overall, order your true size and you should be fine. They do have a sizing guide that is helpful as well.
The Vital Outfit: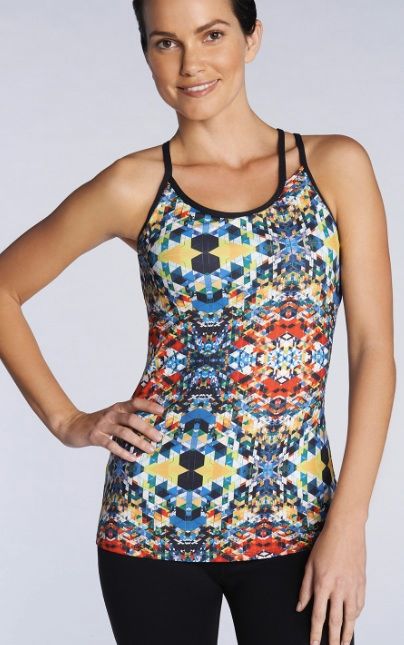 The VITAL:
OMEMEE TANK in Building Block:
- Sleek, Slimming Asymmetrical Design
- Removable Cups to Enhance and Cover
- Moisture Release for Dryness
- Four-Way Stretch for Comfort and Movement
DARU BOOTCUT pants in Black/Electric Blue
- Smooth, Chafe-Resistant Design
- Maximum Support
- Convenient Hidden Pocket
- Moisture Release for Dryness
- Four-Way Stretch for Comfort and Movement
As I mentioned above, I just love the quality of this outfit! The tank is really beautiful in person and it has such an unique asymentrical strap design that just makes it that much more special to wear. The Daru bootcut pants are slimming and comfortable. I really love the blue detailing on the pant. It really pulls the whole outfit together...especially when I am wearing the hoodie! :) The whole outfit is just perfect!
KINGSTON HOODIE in Daphne:
- Cozy, Warm French Terry Fabric - Relaxed Oversized Fit
- Convenient Front Pocket
This is such a cozy workout hoodie (note: there is no actual "hood", it is just a really big collar. I kinda like that there is no bulky hood hanging down your back)! It really wears more like a light jacket than a shirt. This is perfect for pairing over the tank for chilly walks or trips to the gym. The vivid blue color is beautiful and pairs perfectly with the blue accents in the Vital outfit. The size XS fit me perfectly! I love this hoodie and it is soooo soft! This is a great hoodie for not only the gym, but also for any casual/comfortable day.

Overall, I am absolutely thrilled with my
Fabletics
items! I can't wait for next month's selections! The style and quality really are amazing for the price! I am so happy with my items and am looking forward to exploring this brand further as a
Fabletics
member. Stay tuned for more
Fabletics
posts!
Join Fabletics
: If you haven't checked out the site already, please click on any link in this post for my
referral link to sign up
! When you join, you can earn credits when you refer your friends, too! :)