Affiliate Link
Press Sample


Now, there are many different types of toners on the market. Toners that clarify and target breakout-prone skin by refining pores and disinfecting the skin, toners that contain AHAs or BHAs to exfoliate the skin, and hydrating toners with antioxidants and other anti-aging ingredients. Personally, I like all of the above. One of my biggest tips when it comes to skincare is to give your skin what it needs...and what it needs might be different depending on the time of year or even the particular day. Example: During my recent pregnancy, my skin got quite oily and breakout prone: so I discovered and fell in love with a toner that disinfected my skin and reduced my oil and breakouts.
Here are a few of my new favorite toners in current rotation in my skincare routine. They are all very different...yet, all very great! An Exfoliating Toner:
Pixi's Glow Tonic
, An Anti-Blemish Clarifying Toner: LUSH's Tea Tree Water, and a Hydrating/Anti-Aging Toner:
Michael Todd's Cranberry Antiox Toner
. To find out a bit more about each toner, please click "read more" below.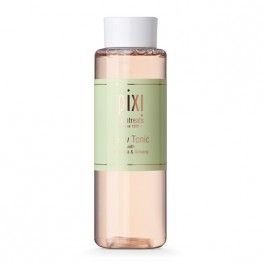 Did you know that Pixi Beauty now has a skincare item available in the US??? As a huge fan of their cosmetics, I am really excited to see them branching out to skincare. Enter Pixi Skintreats Glow Tonic! Apparently this toner was so popular in the UK that it reached cult status. So, Pixi decided that they had to bring it over here to the US. Well, I am so glad that they did!
While I primarily think of this toner as an exfoliating toner, this Glow Tonic really helps your skin achieve a nice balance by doing the following:
Gently exfoliates to brighten and smooth skin texture
Botanical extracts treat, soothe, and hydrate
Tightens and balances the skin
This is a great Toner to use after cleansing and before applying a serum. The
Glow Tonic
ideally preps skin for maximum absorption of treatment serums and moisturizers. So, I like to use this toner on nights that I know that I am going to apply either a serum or treatment product.
Key Ingredients:
Ginseng: Antioxidant, improves circulation and energizes
Aloe Vera: Soothing & hydrating
Witch hazel: Refining and Tightening
Horse Chestnut: Stimulating
Fructose & Sucrose: Brightening
Glycolic Acid (5%): Exfoliating
This
Glow Tonic from Pixi
really does amazing things to my skin! The exfoliation is gentle, yet effective! I do feel a very slight tingling sensation after application which I know is the glycolic acid doing its magic. There is a nice fragrance to the product. Not overwhelming, but it is certainly scented. It really reminds me of a toner that I used to use, but I honestly can't place my finger on what toner it reminds me of? I love that this toner leaves me feeling cleansed and hydrated without feeling stripped nor leaving a greasy residue. This product is just right! A nice balance! There is no question that I will continue to use and love this toner for a very long time!!! Pixi: Bring more skincare to the US! :)
Another home-run product for me from the fabulous Michael Todd True Organics line! You all may remember that I am obsessed with Michael Todd's Knu Serum (so much so that I have already purchased a backup, lol!). Well, this toner is impressive as well! It is extremely soothing and hydrating, is packed with antioxidants, and helps to prevent breakouts. You can't go wrong with that combo! Most of all, it just feels so soothing and hydrating on my skin and leaves my skin so soft and clean. I feel that this toner helps to keep my skin hydrated and clear. Plus, it is so gentle. No irritation at all! I am thrilled with this toner and am going to continue using it. I love that it can give an anti-aging boost to your skin while also providing light hydration and gentle clarification.
The Skinny:
Formulated for normal-dry or mature skin types (um, that makes me feel old...to call my skin "mature")
Cranberry and Antiox vitamins fight both bacteria as well as environmental damage
Contains healing black tree extract and antibacterial tea tree
Restores skin's pH and does not contain alcohol
Retails for $18.00
Lush Tea Tree Water
:
This toner was an absolute life-saver for me when I was pregnant! As many of you know, there are many acne-fighing skincare ingredients that are best avoided in pregnancy. That left me scrambling to find something to help with my oily and breakout-prone pregnancy skin. Enter LUSH Tea Tree water! There is no question that this toner helped to clear up my skin! Plus, it really cuts through any excess oil on your face. While I am not longer pregnant (we welcomed baby Jackson in January!) my skin is still combination and oily on the chin and around the nose. So, I continue to use this toner whenever I am feeling a bit more oily or when I have a breakout. I adore the scent of this toner. Plus, it feels great going on while also being non-drying. Also,props to the pump bottle. For some reason, I prefer a toner with a pump (even though I spray it onto a cotton pad).
The Skinny:
This toner is alcohol-free
Tea Tree Water is ideal for blemish-prone skin and oily or combination skin
Antibacterial and Antifungal Tea Tree is an effective blemish-fighter
Retails for $21.95
As always, thanks for reading! What toners do you love??? I am always looking for great recommendations.
Be sure to check out my luvocracy collection and "trust me" there !