I Bought It
Affiliate Link
Press Sample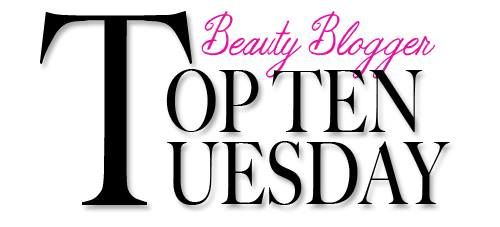 Concealers are near and dear to my heart. As anyone with deep/dark hereditary dark undereye circles knows, concealer is a game-changer! Gone are the days of hearing the dreaded "you look tired" comments...a great concealer can banish pesky dark circles!!! So, needless to say, the main focus of my concealer search is finding good concealers for the under eye area. My criteria? I need opaque coverage and heavy pigmentation. Plus, the formula can't be too drying nor too moist. If it is too drying it can accentuate fine lines and if it is too moist it will not be long-wearing enough. Also, the shade must be right! I have uber-fair skin. So, I need porcelain shades and/or color corrective shades.
Top Ten Tuesdays:
For those of you not familiar, Top Ten Tuesdays is a blog link up series where Top Beauty Bloggers share their Top 10(ish) items in a given category. As a list lover, I love to both write these posts as well as scroll through the other Top Ten Tuesdays blogger's lists! What a great way to find out about products that Beauty Bloggers really use and love! Be sure to click through the thumbnails at the bottom of this post to see what my fellow Top Ten Tuesdays bloggers are loving for concealer! :)
So, lets jump right into this week's Top Ten Tuesday feature: My Current Top 10 Concealers!!!
Ok, so most people probably don't even have 10 concealers in their makeup collection. Well, I am not normal when it comes to concealers, lol...plus, I am a beauty-blogger and makeup lover! Concealers are my jam. Sure, I love my blushes, I adore my palettes...but, my concealers? I can't live without em! I am constantly testing new ones in hopes that it will be "the one"!
Please click "read more" below to hear more details about each concealer as well as see more photos and swatches!
Even though these all vary wildly swatch-wise, they all work remarkably well with my skin tone once blended in. I mean, sure, some are better matches than others...but, they all work! Note: Some of these are color-correctors (so you are not going to get a "match" but a color to counter-act dark circles).
Top Ten Tuesdays: Top 10 Concealers (in no particular order):
Hard Candy Glamoflauge Heavy Duty Concealer: (light, I also use the ultra light shade sometimes but it is harder to find): If I could only list one concealer for my #1, it would be this one!!! The coolest part about that? This is the cheapest concealer on the list!!! You can pick up this product at your local WalMart for about $6!!! See, you don't *have* to spend a lot to get great makeup! :) This concealer is absolutely full coverage. It 100% covers my dark under-eye circles without looking too heavy or cakey. The color is a pretty darn good match for my skin. I absolutely love this concealer!!!
Make Up For Ever Full Cover Extreme Camouflage Cream: (Shade #1 Pink Porcelain): This full coverage concealer promises to cover even the most extreme flaws (scars, skin damage, birthmarks, you name it) and let me tell you...it does! Amazing full coverage and it absolutely does not budge once it is applied. It is similar in opaqueness and heaviness to the Hard Candy Glamoflauge (above). However, it is a bit drier in consistency. It is a better color match for me than the Glamoflauge but I do think that Glamoflauge has slightly better coverage as well as moister feel.
MAC Select MoistureCover: NC 15 This is the newest concealer in my collection. I purchased it for my MAC Matters Challenge last month. I must say, it is a total keeper!!! I love it for covering both the redness on my face and the darkness under my eyes. It is not as full coverage as some of the concealers listed here. I would describe it as a medium coverage concealer. So, it doesn't totally obliterate my dark circles. However, it does cover pretty decently and the formula is so natural looking. It blends in and looks like you aren't even wearing any concealer. I am now using this every day on my face. I do typically use something more full coverage under my eyes. However, this is my new go-to for my chin and nose area. :)
IT Cosmetics Bye Bye Under Eye: (light): This is a full coverage concealer formulated specifically for the under eye area. Of all of these concealers listed, this might possibly be the best match for my skin tone. This concealer is extremely pigmented. Actually, you only need a very small amount for complete, 100%, coverage. I am so impressed with this product!!! Plus, this concealer is infused with awesome skincare ingredients like hydrolyzed collagen, and vitamins C & K.
Pixi Correction Concentrate in Brightening Peach: This creamy concealer is a color-correcting product. It was specifically designed to counteract the darkness of under eye circles. I love that a product like this is available at your local Target! The product itself is super thick and creamy. You can use this on its own or underneath a skin tone concealer. The product is thick and creamy; yet, it also does not budge once applied. I don't get 100% full coverage with this, but I get very close to that! In comparison to BeneFit's Erase Paste, which I have tried and it is somewhat similar, I find that Pixi's Correction Concentrate has better coverage and better wear. Plus, Pixi packs in some great skincare ingredients like Rose Hip Extract and Vitamins C, A, and E.
Paula's Choice Soft Cream Concealer: (soft ivory): I love this potted concealer from Paula's Choice! It has great coverage and a nice finish with a nice creamy texture. The "soft ivory" shade works really nicely with my super fair skin tone. It works really well to cover my dark circles and I also like using this to spot-conceal the rest of my face. If you have not heard of the Paula's Choice line of cosmetics or skincare, you must scope them out! Great prices and high-end formulations!!! I am such a fan! :)
Make Up For Ever HD High Definition Concealer: (Shade #305) This concealer from Make Up For Ever is rather magical. While not quite as heavy as their Full Cover formula (mentioned above), the coverage is very good! You only need the smallest amount to conceal! Seriously, like a drop goes a long way. I had a Make Up For Ever makeover awhile back and this is what the makeup artist used on me. I was just amazed at how such a small amount of product could conceal so well! Plus, the #305 shade works great with my skin tone!
Maybelline Instant Age Rewind Treatment Concealer: (brightener): I like this concealer in the "brightener" shade. While it does not have coverage as good as some of the other concealers on this list, l like this product for its light texture and "brightening" ability. I like to layer this product in the inner eye corners before applying another light texture concealer. I am not crazy about the sponge tip applicator. However, I think this product is great for brightening up the eye area.
IT Cosmetics Bye Bye Under Eye Corrector: (in light): This is a brightening under eye peach-toned corrector. It was formulated specifically to cover dark circles! The peach tones work wonderfully to counteract my super dark purple under eye discoloration. The concealer is thick and almost balm-like. However, it really does not have a thick or heavy look or feel once applied. It looks so dark in the pot. However, once applied, the color works because of its color-corrective abilities once applied to the purple-toned dark circle area. I don't get 100% coverage with this product alone...but, pretty darn close. I can either use on its own or top with a skin-toned concealer for complete coverage. Like with all IT Cosmetics products, a ton of skin-loving ingredients are packed inside: green coffee extract, cucumber, avacado and aloe plus anti-aging peptides, niacin, hyaluronic acid and hydrolyzed collagen. So, your skin is getting a treat while you conceal!
Shop the Post:
Be sure to click on the thumbnails below to read through my fellow Top Ten Tuesdays Blogger's picks for Top 10 Concealers!!!