Press Sample
Affiliate Link
Blogger Ambassador
Total Beauty's "Pink Embrace Campaign" Supports "Triple Step for the Cure"!
It is a non-profit organization founded by three women that have been personally affected by triple negative breast cancer. It educates, supports, and empowers diagnosed and at-risk women. Triple negative breast cancer is a subtype of breast cancer that is more difficult to treat and more likely to recur.
For every new "like" that Total Beauty Shops receives on Facebook, Triple Step Toward the Cure will receive a beauty product to help women look and feel their best, PLUS, Total Beauty Shops will donate a percentage of the proceeds from the Pink Embrace Collection to help Triple Step Toward the Cure Support and empower diagnosed and at-risk women.
You can help generate support!
Looking for a fun way to get involved? Just post pictures of you and your family and friends embracing life! Pictures can be as simple as you hugging a family member or enjoying your morning cup of coffee. Use hashtags #PinkEmbrace and #EmbraceLife.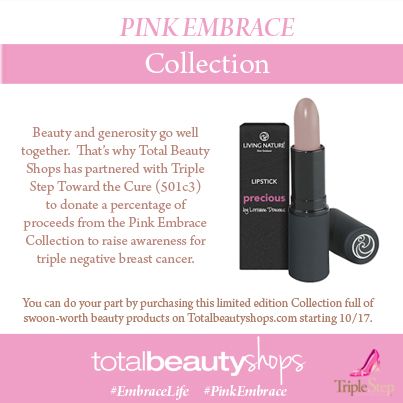 The Total Beauty Pink Embrace Collection:
You can also generate support by purchasing a
Total Beauty Pink Embrace Collection box
! :) This box will be available at Total Beauty starting 10/18! :) To find out how I liked my Pink Embrace Total Beauty Collection, please click "read more" below. Plus, be sure to enter the giveaway!!!
Box Opening: What is in the box?
Living Nature: Precious Lipstick (Full Size! Retails for $33.50): I always love getting lipsticks in beauty boxes. This one is super pretty and the soft natural pinkish nude/natural shade is universally flattering. The packaging is nice too. The tube has that rubbery soft texture that NARS packaging has. I have never heard of this brand. So, I am excited to try it out. Plus, $1.00 from the sale of each of these lippies goes towards Breast Cancer Research. Cool!
Dove: Go Sleeveless Deodorant (Full Size! Retails for $4.79): I am not going to lie...I am not a huge fan of getting deodorant in my beauty boxes. As far as beauty essentials go, deodorant just doesn't "excite" me. With that said, I am still curious to try this. I am a die-hard Secret fan and have used it for years. So, I am interested to see how Dove works. Maybe I have been missing out!
EVOLVh UltraShine Moisture Shampoo (Deluxe Travel Size sample: cost: $7.00): I can always use another travel-size shampoo and conditioner as those are always what I take with me when I go out of town. This little set will go with me on my next trip. Curious to try this!
EVOLVh UltraShine Moisture Conditioner (Deluxe Travel Size sample: cost: $8.00): This is the matching conditioner to go with the shampoo above. Can't wait to try this out! :)
Yu-Be Moisturizing Skin Cream (Sample Size .1 oz tube): I am such a fan of these balms! The packaging says Cream but the texture is more balm-like (think "Aquaphor"). This all-purpose heavy balm/cream is great for super dry areas like cuticles and feet. You can even use it on your lips! This little tube is perfect for the purse. Yay!
LaLiciuos Vanilla Body Butter (small paper sample packet): I adore vanilla scents. So, I wish this sample was larger. Oh well! I am still excited to try it and will totally use it up.
Primavera-Calming Moisture Cream (foil sample packet): This is a face cream for sensitive skin. The sample packet probably has just enough for one face application.
The
Total Beauty Collection "Pink Embrace" Box
is a great way to discover new products while also generating support for a great cause! :) While I wish the box contained all deluxe samples and full size products, I am still happy with the selection and assortment of samples. There is no question that the box is a great value! Plus, it does support a good cause!
Discount Code:
Get 15% off with this code: PINK15
Enter code at checkout :)
The Giveaway:
The Prize:
One winner will get a Total Beauty "Pink Embrace" Box
The Rules:
You must be 18 years old to enter (or have your parents permission).
Prize is shipped directly to the winners by Total Beauty. Pammy Blogs Beauty is not responsible for items lost or damaged in mail/transit. Prize fulfillment is through Total Beauty. Prize is not redeemable for cash.
To enter the contest, you must fill out Rafflecopter form below. The winner will be chosen randomly through Rafflecopter. In the event of technical error, Pammy Blogs Beauty reserves the right to pick the winner. The entries will be verified as needed and individuals with multiple or falsified entries will be disqualified.
Only one entry per person. With that said, you may earn extra entries by tweeting, liking on facebook, etc on the Rafflecopter form (see details below on how to earn extra entries).
Contest is void where prohibited by law.
Contest runs from 10/16/13 - 10/31/13. Winners have 48 hours to respond to winning email from Pammy Blogs Beauty or a new winner/winners will be selected.
To Enter the Contest (required rules):
Please see the rules listed above.
1. You must be a follower/Subscriber of this blog in at least one way to enter. You have multiple ways to follow this blog: e-mail subscription, Google Friend Connect, facebook, twitter, Pinterest, Google+, BlogLovin, and Instagram. The more ways in which you follow this blog, the more chances that you have to win!
2. Fill out Rafflecopter form below.
3. Answer question in comment form below: Tell me how you embrace life! :)
4. You must like Pammy Blogs Beauty Facebook page.
5. You must follow Pammy Blogs Beauty on Instagram: pammy_blogs_beauty
6. You must like
Total Beauty Shops on Facebook
:
Use this link
!!!
For bonus (optional) entries:

-You can tweet about this giveaway (one time per day max please!). Please include a link back to this giveaway and @pammyblogbeauty. Use hashtags: #EmbraceLife and #PinkEmbrace
-You can follow this blog in numerous ways: Google Friend Connect, twitter, Pinterest, Google+, BlogLovin, and Instagram.

-Do a Blog Post about this giveaway (must include a link back to this giveaway and giveaway photo/art)
Please let me know if you have any questions. Thanks so much for reading my blog! Good luck!!!
XOXO!!!