Affiliate Link
Press Sample

It is time for another installment of the "My Skin Loves" skincare blog series! My skin can be temperamental and I typically write about skincare that works well for me. The "My Skin Loves" series highlights the "best of the best" of my home skincare arsenal.
My Skin:
I believe that your skin's needs are constantly changing and you need to evaluate your skin and give it what it needs. Your skin's needs and temperament can fluctuate not only week-to-week or month-to-month, but also day-to-day. It can be complicated and frustrating for sure! Currently, I am pregnant. So, my hormones have been wreaking havoc on my skin. I have changed from my usual "combo" to "combo-oily" and even just straight up "oily". My skin has also been somewhat acne-prone lately through this pregnancy.
Signs of Aging?
Yes, I am starting to see some signs of aging in my skin. As a women in my late 30s (40 is just around the corner, ya'll!), I am seeing some fine lines around my eyes and even my mouth. While I have not deep lines or wrinkles yet, I do want to keep those at bay. Also, I do have some dark spots emerging. These tend to occur with me during pregnancy and they seem to slowly fade after pregnancy.
Sibu and the Sea Buckthorn Berry
:
Sibu Beauty is an entire skincare line designed to deliver the nutrients of the Sea Buckthorn berry to your skin in a pure and natural way. The idea behind Sibu was sparked when the founder traveled to India and met an ayurvedic specialist in Chinese plants and herbs who introduced him to the famed Sea Buckthorn berry.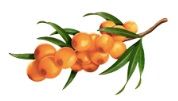 What is so great about the Sea Buckthorn Berry? According to Sibu:
With over 190 bioactive compounds, sea buckthorn is an unsurpassed source of Omegas 3, 6, and 9. And it's a rich source of the elusive essential fatty acid, Omega-7, an essential fatty acid vital to collagen production and healthy skin, hair and nails.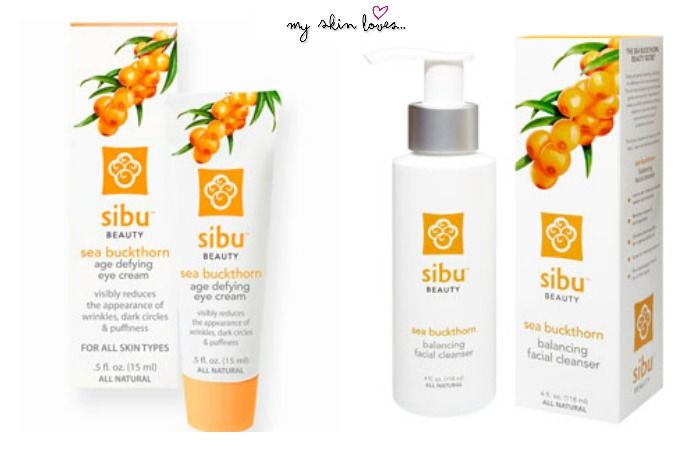 My Skin Loves: Sibu's Sea Buckthorn Balancing Facial Cleanser and the Sibu Sea Buckthorn Age Defying Eye Cream
:
There is no question that my "skin loves" Sibu! The products are gentle and effective and my skin has really improved. Actually, one of these products is my new "Holy Grail" favorite! That does not happen often!!!
To find out more details about both the
Sibu Sea Buckthorn Balancing Facial Cleanser
and the
Sibu Sea Buckthron Age Defying Eye Cream
, please click "read more" below!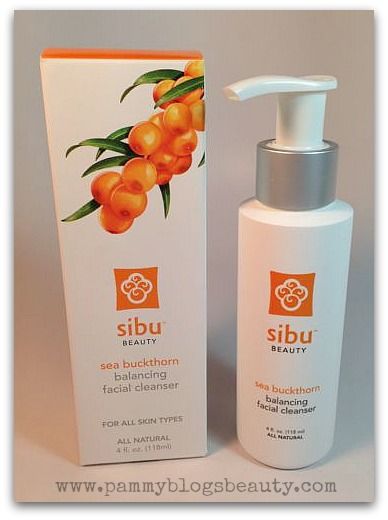 My New All-Time Favorite Cleanser: Sibu Beauty's Sea Buckthorn Balancing Facial Cleanser
:
Wow! This does not happen often...I have found a new favorite facial cleanser!!! While I still love my
Belli Anti-Blemish Facial Wash
(my favorite pregnancy cleanser) and my beloved
Neutrogena Ultra Gentle Daily Cleanser
,
Sibu's Sea Buckthorn Balancing Facial Cleanser
has edged them out as my #1 Favorite! If you have sensitive skin, but desire to use a cleanser that leaves your skin feeling completely clean and soft, then this is the cleanser for you! :)
Sibu Sea Buckthorn Balancing Facial Cleanser
:
This cleanser strikes the perfect balance: it cleanses completely, removing all dirt and impurities, while also being totally gentle to your skin. It rinses clean, without any residue nor any dry/tight feelings, while leaving your skin feeling super soft.
This non-foaming cleanser is a clear gel with micro particles for gentle exfoliation. I love that I can give my skin a slight boost of exfoliation during my regular cleansing. I use this cleanser in the mornings and the evenings.
This cleanser retails for $17.95.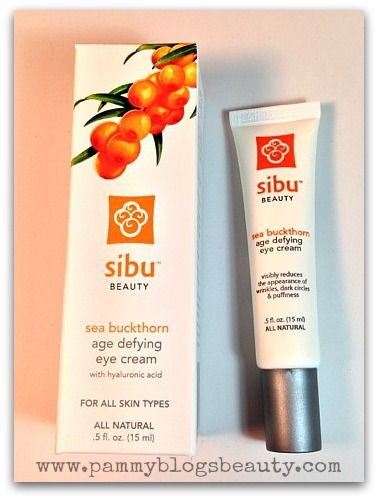 Sibu Sea Buckthorn Age Defying Eye Cream
:
This is probably one of the most gentle eye creams that I have ever tried! I have very sensitive eyes and the skin surrounding my eyes is very sensitive and delicate, too. Many eye creams that I try sting my eyes and irritate my skin...but not this one from Sibu! This eye cream is gentle and effective! It hydrates and smooths my eye area. Plus, I love that it is packed with anti-oxidants. I do not notice any effect on my dark under eye circles (but very few eye creams that I have tried impact this). I love this
Sibu Sea Buckthorn Age Defying Eye Cream
as an everyday "basic" eye cream! It wears well under concealer and does not leave the eye area feeling greasy. I recommend this eye cream for anyone looking for a super gentle basic eye cream.
This eye cream retails for $24.95.
Have you tried Sibu? If so, I would love to hear about what products worked for you! I have had such fabulous results with the products that I have tried so far. So, I certainly want to continue to explore this brand further. Would I purchase
Sibu's Balancing Facial Cleanser
and Eye Cream again? Absolutely!!! Actually, I intend to make the
Sea Buckthorn Facial Cleanser
my every day cleanser!
Interested in reading another Sibu review?
Click here
to find out how I liked
Sibu's Face & Body Bar
! :)
Thanks so much for reading!!!
XOXO!!!