Affiliate Link
Press Sample
It is time for another Makeup War! This time the Makeup Wars bloggers are sharing their current favorite Fall Manicure!!! :)
What are Makeup Wars?
Find out what products Top Beauty Bloggers LOVE!
Before sharing my favorite manicure for Fall, let me share a little bit about the idea behind Makeup Wars. The Makeup Wars Bloggers are a group of top beauty bloggers that publish coordinated bi-weekly posts. The Makeup Wars bloggers collectively pick topics to blog about (e.g., Top 10 Products, Beauty Pampering, etc). We publish our posts at precisely the same time and link up through the graphic links and thumbnails at the bottom of our posts (be sure to click through these to read everyone's posts!). We literally have a blast doing these posts! Not only is it fun to create and plan these Makeup Wars posts, but also the behind-the-scenes beauty chatter only increases our enthusiasm for the subject and for products and makeup in general! Enthusiasm is certainly contagious!
Introducing CND Vinylux: My Favorite Fall Manicure
!!!
Finding the time for Nails: My Challenge
!
I am the first to admit that doing my nails has been pretty low on my priority list lately. While I love the look of clean, polished nails, I honestly only get around to doing my nails about 1x a week lately. I am a pregnant stay-at-home Mom of a very active toddler. My personal activities like blogging or beauty treatments are things that I do before my toddler is awake in the mornings or in the evenings after she is in bed. Polishing my nails creates the dilemma of having a wet nails around a toddler. So, I only polish my nails when she is sleeping. My pregnancy has left me exhausted. So, keeping up with blogging and my nails has been a challenge. Most mornings and evenings I either sleep in or end up falling asleep on the couch watching tv! Plus, I know my time will be even more limited when the new baby comes and I am balancing a newborn and keeping up with my own life.
Enter
CND's VINYLUX
:
When I heard about
CND's Weekly Polish
, I knew that I just had to try it!
CND VINYLUX
is a 2-part weekly polish system promising 7-day chip-free wear. Does this sound amazing or what??? Exactly what I need, right?!?! With typical polish, my manicures last about 3-days top. I wash my hands frequently and am just hard on my nails in general. The thought of a polish that lasts a week sounds like heaven to me.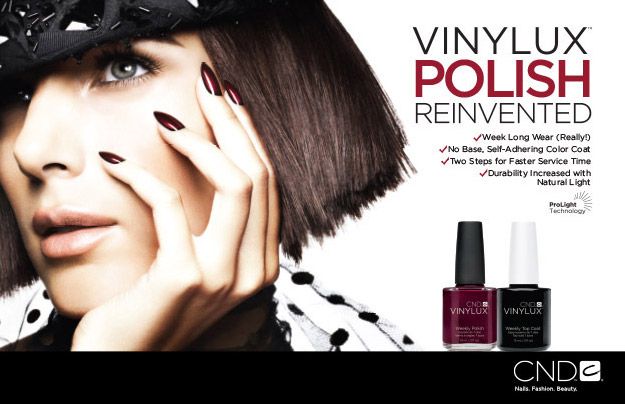 The Scoop:
CND VINYLUX Weekly Polish System Features
:
Ultimate performance as the standard three-step nail polish process is replaced by an effective two-part system that eliminates the need for a Base Coat
VINYLUX Weekly Top Coat with ProLight Technology prevents yellowing, protects the Color Coat and delivers superior toughness
New ProLight Technology creates a network of cross-linked polymers that increase durability with exposure to natural light
VINYLUX Weekly Polish Color Coat delivers superior adhesion with no staining and faster drying
Available in 62 fashion-forward colors, 40 of which match popular CND Shellac shades, for pedicures and at-home touch-ups
Removes easily with regular acetone-based polish remover. For best results use CND Nourishing Remover available during a removal service at select salons
The VINYLUX Weekly Polish System retails for about $9.90 for the Polish and the Top Coat. You can get an in-salon VINYLUX polish service for about $20-$35 depending on your salon.
One of my favorite things about this system is that the VINYLUX process is so quick and easy to apply! Having just 2 steps drastically cuts down on my polish routine With typical polish, I use a base coat, sticky coat, polish, and top coat. So, the VINYLUX system takes me from my regular 4-step process to a much quicker 2-step process. Plus, this system dries very quickly: in under 10 minutes!
How I use:
I just apply 2 thin coats of the
CND VINYLUX Weekly Polish
and then follow up with the
CND VINYLUX Weekly Top Coat
. I love that there is no need for a base coat! Actually, don't even think about adding a base coat step as it will negate the effects of the long-wearing polish.
The Polish: Look and Wear:
I get great color and coverage in 2 thin coats. The shade that I tested out is #156 Vexed Violet which is a very pretty shimmery grey/purple (a perfect shade for Fall!!!). I find this polish to be super quick and easy to apply and I love the resulting look and wear! As far as wear, I do get about a week's wear from this polish with minimal chipping at the week-long point. Note: My nails are very prone to peeling. So, this might be what impacts the minor chipping that I experience. Overall, I am extremely pleased! I love having a polish that really lasts about a week on my nails since that is how often I want to do my nails anyways.
Overall, I am very happy with
CND's VINYLUX System
!!! I would love to explore more shades in this line! Have you tried these polishes? What do you think? Do you get about a week's wear, too? If you haven't tried this system, have you had any luck with any other long-wear polishes?
As always, thanks so much for reading!!! Also, please be sure to click on the thumbnails below to see my fellow Makeup Wars blogger's Favorite Fall Manicure posts!!!
XOXO!!!