Affiliate Link
Press Sample
Have you seen the new assortment of
Jordana products
at your local
Walgreens
??? I am sooo excited about this new collection!
Fall 2013
brings both new products and shade extensions to the
Jordana cosmetics
line.
If you are not familiar with
Jordana
, it is a sister company to Milani. Jordana brings you some of the very best drugstore products at an extremely low price! Honestly, the quality of
Jordana
is so good that it is surprising that you can get these products for such an inexpensive price! I mean, all the products mentioned in this post are under $4.00 each! Whoo-hoo for that!!! :)
The Fall 2013 Lineup: New Products and Shade Extensions:
Twist & Shine Moisturizing Balm Stain
12 Hour Made to Last Eyeshadow Pencil
12 Hour Made to Last Liquid Eyeliner Pencil
Fabuliner Bold
Best Volume Extreme Mascara
Best Length Extreme Mascara
To find out more details about these products (including shades, photos, and swatches), please click "read more" below!
I am really loving this type of lip product lately. It is the chubby twist-up pencil-style gloss/balm/stain hybrid.
Jordana's Twist & Shine Moisturizing Balm Stains
are fabulous! At just $2.99 each, they work just as great as the more expensive versions of this product! The colors are vivid and totally pigmented. Plus, I love the glossy shine. These are super easy to apply and they feel very comfortable on the lips. They apply with a glossy finish and as you wear them they transform into a long-wearing lipstain. Totally love these!!! I tried 3 shades: #05 Honey Love (Natural Brownish-Nude Rose), #04 Candied Coral (Bright and Vivid Orange/Coral), and #3 Tropical Frenzy (Super Bright Barbie Pink).
Jordana's Twist & Shine Moisturizing Balm Stain Assortment:
12 Hour Made to Last Eyeshadow Pencil
:
I love long-wearing cream eyeshadows, and these pencils are no exception! If you are a fan of NYX's Jumbo pencils, then you will love these pencils by Jordana (except I think that they wear even better than NYX's pencils!). These pencils are super easy to use. Just swipe on and blend! They are long-lasting, water-resistant, and pretty much crease-proof (I found that I had to apply with a somewhat light hand for them to be crease resistant...to much product will cause creasing). I tried shade #01 Eternal White (matte white) #04 Continuous Almond (Matte Natural Vanilla Skintone Shade) and #07 Prolong Purple (deep eggplant). The light colors are great for an everyday "no makeup" makeup look! I just swipe on the lids for a simple "awake" look. The pencils are very pigmented and smooth. They act no only to apply color, but also work to conceal any redness in my eye area (so, for me, no need to prime the eyelids first with primer nor concealer). These work nicely on their own or underneath powder shadows. I also like using #01 Eternal White in my inner corners for just about any eye look!
12 Hour Made to Last Eyeshadow Pencil Shade Assortment:
I must admit, the name of this product totally drew me in: "Liquid" eyeliner "pencil"??? What exactly does that mean? Well, Jordana gave these pencil eyeliners the "Liquid" terminology to describe the pencil's ultra smooth (almost "liquid-like") glide during the application process. The formula reminds me a bit of high end gel pencils like
Urban Decay's 24/7
or
Pixi's Endless Silky Eye Pens
. The color is extremely rich and pigmented. These "pencils" are water-resistant and extremely long lasting! My eyes get very watery from my allergies...yet, no smudging nor running with these liners! I am totally hooked on these now! What a great deal for $2.49 each. Seriously, these pencils are high-end quality for only a couple dollars. Crazy! I tried #01 Black Point (black), #05 Aqua Stone (vivid and slightly shimmery aqua blue: gorgeous!!!), and #06 Jade Jewel (deep and rich ultra dark green). These liners are absolutely fabulous!!! Next time I need an eyeliner and I am at
Walgreen's
, I will totally pick up more shades! These are an absolute steal!
Shade Selection: 12 Hour Made to Last Liquid Eyeliner Pencils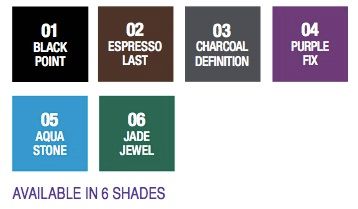 Fabuliner Bold: Felt Tip Liquid Eyeliner
:
The Fabuliner Bold is an extremely easy-to-use felt tip liquid eyeliner. Now, I know that Jordana's regular Fabuliner gets raves in the beauty community. However, it has been quite awhile since I have used it. So, I can't really directly compare all the differences between the new Fabuliner Bold and the regular Fabuliner besides the size: this new Fabuliner Bold's packaging is much thicker and the felt tip is thicker too, yet still has a fine point. I believe that the color is a bit darker as well. If you have tried both, please comment below to tell me the exact differences as I would love to know! :) I really like this new Fabuliner Bold. It is extremely easy to use and hold this fat liner and create an effortless winged liner look! Plus, this liner is only $2.99. Which is awesome!!! Especially since felt tip liquid eyeliners (even high-end ones) do not last long before drying out.
Best Volume Extreme: Volumizing Mascara
:
For me the ultimate test of any mascara boils down to one thing: does it smudge on me? I have such watery and sensitive eyes. Especially this time of year during Ragweed season! So, does this mascara smudge??? No! Yay!!! That means it is a winner in my book. The brush on this mascara is HUGE. It takes a little getting used to. However, it creates fabulous volume and some nice thickness. I really like this mascara. Certainly a great deal for $3.99!
Have you seen or tried any of these new Jordana products? I would love to hear how you liked them? I just love that you can find such high quality makeup at the drugstore these days. Jordana proves that you do not have to spend much to get really high-end quality. While I really like using all of these new Jordana products, I must say that the stand-out items for me in this collection are the Liquid Eyeliner Pencils. I am totally hooked on those! :)
As always, thanks so much for reading my dears!
XOXO!!!