Affiliate Link
Press Sample
I will fully admit to being a "Royal-Watcher"! I adore Kate and think that she is absolutely beautiful. Plus, I love her classic style! So, as you can imagine, I am pretty excited about
butter LONDON
's limited edition "
The Royals Collection
".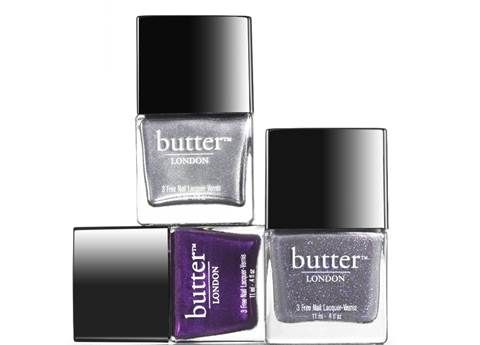 Recently, butter LONDON launched Pitter Patter, their most aristocratic shade to commemorate the exciting news of a royal bun in Princess Kate's oven. Now butter LONDON is overjoyed to introduce The Royals, a collection of regal purples inspired by everyone's favorite blue-bloods. The trio features Pitter Patter, and also brings back fan-favorite nail lacquers in No More Waity, Katie and Lillibet's Jubilee to ensure the world looks posh from tips to toes while celebrating William and Kate's new baby boy! :)
No More Waity, Katie was created two years ago in celebration of Will and Kate's engagement and impending nuptials. The soft lilac glitter nail lacquer is the perfect marriage of coquettishness and grace.

Lillibet's Jubilee was created in honour of last summer's Diamond Jubilee of Queen Elizabeth II. This commemorative nail lacquer winks at the Queen's childhood nickname and catches the light with a silver-lavender sheen that captures the youth of Britain's reigning monarch.
Pitter Patter:
What a gorgeous deep purple shade! While I typically wear lighter or brighter shades this time of year on my nails, I just can't resist this elegant royal purple shade! It makes for such a sophisticated manicure! Plus, I can't resist the adorable name (especially since I, too, am expecting a baby!!!). :)
The Skinny:
What are you loving on your nails lately? Are you going to scope out this limited edition "The Royals Collection" from
butter LONDON
? Are you a Royal-Watcher like me?
XOXO!!!