Affiliate Link
Press Sample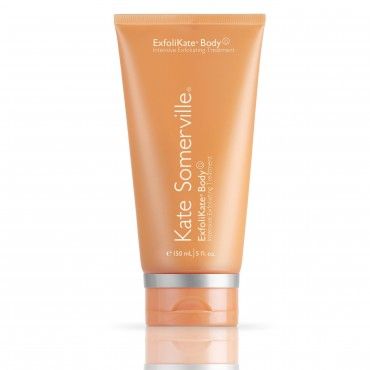 As the warm weather is slowly starting to arrive here in Atlanta, GA, I am amping up my body exfoliation routine. Not only do I want to exfoliate well because I am showing more skin, but also because I frequently use self-tanners this time of year (good exfoliation is the key to a good self-tan!).
ExfoliKate Body
turns my shower into a spa experience! Find out more details about this product by clicking "read more" below!
I love turning my shower into a spa experience! It only takes 2 minutes!!! :) The product smells and feels great! Plus, it is so effective!!!
ExfoliKate Body
is an intensive body exfoliating treatment. It provides both manual exfoliation from gentle buffing beads and natural acid exfoliation from pumpkin and papaya enzymes. The exfoliation combined with the skin smoothing ingredients leave your skin feeling incredibly soft and smoothed! Other Key Ingredients include: Glycolic and Lactic Acids, Caffeine, Lavender, Bergamot, and Vitamin E.
How I use:
I use this product about 2 times a week. After washing my body in the shower, I apply ExfoliKate Body in gentle circular motions to my arms, legs, and backside. Apparently the steam in the shower helps to activate the enzymes. I let the product sit on my skin for 2 minutes (per the product directions). Then, I simply rinse off.
This product leaves my skin feeling sooooo smooth! I love the results and will continue to use (and love) this product!
The Skinny:
ExfoliKate Body retails for $65 for 5 fl oz
Available online and at Sephora and QVC
Check out some of my favorites from Kate Somerville! ExfoliKate is one of my all-time favorite Holy Grail skincare products! :)