Affiliate Link
Press Sample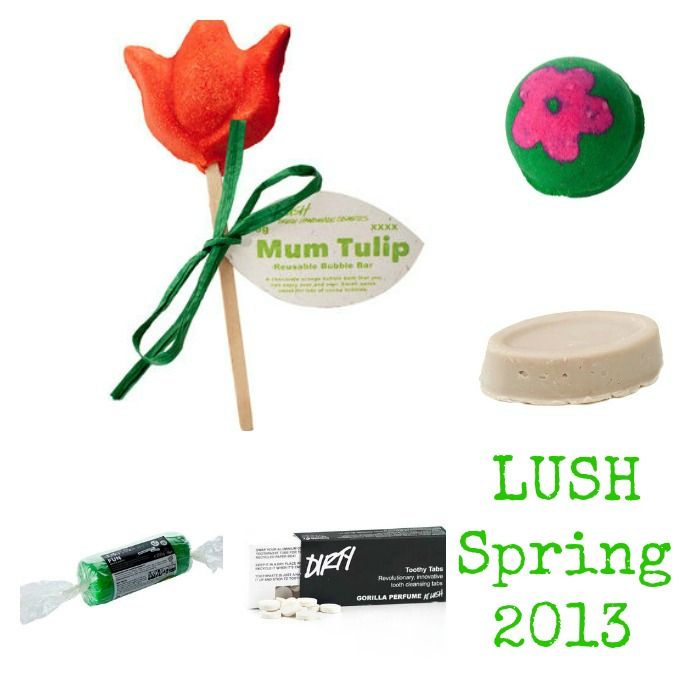 Stumped about what to get
Mom for Mother's Day
? Or do you just need a little Earth Day bath treat for yourself or even for your kids? Either way,
LUSH
has you covered with these adorable Spring selections!!! More importantly? LUSH products are just so *fun* to use!!! Just looking at these cute Earth-friendly products and smelling the amazing scents makes me smile! :)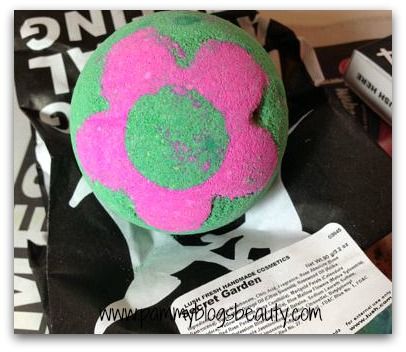 NEW! Secret Garden Bath Bomb:
This bath bomb is so cute!!! It is green with a pink flower. Very girly and perfect for Spring. These bath bombs are really huge. I break them up and get at least 2 baths out of each one. Retails for $5.25
A bath with this lovely floral bomb will make mom feel like she's in her own secret garden. Bursting with petals that will float on the bath water and scented with roses, sweet wild orange and rosewood oils. Plus, this one has a frothy outer layer so you'll get bubbles AND fizz. Vegan
Bubble Bar Bath Wands:
Okay, these bubble bar wands are the cutest bath products ever!!! There are 4 kinds: Mum, Mum Tulip, Madame Butterfly, and The Dish Fairy. They come on sticks and you can get all 4 to make an adorable "bouquet" for a gift!!! These bath wands are reusable, too! You can get up to 6 baths with these. Simply swish it around in your tub while holding on to the stick. Then, you set it out on the side of the tub so it can dry. It will be ready to go for your next bath. These are so fun!!! Prices range from $7.95-$9.95 each.
As well as being a beautiful flower, tulips are also an emblem for International Women's Day in Russia so the perfect choice really. This one is scented with a delicious chocolate orange fragrance, with grapefruit and bergamot oils to help lift the spirit, while the cocoa and tonka bring mom warmth and comfort.
OMG! Like the name states, this product is so FUN (and green: in color, and Earth-friendly)! This product literally looks like a big block of modeling clay. However, it is a moldable soap! While my toddler is still a bit too young to use this type of product in her baths (um, she would eat this, lol), I had fun playing with it myself! You can crumble this bar under the running water for bubbles, take a small piece to wash with, or just have fun molding it into fun shapes. :) When you are done "playing" just wrap it back up in the wrapper and save it for your next bath. Retails for $6.95.
A citrus burst of tangy lime and lemon essential oils that will make you feel refreshed and focused. FUN is a solid, 4-in-1 multi-purpose, moldable soap-- for your body, hair, bubble bath and fun (you can mold it into shapes and characters). With a gentle softening base of corn flour, talc and glycerine it's perfect for even sensitive skin (and kids!), great for travel, and plain old FUN.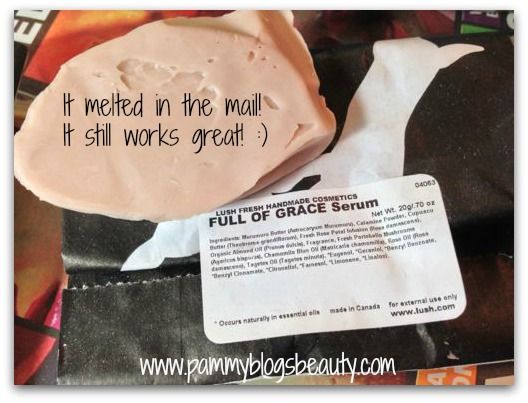 Have you ever explored LUSH's facial skincare? This Full of Grace Serum is a great choice!!! It is a solid facial serum moisturizing bar. It contains hydrating tropical butters and antioxidants. LUSH's solid serum bars work in a similar way to their massage bars. The bar "melts" with the heat of your skin. So, just gently glide the bar across your face to allow the serum to melt in and absorb. It is actually very quick and easy to use! I find this product to be very soothing! LUSH recommends using it also before a facial mask to boost effects. Retails for $14.95.
This is inventive!!! Instead of using your old standard non-recyclable toothpaste tubes, you can opt for these Earth-friendly Toothy Tabs! Honestly, I have never even seen a product like this before! Basically, these are like little mint tablets that you can use to brush your teeth. You simply bite the Toothy Tab with your front teeth to break it up. Then you wet your toothbrush and brush your teeth. These freshen your breath and clean your teeth. They are made with spearmint, neroli oil, and baking soda. Plus, they are deliciously minty! They retail for $4.95 for a box of 40 tablets.
Have you seen any of these Spring LUSH products? Are you planning on picking some up for yourself or your Mom?
Thanks for reading!
XOXO!!!