Affiliate Link
Press Sample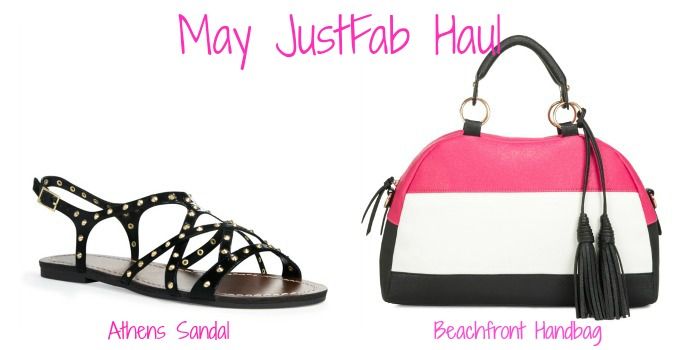 It is time for my monthly
JustFab review
! It was so hard to decide upon what to get this month. There are so many cute items right now!!! After much deliberation, I opted for the Beachfront Handbag and the Athens Sandal.
The Scoop on JustFab:
JustFab
is an online fashion site and styling service. They offer trendy and affordable shoes, handbags, jewelry, jeans, and accessories to subscribers (called VIP members). When you
sign up to become a VIP member
, you take a style quiz. Then
JustFab
pairs you with a stylist who creates a personalized online boutique for you to shop from. Everything on the site is $39.95!!! You will be charged a monthly fee (unless you elect to "skip a month" then you won't be charged) which gives you credit for one item. So, that is one monthly fee for one item (not an item plus an additional fee). Of course, you could always purchase more than one item a month. They seem to have a lot of 2 for/ $39.95 deals, too. So, you can almost always find a good sale!
To hear about my recent
JustFab Haul
, please keep reading!
The JustFab Beachfront Handbag: The Perfect "Mommy Bag"
This bag is adorable and perfect for Spring and Summer!!! Now, I am going to go ahead and tell ya'll...it is HUGE! However, HUGE is exactly what I am going for. A large handbag is exactly what this Mommy needs! I can fit everything that I need for me and still have room for my Toddler's diapers, toys, and a snack. Plus, this Beachfront handbag is way more chic than a diaper bag, lol! If you haven't scoped out JustFab's selection of larger bags to use as a diaper bag, then be sure to click the links. There are many to choose from and at $39.99 each (or much less if you catch their sales) these bags are a much more affordable option than most diaper bags.
The Beachfront: Bag Details:
Material: Faux Leather
Size: 17L x 9H x 5W
Hardware color: Light Gold
Strap detail: Removable shoulder strap
Shoulder drop measurement : 6.5"
Closure: Top zip closure
This color blocked handbag is so chic! The color blocking gives it a bit of a nautical feel that is perfect for Summer! I must say that the Beachfront Bag is even cuter in person (if you can imagine). I get a ton of compliments when I carry this adorable bag! I love the bag's whimsy colors the cute fringe hang detailing. There is no question that this bag stands out. It just makes your outfit look so pulled together!
The quality is very nice, indeed. Actually, this might be one of the nicest-made/best quality JustFab bags in my collection. The bag is just so...solid! It is fully lined and has a great overall texture and feel.
The Athens Sandal:
These sandals are so cute; yet, they have just the right amount of "edge"! These flat gladiator-style sandals feature stud detailing and faux patent leather straps. I find that I can wear these with just about any of my casual clothes: from dresses to jeans to shorts. I find the fit to be the slightest bit loose on my somewhat narrow feet. But, the straps keep them on with no problems despite being slightly loose.
I find that these sandals fill a previous void in my shoe wardrobe. Often I am found in either wedges or flip flops during the summer months. . So, these strike a nice balance for a sandal that is a bit more "dressed up" than a flip flop yet not as "dressy" as a wedge sandal.
The Athens Sandal:
Shoe Details:
Approx. Heel Height: N/A"
Approx. Platform Height: N/A"
Runs True To Size
Synthetic Upper
Man Made Sole
Imported
Overall, I am thrilled with my selections this month! The Athens sandal is so easy to wear and the Beachfront bag is just adorable!
Here are some more of my other favorite Spring/Summer 2013 Shoe Selections from
JustFab
!!! What JustFab shoes do you have your eye on for Spring and Summer?
Thanks so much for reading!
XOXO!!!
Affiliate Link
Press Sample