Affiliate Link
Press Sample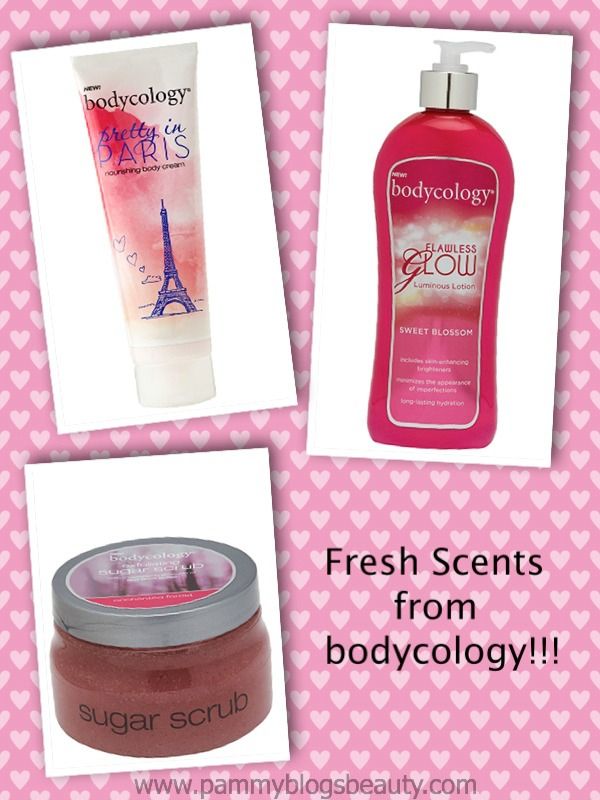 It is time for an update in my "Scrub-a-Dub Dub! What is in my Tub?" Bath and Body Products series!!! Basically, this series just details what bath and body products I am currently using and loving! Despite the name of this series, I am not just talking about items for taking a bath. I am sharing all of the bath and body products that I love: lotions, body scrubs, shower gels, body butters, etc!
Are you familiar with
bodycology
? I am a huge fan of this drugstore brand!!! Basically it is the drugstore equivalent of Bath & Body Works. You are getting the exact same types of products for only a few dollars each! Even bodycology's packaging and scents are very similar (if not total dupes!) to Bath & Body Works.
Bodycology just sent me an assortment of their new scents and products. I immediately put them to use! I love how bodycology is always releasing new scents and products with each season! These items are great additions to my summer body care arsenal!
Click "read more" below if you would like to find out what
bodycology
products are in my bath & body rotation right now.I even found a new favorite everyday body lotion for Summer!!!
My New Bath and Body Product Assortment from bodycology
:
Nourishing Body Cream in Pretty in Paris, Exfoliating Sugar Scrub in Enchanted Forest, and Flawless Glow Luminous Lotion in Sweet Blossom
I am loving my new bodycology lineup!!! :)
bodycology Flawless Glow Luminous Lotion in Sweet Blossom
Lets start with my new favorite lotion! Flawless Glow is a "skin enhancing" luminous body lotion! If you have not tried luminous lotions yet, get yourself to the drugstore to pick this up! They are one of my "must haves" for summer! Once it gets hot out, my legs are bare every single day as I always wear either shorts, skirts, or sundresses in the warm weather. My legs, like the rest of my body, are super-duper fair. I never get really "tan" (even though I frequently either self-tan or use beautisol's Tea Tan Glow). A great way to "perfect" your legs is to add a luminous moisturizer! The brighteners in the lotion distract from any flaws in your legs and give your skin a lovely sheen.
The Sweet Blossom scent. I believe that the new Sweet Blossom scent is only available in this Flawless Glow lotion. The scent is so light and beautiful for the Spring and Summer!!! Sweet Blossom is a fresh and sweet mix of lilies and raspberries.
A sugar scrub is a great addition to a Summer skincare routine! Lets face it...we bare a lot of skin in the summer! I tend to live at the pool once it opens for the season. So, I want my skin in good shape!!! For me, body care starts in the shower with a good body scrub. Regular exfoliation keeps my body skin clear and soft. Plus, good exfoliation is the key to a great self-tan!
I find that the bodycology Exfoliating Sugar Scrub has just the right amount of "grit". The dense exfoliating sugar particles scrub your body well without being overly scratchy nor harsh. The product rinses clean and does not leave a residue. This makes it perfect for a self-tanning prep product. Plus, the Sugar Scrub formula also contains shea butter and avocado oil to moisturize.
Enchanted Forest: the Scent!!!
What is the first thing that you think of when you see this packaging? Yes, Twilight Woods from Bath & Body Works. Twilight Woods fans, you will not be disappointed with Enchanted Forest. The scents are very similar (yet not dupes). The Enchanted Forest scent is a powdery and soft blend of jasmine, nutmeg, and musk. It smells soooo good! Now, typically, Twilight Woods and Enchanted Forest are scents that I reach for more in the Fall. However, I do like to switch things up a bit and use or wear this scent when it is warmer out (just because the scent is one of my faves!!!).
OMG! Cutest packing ever! This past year, I did a "Paris" themed birthday party for my daughter. Ever since, I *heart* all things Paris! :) I believe there are some similarities with this scent and Bath & Body Work's Paris scent but I do not have both on hand to do a direct comparison. If you happen to have both scents, please comment below to let me know if they are, in fact, dupes! :)
This body cream is thick, rich, and nourishing. The formula itself contains aloe vera, shea butter, and vitamins E and C. The scent contains notes of French jasmine, warm vanilla musk, and clementine. I find the scent to be soft, feminine, and even somewhat sophisticated.
The Skinny:
You can find bodycology products at the drugstore! Available at Target, Walmart, Ulta, Walgreeens, etc!!! :)
Products retail for only a few dollars each!!! Travel sizes are about a dollar each and the larger sizes are less than $5!!! Great deals!
Expect to see many more "Scrub a Dub! What is in my Tub?" features soon! We are just about to move into a bigger house and I finally will have my dream bathroom (yay!!!) which includes a fabulous garden-style bathtub. Let me know if you guys want me to do a "bathroom tour" post or video!!! :) I would love to do that once I get everything set up! :)