Affiliate Link
Press Sample
It is always fun to explore a new (to me) hair line! Rock Your Hair is a professional hair care line dedicated to bringing you big and bold hair. Rock Your Hair is the latest project from "Big Sexy Hair" creator and celebrity hair stylist Michael O'Rourke. You probably haven't missed seeing the eye-grabbing bedazzled hot pink packaging at your local Ulta? Well, don't let the somewhat tacky packing dissuade you! The products inside are fabulous!!!
My Hair:
Before diving into my review, let me give you some background on my hair type and condition. I have very long and thick highlighted hair. It is fine yet thick. It is very dry and even somewhat damaged from highlighting and heat styling. Typically, I need products that are extremely moisturizing and are formulated for color treated or damaged hair. One of my biggest hair complaints, besides dryness is that my hair is incredibly hard to comb out when it is wet and it tangles throughout the day.
Get Volume and Shine with "Rock Your Hair":
I will start out by saying that my hair really seems to love this line! The combined use of these products seem to achieve the triumvirate of hair care: volume, shine, and hold. Usually, I have to sacrifice one of these to achieve the other. Somehow
Rock Your Hair
seems to give me all three at once! It is triple-threat hair care, lol! ;)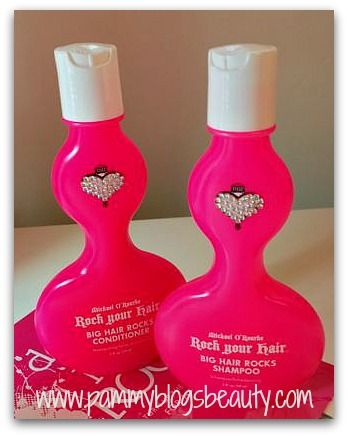 Rock Your Hair "Big Hair Rocks" Shampoo and Conditioner:
This
Shampoo
and
Conditioner
combo aims to leave hair with volume without fading your color nor stripping hair of moisture. I often avoid volumizing shampoos because I think that they will strip my hair of moisture: Well not with these! I really like using this shampoo and conditioner! I do feel that it gives me more bounce and volume than my usual shampoo and conditioner combo. Plus, my hair feels clean and conditioned after I use it. I am pretty amazed at how easily I can detangle my hair after using this conditioner!!! Believe me, that is a feat! The scent of these products is light and "clean". Also, they are sulfate free! Retails for $20 each for 10.5 oz bottles and $7.20 each for 2 oz bottles (great for travel!).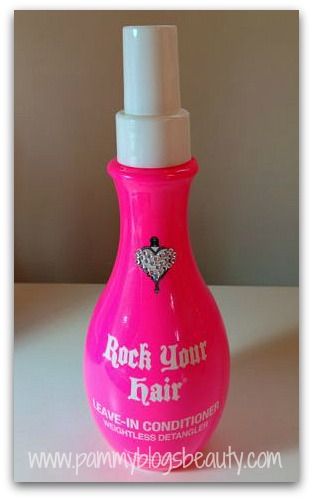 I would be lost without leave-in conditioners. Really! My hair tangles so badly that I need all the help that I can get to comb my hair our when it is wet. The first step for me is a good conditioner and the Big Hair Rocks Conditioner really helps. The icing on the cake is this detangler! I can spray this into my hair very generously without worrying that it will leave me looking greasy. The bottle produces a nice light mist that is easy to control. This product detangles and lightly moisturizes without weighing hair down. Even after I finished my product testing of this line, I have continued to use this every time I wash my hair. It has become my go-to detangler! Love it!!! Retails for $20 for 7.5 oz.
This product is a "leave in volumizing treatment". It is also incredibly moisturizing! Now, I am not sure if it helped to create extra volume or not because I found that it is so rich that I can only use a small amount, even on my very long hair. I just work about a pump's worth into my hair concentrating at the ends. It has a very sticky feel and a pretty heavy fruity scent (the scent reminds me of a cocktail, or something). While I am not really a fan of the scent, I do like how this seems to really moisturize and condition my hair ends. Interesting note: This product does not have the trademark pink bedazzled bottle! The bottle is actually huge and since I use such a small amount, this might be a lifetime supply of this treatment! :) Retails for $19 for a huge 7.5 oz bottle.
To me, this is the other stand-out product in this assortment (in addition to the Leave-In Conditioner). This product is designed to work on both wet and dry hair. With this
Volumizer
, you can achieve amazing volume, hold, shine, and condition! I like the fruity grapefruit?-type fresh scent. This product has actually replaced my long-time favorite
Aveda volumizer (Aveda's Volumizing Tonic)
in my hair care routine!!! I have long-ish bangs that are completely unruly. I use a spray of this on them before blowdrying to give them some lift and bend. I also like to spray this in the root area right around my temples and the crown of my head for a bit of lift before round-brushing my hair with the dryer. Works great! It gives some nice shine, lift, and hold. Retails for $22.
I will fully admit that I am not a huge user of hair spray. Sure, I do use it every time I do my hair, lol. However, I use it very sparingly and really only on my bangs. With all that said, it is a necessary part of my hair styling routine. I am not that picky when it comes to hair spray. I simply want a non-sticky formula that holds my hair while allowing me to also brush through it. This hairspray does just that. Plus, it gives a nice shine, too! Retails for $22 for a 10 oz can.

As a whole, I am really pleased with this line of
Rock Your Hair products
! My hair is always left feeling bouncy and shiny while also feeling conditioned. These products strike a nice balance between condition and bounce/movement. I am very pleased! Plus, I have found new favorites with the
Leave-In Spray Conditioner
and the
Volumizing Spray
! I am very pleased!!! Be sure to check out this line next time you are in Ulta, Walmart, Urban Outfitters, or wherever else Rock Your Hair is sold! :)