Every other Wednesday, the
Metro Atlanta Beauty Bloggers
will answer a beauty-related question just for fun!
This week's question is...
Can you create a FOTD for $20 or less? Show us what products you would use!
Yes! I can!!! :)
I actually created a $20 Face for a previous Makeup Wars Post: The $20 Makeup Challenge!
Rather than re-doing this idea. I am just going to link you to my previous post: Makeup Wars: The $20 Makeup Challenge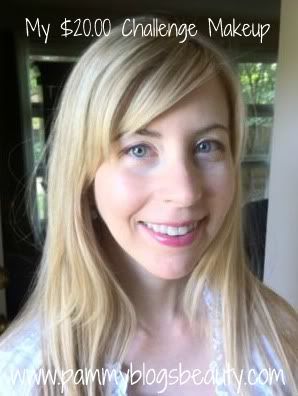 Here is the look I created for $20. To find out all the details about what I used. Please be sure to follow my link (above).
NOTE: For this challenge, Most of the Metro Atlanta Bloggers are not figuring sales tax, brushes, tools, or implements, just the regular cost of the actual make-up products. *However, when I did this challenge with the Makeup Wars gang, I included the cost of tools in the $20.
Feel free to take part in this challenge in any way you like! :)
- - - - - * - - - - -
Be sure to check out the other Metro Atlanta Beauty Bloggers' answers!
Ashley Elizabeth
from
Ashley Elizabeth's Beauty Blog
Dionne
from
Glittery Fingers & Sparkling Toes
Emma
from
Manicurity
Harri
from
TrailerHood Chic
Mandy
from
MandysSecrets
Pam
from
Pammy Blogs Beauty
Quinn
from
Mama Fashionista
If you would like to see previous questions and answers, you can do so by viewing the
Question Archive
here
.
If you're a beauty blogger in the Metro Atlanta area and would like to join us, please visit our website! We would love to connect with you!