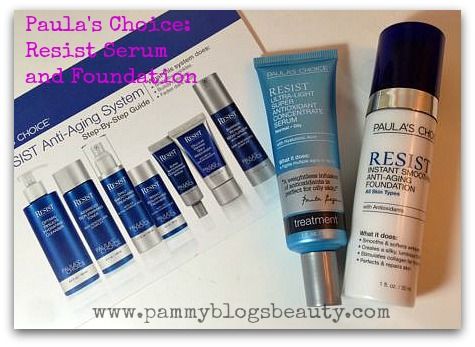 I am always on the hunt for great foundations for fair skin and for anti-aging skincare that does not irritate my sensitive skin. So, I am very excited to try out these new items from Paula's Choice Resist Collection of anti-ag

ing products!
Paula's C
hoice is a brand that I trust when it comes to skincare. If you missed my recent Paula's Choice review for her new eco-friendly Earth Sourced line, be sure to check it out here. Not only am I am fan of Paula's products, but also her book, "Don't Go to the Cosmetics Counter Without Me" was one of my very first inspirations in the world of beauty and product testing. That book really taught me how to evaluate products and to critique them based on ingredients and claims. The book is now updated and in it's 10th edition. I highly

recommended

it!
The Resist Collection of Anti-Aging Products:
The Resist Collection of Anti-Aging Products fro

m Paula's Choice promises to smooth wrinkles, build collagen, and fade dark spots.
I tested out the Resist Ultra-Light Super Antioxidant Concentrate Serum and the Resist Instant Smoothing Anti-Aging Foundation. Keep reading to find out all the details on these products as well as find out how I liked them!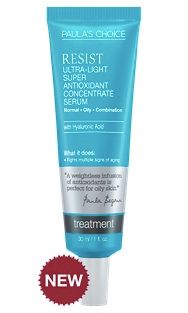 Paula's Choice Resist Ultra-Light Super Antioxidant Concentrate Serum:
This is a super lightweight antioxidant packed serum. Unlike the regular Antioxidant Concentrate, this serum is very

thin and almost has a liquid feel.
It seems to sink right into my skin. The serum has a certain "slickness" to it; yet, it does not have a greasy feel. If you do not like the feel of heavy serums, then you are going to love this product! This water-based serum is just perfect for those with combo skin like mine.
I apply this serum right after cleansing my face morning and night. It gives my skin a little boost of hydration along with a powerful dose of antioxidants (including Vitamin C). This serum also contains Hyaluronic Acid (nourishes and protects) and anti-irritants to reduce inflammation. The serum is totally fragrance free with no added dyes.
I love it when products, like this one, fight both breakouts and aging at the same time! That is a win/win in my book! :) This serum doubles as a foundation primer for me. My skin is left looking and feeling soft and smooth: the perfect base for makeup!
I just love how Paula only uses research-based ingredients in her products. In the information section under the products on the website, Paula's Choice provides the links to the research sources that back up the product's claims. You can feel confident that the ingredients are well chosen for effectiveness!
Key Ingredients
include:
vitamin E, niacinamide, vitamin C, ubiquinone, bisabolol, phospholipid, glycerin, adenosine , beta-glucan, resveratrol, hyaluronic acid, sea whip extract, epigallocatechin gallate, quercetin
The Skinny:
Paula's Choice Resist Ultra-Light Super Antioxidant Concentrate Serum retails for $26.95. The good news? Paula's Choice offers samples for $1.00 :)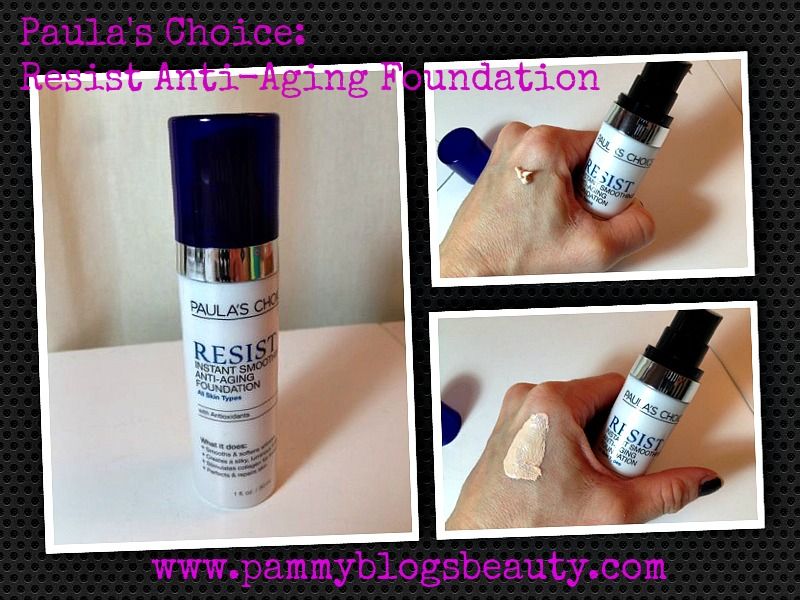 Paula's Choice Resist Smoothing Anti-Aging Foundation:
Wow!!! What a fabulous foundation! I think I am in love with this one, ya'll! My skin looks absolutely flawless when I wear this! The coverage is amazing! Plus, the formula contains anti-aging ingredients, too! :) I just love that this product can make my skin look flawless while also stimulating collagen.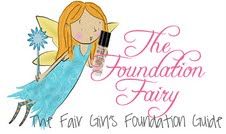 A Great Match for Fair Skin!
I have to note that I am completely thrilled that the Porcelain shade is a perfect match for my ultra fair skin. This, in itself, is a total feat! As those of you who follow my Foundation Fairy: Fair Girl's Guide to Foundation series know, finding a shade match for ultra fair skin can be very difficult. My fellow fair-porcelain skinned ladies: be sure to check out this foundation!
The coverage, finish, and wear:
This foundation really does smooth your skin! The texture is on the thicker side, which I like. It is almost like a CC cream or a foundation/primer hybrid. It nicely fills in my pores and faint fine lines. The result is a super-smooth and slightly dewy finish! I like to top it with a light dusting of powder in the t-zone (I have combo skin). I tend to get those "your skin looks great" or "you look glowy" compliments when I wear this foundation. You just can't beat that type of reaction! This foundation lasts all day on me. I am always impressed with how good my skin looks in the evenings when I am about to wash my face.
This foundation gets my official "Stamp of Approval" that I reserve for my very favorite products! :) Not only does this foundation give you beautiful and flawless skin, but also it is packed with anti-aging ingredients. So, not only will it make your skin look better, but also it is improving your skin with proven age-fighters. I am just loving the 2-in-1 trend in foundations lately: foundations that double as skincare. I mean, if you are going to wear foundation anyway, why not wear one that actually benefits your skin like this one?
I am totally thrilled with the Resist line products that I tried from Paula's Choice!!! The Resist Serum and Foundation leave my skin looking beautiful! I intrigued to try more from this specific Paula's Choice line! Especially since I am not getting any younger, lol! I like that I can feel confident that Paula's Choice products pack in research-proven ingredients!
Are you a Paula's Choice fan? What have you tried from the brand? Have you tried out the Resist line? I would love to hear some product recommendations!
As always, thanks so much for reading! Stay beautiful ya'll! :) XOXO!!!
Amazon affiliate link included