I am always excited when
Anastasia Beverly Hills
releases a new kit! Anastasia's kits are not only beautifully packaged and elegant, but also each kit seems to have its own "story" or "theme". These kits were just meant to be collected! They are that special. :) The elegant packaging almost always has a retro glamour vibe.
The new Bold & Beautiful Kit from Anastasia is both beautiful and extremely functional. The "theme"? This kit contains a pair of palettes that stack together like books! Even if you have enough space to store away all of your makeup, you are going to find that you want to set this kit out on display. Plus, I love that the set is sleek and compact enough that you could travel with it. That is always a plus! No bulky packaging here.
The Bold & Beautiful Kit for Brows and Eyes:
This kit has everything you need for a beautiful neutral eyeshadow look topped with groomed brows! This kit is destined to be an everyday staple with shades that can take you from school/office appropriate to a sexy smoky nighttime look! It is so easy and quick to just grab this set and have everything you need for a well-groomed look in one place. Ya'll know that I love time savers!
The Skinny:
This kit contains two booklet palettes: one for brows and one for eyes. They stack together like books and are housed in a cardboard sleeve.
The Bold Brows Palette: Medium Brown Brow Powder, tinted Brow Pomade, mini tweezers, and a mini dual ended brow brush/angled brow powder brush
The Beautiful Eyes Palette: 4 Matte and Shimmer Eyeshadows: featuring a light-dark assortment of neutrals plus a lovely pop of peachy-pink! (great for bringing out my blue eyes!)
Retails for $36.00 (a

$60 value)

Available at Sephora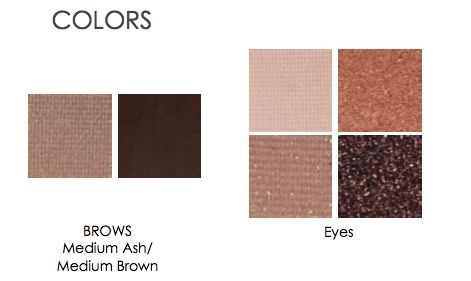 Key Ingredients:
Youthful SynergyTM Complex in Shimmer shades. Brown Algae - A key ingredient that smooths, firms, hydrates, and revitalizes the appearance of skin. Diamond Core Powder - Diffuses light for a soft focus effect.
Sea Whip Extract - Soothes the skin.
Macadamia derivative - A natural hydrator capable of holding up to 300% more water in the skin.
Powerful antioxidants of Vitamins A, B, C, E, and F. Balkan Botanical Infusion®.
I just love this kit!!! I find that it is a great go-to for my quick and easy everyday look! I am a total neutrals girl. So, this kit is just great for me. I am a blonde. So, the brow powder is just a tad too dark for me. So, I just apply it with a lighter hand. My brows are rather dark. So, it does "match". I just usually like to go with a brow powder that is a bit lighter. I think that Anastasia put a medium brow powder in this kit for it to appeal to women with a variety of hair colors.
Here is a video from Anastasia:
Anastasia provides some really great get-the-look cards with detailed instructions for shadow placement. Here are my favorite two looks: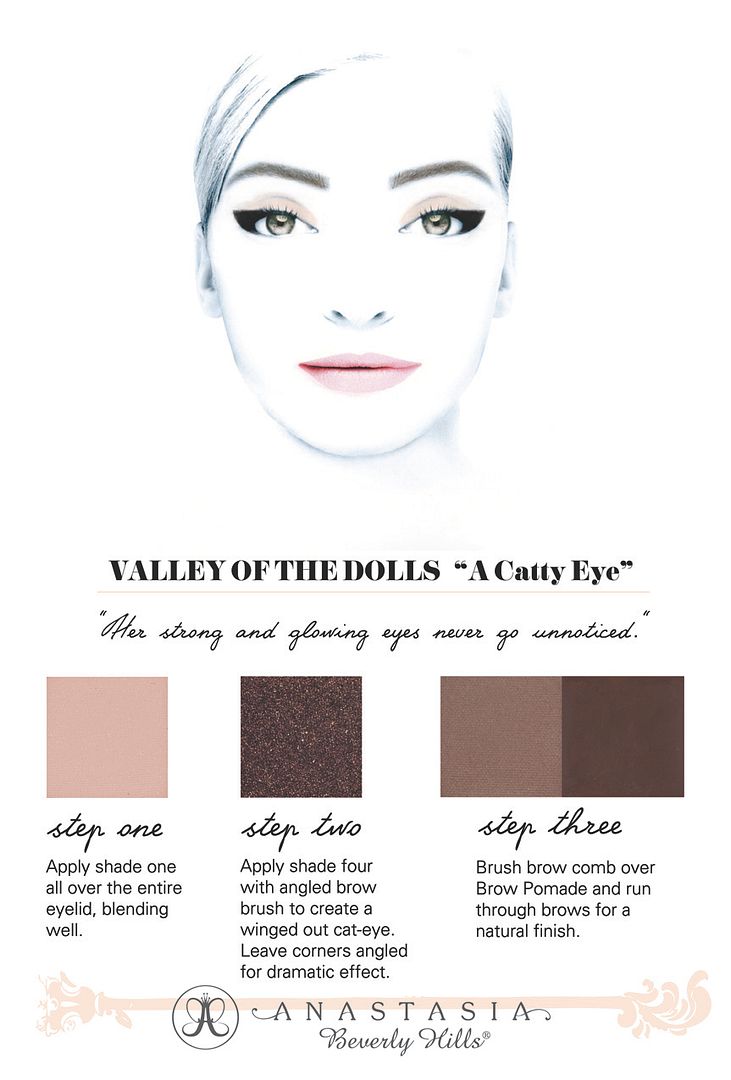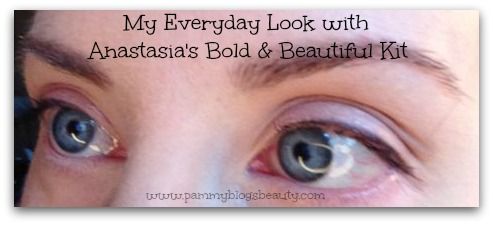 I totally love this new Bold & Beautiful Brow and Eyes kit from Anastasia!!! If you want a quick and easy kit for well groomed brows and neutral eyes, then I suggest that you check this set out!
Thanks for reading!!! XOXO!!!