Are you over Winter yet? I sure am!!! During the Holidays, cold weather is charming. Well, the Holidays are long gone and Winter just seems to be dragging on! The cold weather makes my hair and skin so dry! Plus, I just miss the time out doors in the sunshine (well protected with SPF of course!).
GLOSSYBOX
packs their
Man Repeller
Collaboration box with items to perk you up in the midst of the cold Winter! This review is rolling out a bit on the later side this month because GLOSSYBOX was absolutely slammed with orders for this box. I can see why, this box is amazing and quite possibly the BEST GLOSSYBOX that I have gotten to date. Seriously! I pretty much swooned when I opened it.
What is the Man Repeller, say you? It is the groundbreaking Fashion blog from writer/blogger Leandra Medine. One of the most influential blogs out there, the Man Repeller has redefined the genre with fashion features that "men just might not get"! Man Repelling has certainly entered the fashion vernacular as well as her coined "arm party" term for stacking bracelets. Kudos to Leandra for her amazing blog and voice!!! Plus, she edited a spectacular GLOSSYBOX this month!
The Scoop on GLOSSBOX:
I am sure that most of you know the drill. So, here it is in a nutshell: For $21 a month, a GLOSSYBOX subscription gets you a high end luxury beauty sample box. What makes this box stand out is that you *always* get at least 1 full size sampled. Plus, the rest of the samples are almost always deluxe size. You pay more for this subscription; but, you get more. Not to mention, the boxes are always beautifully wrapped and come with a glossy mini-magazine. GLOSSYBOXes are a decadent treat! They literally feel like getting a little gift of beauty every month!
Note: While I am no longer a paid GLOSSYBOX subscriber, I am happy to review press samples of GLOSSYBOXES. I am a fan of these boxes. However, I personally decided to cancel my own subscription to put the money towards my own MAC Matters challenge to build up my core collection of MAC products. To find out more about that, read
here
.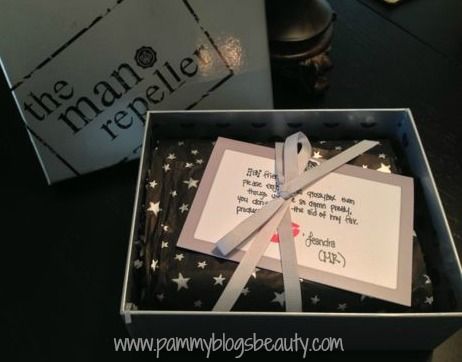 To find out all of the deets about what is inside the spectacular Man Repeller GLOSSYBOX, please keep reading!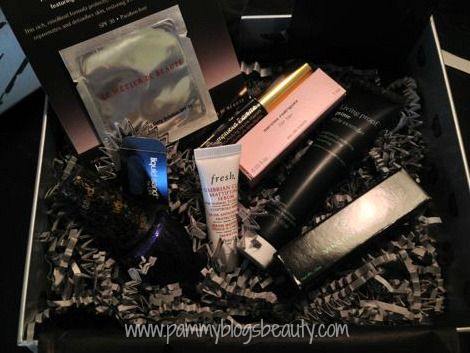 The Man Repeller GLOSSYBOX: Winter Survival
First of all, can I tell you how excited I was that the GLOSSYBOX itself is Silver this month? I normally love the blush pink box. However, there is something about getting a glossy mettallic box...It just "seems" more sleek and modern to me! Hmm...maybe GLOSSYBOX should re-think the blush pink and go with the edgy silver every month! Somehow the contents just seem more chic in a silver box! I mean, first impressions are everything. So, the box color and wrappings are always a big thing for me. Anyone can throw some samples into a box...GLOSSYBOX takes sample boxes to the next level with their gorgeous packaging!!! I also like that the product card looks like it was handwritten from Leandra! Often I get press samples with handwritten personal notes. I always like that touch! I had to look very closely to see if this card was handwritten (it was not). Still, I loved the effect!!!
Lets get to it:
GLOSSYBOX Mag: Before I forget! Sometimes I forget to mention the Mag (slapping own hand: bad beauty blogger!). I honestly really love the GLOSSYBOX Mags and always take them out and add them to my Magazine stack in my house. I have a nightly ritual of reading fashion magazines right before bed. I always enjoy these little mini mags! :)
Inside the Box:
Estee Lauder | Sumptuous Extreme Lash Multiplying Volume Mascara (sample size: .1 oz, full size $25 for .27 oz): Ooohhh! I love Estee Lauder Mascaras yet I rarely purchase high end mascaras. So, this is a super nice treat!!! This is a really nice size sample that should last me awhile! Three different high-volume fibers create audacious, false-lash effects.
Fresh | Umbrian Clay Mattifying Serum (sample size: .17 oz, full size $35 for 1 oz): I am all about mattifyiers lately! While my skin is super dry from the forced Winter heating, my t-zone is totally oily lately. Ack!!! My hormones are just wacky right now. So, I need all the help that I can get in my t-zone. Umbrian Clay, Fresh's proprietary ingredient, has a uniquely high-mineral content that works to neutralize acidity,purifying and clarifying the complexion. This treatment formula tones and hydrates while controlling shine and minimizing the appearance of pores.
Le Metier de Beaute | Replenishing Daily Solution (foil sample packet, full size $225 for 1.17 oz): Before you get too excited, this is a foil sample packet. Sigh. I flippin' adore Le Metier de Beaute products!!! Seriously, if money was no object, I would use all Le Metier de Beaute skincare. The products are absolutely top notch with research driven results. Even though this is a small sample, I am thrilled to have it and will use it to its last drop. I am in the midst of a Le Metier blogger "challenge"! The brand is trying to track blogger referrals. If you are in the Atlanta area, be sure to go to my fabulous Atlanta Neiman Marcus Le Metier de Beaute product specialist Karen (404)-266-8200. She will take fabulous care of you!!!
Living Proof | Prime Style Extender (sample size 1 fl oz, full size $20 for 5 oz): I am so intrigued by this brand! This is my first time trying something from them. So, I am very excited!!! I am always drawn in by their ads with Jennifer Anniston. People often compare my hair to hers. So, I am curious if these products will work well for me, too? Yes, I am a sucker for great advertising! This weightless hair primer extends hairstyles twice as long with a thin weightless shield around every hair strand. Go longer between shampoos and style touch-ups with this advanced priming system.
Narciso Rodriguez | Eau de Toilette (sample size: mini spray vial, full size $104 for 3.3 oz): Another mini perfume sample. Oh how I wish this was a deluxe size! Oh well! I would love to tell ya'll how this smells; but, I have a cold and can't smell anything. I will use their description: a fragrant harmony of musc, intimately refined with a floral facet developing gently and slowly, rounding out into the feminine warm tones of sun-kissed ksin, dusted in soft, velvet-like sensuality. Can't wait to give this a sniff when my cold gets better! :)
OPI | "Can't Let Go" Liquid Sand Nail Lacquer (full size!!! $9): OMG! I swear right before I opened this box, I was commenting on someone else's blog post about how badly I wanted to try out sand-finish polish!!! I am absolutely thrilled that I got this polish!!! As soon as the baby went to bed, I painted my nails with this awesome polish. The verdict? I am a HUGE fan of the sand finish!!! The shade is an amazing purple and the sand texture and sparkle gives it so much depth. I seriously can't stop looking at my nails. This is my new favorite polish for sure!!! A unique matte purple shade with subtle accents of reflective shimmer. This long wearing liquid sand lacquer dries to a matte finish which means no top coat is necessary!
Vincent Longo | Lipstain SPF 15 Lipstick (full size!!! $23!!!): Wow!! Another FULL SIZE product! Whoo-hoo! This is a totally glamorous red lippie! This award winning Lipstain Lipstick with SPF 15, aloe vera, and Vitamin E works to soften and nourish the lip tissue while delicately tinting lips with a glossy coat of sheer color.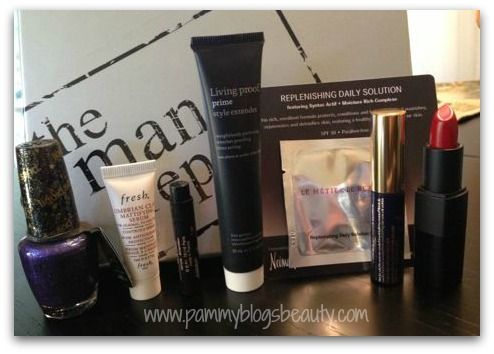 As you can tell from my review, I absolutely loved this
Man Repeller GLOSSYBOX
! The box, as a whole, is hands-down the best GLOSSYBOX to date!!! The value is undeniable! 2 full sized products plus generously sizes samples! :) The products are amazing!!! I love that I actually got some items that are on my beauty wishlist!!! GLOSSYBOX you really read my mind this month! Thank you!!! I am already having so much fun with my samples! :)
GLOSSYBOX News: Right from the source!
New York Fashion Week starts this week and the GLOSSYBOX Mag team is heading backstage to cover the latest beauty trends. Follow GLOSSYBOX on Instagram/Twitter @glossybox_us to stay up to date on their daily adventures. Are you attending Fashion Week?
Get ready for February's GLOSSYBOX. The theme is... International Style! GLOSSYBOX is packing for an exciting jet-setting tour of fashion week around the world. The world's most sophisticated and glamorous women from New York to Paris to Tokyo are attending the season's most anticipated fashion shows, and must have the perfect beauty products packed to take her from the runways to the after parties. This February, GLOSSYBOX presents the "International Style" box—a versatile selection of daily essentials for every fashionista and beautyista! Be a part of this fashion insider box, and your product will be set to secure a fixed place in her handbag.
Edited Note: I am no longer a GLOSSYBOX subscriber. This box was sent to me from GLOSSYBOX to review as a press sample. I previously subscribed to GLOSSYBOX for six months. While I loved the boxes, I decided that I would rather spend the money towards building up my core collection of MAC products. Please feel free to check out my
MAC Matters
posts for more info! :) Sorry for any confusion here! I have always loved GLOSSYBOXes. I just no longer pay for a subscription.
GLOSSYBOXERS, how did you like the Man Repeller box? Was yours the same as the press sample box that I got? Thanks for reading!!!
XOXO!!!